JEFFERSON CITY — Republican Attorney General Eric Schmitt won his bid for the U.S. Senate on Tuesday, defeating Democrat Trudy Busch Valentine with overwhelming support in the state's rural areas.
A crowd of more than 300 Schmitt supporters gathered at the Sheraton Westport Chalet in Maryland Heights erupted in applause when Fox News called the race for Schmitt. The Associated Press called the race for the Republican at 9:12 p.m.
"We didn't just win an election," Schmitt told the crowd. "We sent a message to Joe Biden — we want our country back."
He said he received a "gracious" call from Valentine, and he congratulated her for running a "spirited campaign."
With all of the state's precincts counted, Schmitt was leading Valentine 55% to 42%, according to unofficial results reported by the Missouri Secretary of State. 
While Valentine jumped out to an early lead on Tuesday, her winning margin began to evaporate as tallies rolled in from rural counties.
In St. Louis County, Valentine won 61% of the vote. In the city of St. Louis, she took 83% of the vote.
But Schmitt notched wide leads in rural counties.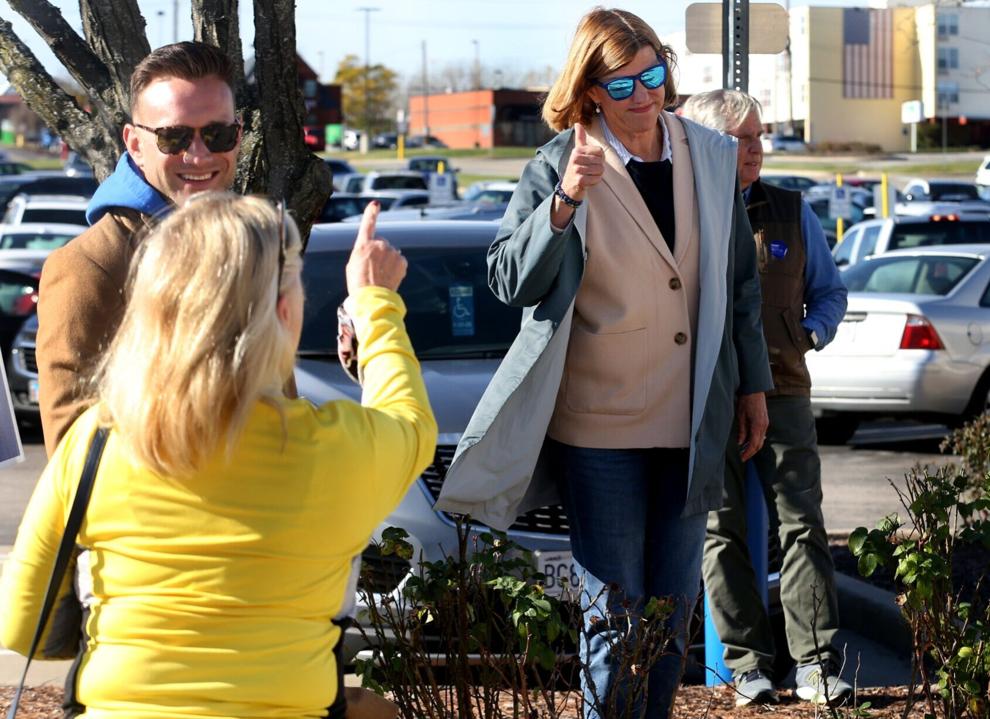 During the campaign, Schmitt focused on inflation and courted voters wary of COVID-19 restrictions. He cast Valentine — an heir to the Anheuser-Busch fortune — as a "limousine liberal" who was out-of-touch with the struggles voters faced.
Schmitt on Tuesday called his victory "a truly American story, where the son of a night shift worker at Anheuser-Busch could run against an heiress ... and win."
Valentine focused on protecting abortion rights, blasting Schmitt for signing the state's near-total abortion ban. She said she would be "nobody's senator but yours."
Valentine also criticized Schmitt's support for allowing foreign ownership of farmland in Missouri — taking a page from Schmitt's opponents in the GOP primary.
Schmitt will replace retiring U.S. Sen. Roy Blunt, R-Mo., in the Senate.
Political forecasters didn't consider Missouri's race competitive, reflecting the state's position as a deep-red bastion.
That left the focus on contests in other states: Arizona, Nevada, Wisconsin, Pennsylvania, Ohio, New Hampshire and Georgia.
The party that doesn't control the White House historically gains ground in Congress during the midterm elections.
Reflecting the Democrats' precarious position, races in Colorado and Washington — both considered blue states — were both classified as tossups prior to the election by Real Clear Politics.
With national Democrats and Republicans focusing attention elsewhere, Valentine pumped more than $10 million of her own money into her campaign account.
But the financial lifeline from Valentine wasn't enough to break through in deeply conservative Missouri.
In Columbia, Darin Preis, a 52-year-old nonprofit administrator, said he voted for Valentine in the Senate race.
"I think that Eric Schmitt has just veered way too far right," Preis said. "I think he was appealing to Trump voters and that's just not where I am."
Shrewsbury resident David Oswald, 80, said he has met Schmitt a few times. He voted for the Republican.
"Until they control the border and stop printing money, I'm mad at all of them," he said of congressional Democrats.
He called Schmitt "solid, hardworking and dedicated" and said he was a "great family man," citing the Missouri attorney general's son with special needs. Oswald said he, too, has a grandchild with special needs.
Jacob Barker and Joe Holleman of the Post-Dispatch contributed to this report.
Updated at 12:04 a.m. Wednesday.