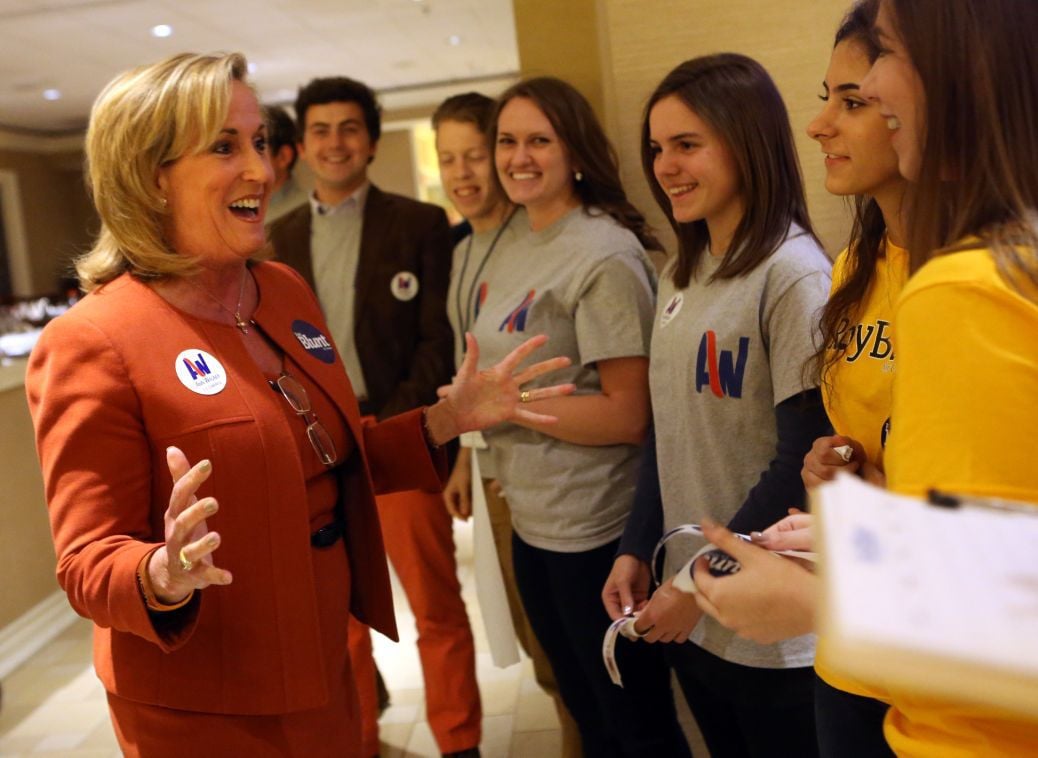 SUNSET HILLS • Victims of human trafficking often can be the children in classrooms who frequently act up, who show abrupt changes in behavior and are picked up from school by a man who isn't a family member.
The unfortunate truth about human trafficking in schools, said U.S. Rep. Ann Wagner, is that the victims are "hiding in plain sight."
Wagner, R-Ballwin, organized two information sessions Tuesday at a Holiday Inn conference center in Sunset Hills to help area educators understand the scope of human trafficking, and how to identify victims and perpetrators who may be walking their school hallways.
St. Louis is one of the most active human trafficking locations in the country, as identified by the U.S. Department of Justice.
Nationwide, schools are increasingly targets for recruitment.
About 30 classroom teachers, school counselors, superintendents and college administrators listened as presenters explained how easily a child can become the victim of commercial sexual exploitation. Students might wind up at a party with a friend whose boyfriend is a predator, or be enticed with expensive clothes or cellphones.
"It could take years to groom a student, or it could happen overnight," said Jenee Littrell, director of safe and supportive schools at the San Mateo County Office of Education near San Francisco.
It is estimated that at least 100,000 children across the United States are sexually exploited annually, according to the National Center for Missing and Exploited Children. But the real numbers may be significantly higher.
The average age of children who fall victim to human trafficking is 12 to 14 years old for girls, and 11 to 13 years old for boys, said Eve Birge, an education program specialist with the U.S. Department of Education.
Birge and Littrell offered advice on how schools can help prevent students from being exploited.
Children most vulnerable are those living in poverty, who move in and out of the foster care system, who have a disability, and who have experienced prior abuse. Those without any support network are more likely to become victims than those who have a trusted adult in their life.
Birge reminded educators of the importance of creating a haven at schools.
"You can see how important it is for these young people to feel like that there's at least one person who truly cares about them," Birge said.
Wagner has co-sponsored legislation now signed into law to combat human trafficking and sex trafficking of minors. But the new laws have been challenged in court by Backpage.com, an online site that advertises escort services. The law was sponsored in the Senate by Sen. Mark Kirk, R-Ill.
In addition, Sen. Claire McCaskill, D-Mo., and Sen. Rob Portman, R-Ohio, are pushing for a contempt of Congress citation against Backpage, which has cited First Amendment protections in not cooperating with a Portman-McCaskill probe of its policies on how it screens the advertising that appears on the site.
Outside Washington, Wagner said, meeting with educators could be one of the most effective ways to combat the problem.
"This is about education and awareness," she said.