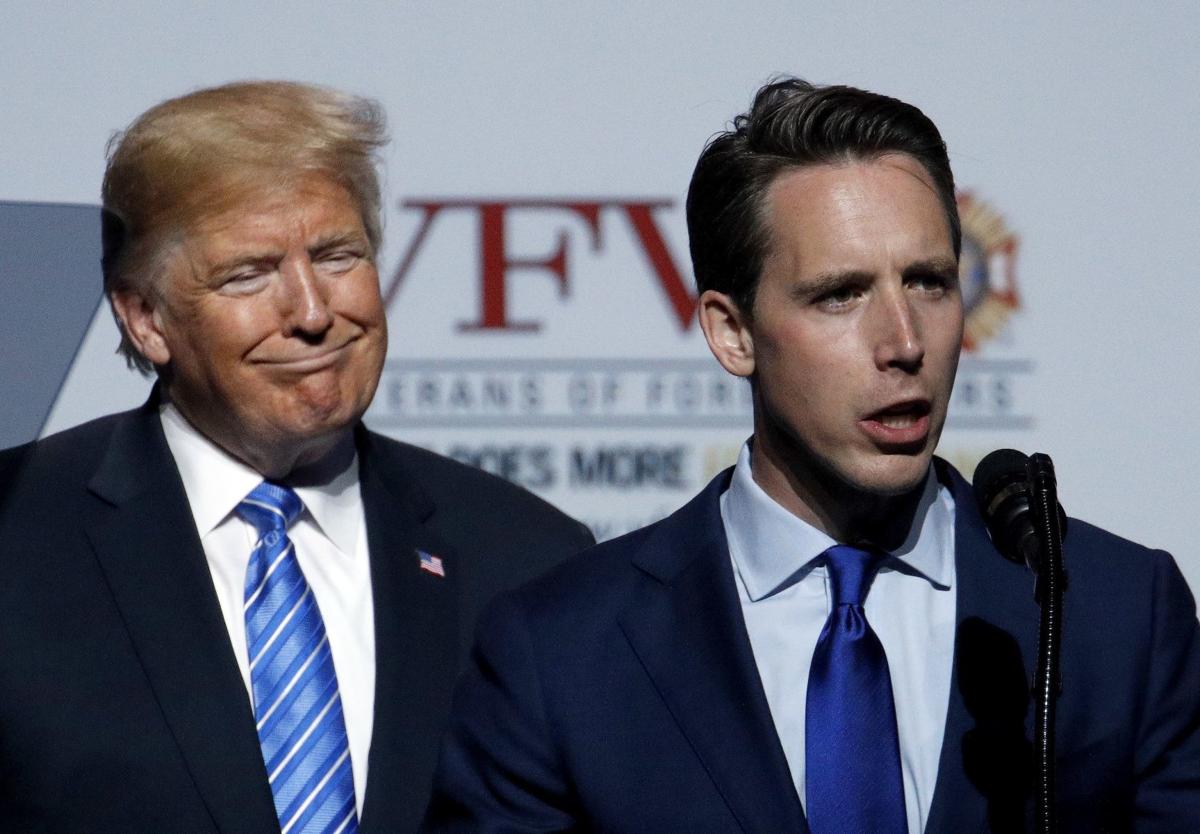 JEFFERSON CITY • Missouri Attorney General Josh Hawley supports repealing a provision in the federal tax code that bars politicking in the pulpit.
In an Aug. 21 speech to pastors and church members in St. Louis, the Republican nominee for U.S. Senate said he favored getting rid of the Johnson Amendment, which bars religious organizations from endorsing or opposing political candidates.
Charities that violate the current prohibition could lose their tax exemption with the Internal Revenue Service and may get fined.
"It's just absolutely unconstitutional," Hawley says on a recording of the address obtained by the Post-Dispatch.
"Religious liberty is under attack in this country, and it's a terrible thing. It's a dangerous thing," Hawley, who defended religious freedom cases before winning his statewide post in 2016, said in the speech.
On Tuesday, Hawley told the Post-Dispatch that he believed the government shouldn't be telling pastors what they can and can't say from their pulpit.
"In the history of this nation, there has been no greater force for good than the preaching of pastors and the speech of religious believers. Claire McCaskill and her Democrat allies need to stop trying to muzzle people of faith," he said.
Defenders of the 1950s-era Johnson Amendment say easing restrictions on churches could transform donations to churches into tax-free campaign contributions.
Maggie Garrett, legislative director for Americans United for Separation of Church and State, said the letter-signing initiative demonstrated strong opposition to the president's vow to get rid of the law.
"As a leader in my religious community, I am strongly opposed to any effort to repeal or weaken current law that protects houses of worship from becoming centers of partisan politics," the group said in the letter. "Changing the law would threaten the integrity and independence of houses of worship."
The letter was signed by a range of clergy and lay members, including Methodists, Catholics, Jewish and Unitarian Universalist organizations. Hawley attends an Evangelical Presbyterian church in Columbia, Mo.
In May, Trump signed an executive order that asked the IRS not to enforce the amendment. In July, the House Appropriations Committee voted to keep language in a spending bill that would defund IRS efforts to enforce the amendment. The bill must be passed by the House and the Senate before it can be signed into law by the president.
Asked about Hawley's position, a spokesman for Sen. Claire McCaskill, D-Mo., said, "Claire opposes repealing the Johnson Amendment."
Hawley's comments are the latest in a campaign that he has used to highlight his religious beliefs as he goes up against McCaskill, a two-term Democrat in a state that Trump won by 19 points in 2016.
"You know what I'm talking about, the 1960s, 1970s, it became commonplace in our culture among our cultural elites, Hollywood, and the media, to talk about, to denigrate the biblical truth about husband and wife, man and woman," Hawley said.
"[W]e're living now with the terrible aftereffects of this so-called revolution, which was in fact, I think, a great step back," Hawley says in a recording of his speech first reported by the Kansas City Star. "And one of them is, one of those effects, is a crisis in our country that goes by the name of human trafficking."
The more recent St. Louis speech was sponsored by the Family Research Council, which was formed in 1981 by James Dobson. The organization promotes family values and lobbies for social conservative issues.
In his address, Hawley also said Europeans had lost hope and were having fewer children because they had stopped basing their society on religion.
Hawley, who has two children, said Europe's political traditions had "banished faith in the public arena, including public schools and in the workplace."
"You can see what it's done to their society. You know, there's a reason Europeans only have, what is it, one child or so per family?" Hawley said. "And the reason is, they don't have any hope anymore. That's a society that has no hope for the future. That's a vision of a society that has lost the influence of the gospel."
It's not clear why Hawley was singling out Europe, where the birthrate has fallen to 1.6 per woman in 2016 from 2.6 per woman in 1960, according to figures compiled by the World Bank.
The decline has been steeper in the U.S., where the birthrate fell to 1.8 in 2016 from 3.7 in 1960.
In 2017, the U.S. saw the fewest newborns since 1987, according to a May report by the Centers for Disease Control and Prevention.
From his days as a law clerk to his private practice, Josh Hawley has focused on cases where religion and the law intersect. Claire McCaskill …
---