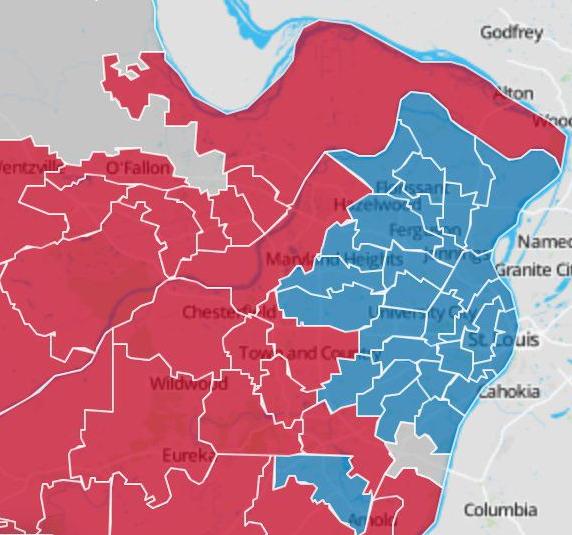 JEFFERSON CITY — The Missouri Senate on Tuesday gave first-round approval to a ballot question that would ask voters to scrap the redistricting system that state voters approved less than two years ago.
The measure drew the most contentious debate so far this legislative session, with Democratic opponents asserting that the Republican plan would open the door to partisan gerrymandering. The new plan does away with a "nonpartisan demographer" who is slated to draw new districts next year.
Democrats also have said immigrants, children and nonvoters might not count in the redistricting process under the GOP's plan — potentially shifting representation away from Democratic-leaning areas in cities and suburbs.
Republicans paused debate at about 3 a.m. Thursday, vowing to return to the topic.
Democrats allowed a vote on the measure at about 5:20 p.m. Tuesday.
Assistant Minority Leader John Rizzo, D-Independence, said Democrats were comfortable ending their filibuster because "we did our job."
He said Democrats educated the public about what was in the resolution, and said a court challenge, if the measure does make the ballot, is not out of the question.
"We vetted it thoroughly. The numbers (of Democrats) are the numbers, unfortunately," Rizzo said. … "Overturning the will of the people has been a priority for them," he added, referring to the GOP majority.
The package needs another vote in the Senate before moving to the House for consideration.
Staying 'silent'
During a news conference last week, Senate Majority Leader Caleb Rowden didn't say whether he thought immigrants, children and nonvoters should be counted when Missouri officials begin redrawing state legislative districts next year.
"I think that is not entirely up to us," Rowden, R-Columbia, said when asked whether immigrants who are permanent legal residents of the United States will factor in to new districts. "We stay silent on the issue."
When asked if he wanted a court to determine who would count for redistricting purposes, he said a court challenge was likely.
"I think the court's going to decide one way or the other," Rowden said.
Under the Clean Missouri plan, a bipartisan commission can alter the nonpartisan demographer's map if 70% of its members go along with a change.
The Senate plan would put a bipartisan commission in charge of redistricting.
The sponsor of the proposal, Sen. Dan Hegeman, R-Cosby, said voters would get the final say on the Senate plan.
"They'll have that opportunity to decide whether they want a demographer or not," he said.
The Clean Missouri plan will emphasize "partisan fairness" and "competitiveness" in maps, which Republican critics argue will lead to "spaghetti" shaped districts that take in urban and rural areas.
Clean Missouri proponents disagree, saying the map as a whole would need to be competitive, but not every district.
A version debated last week would have taken out Clean Missouri's requirements that "competitiveness" and "partisan fairness" be required during redistricting.
But the version approved Tuesday reinserted "competitiveness" and "partisan fairness" as criteria, though they would be a lower priority than compactness.
Who counts?
Senate Minority Leader Gina Walsh, D-Bellefontaine Neighbors, last week called the GOP proposal "Dirty Missouri."
"If Dirty Missouri is put in our constitution, it would reinstate the partisan gerrymandering that Clean Missouri got rid of," she said.
Clean Missouri requires maps to be based on "total population." Walsh noted last week that the GOP proposal removes that requirement from the redistricting criteria.
"Why did they eliminate the term 'total population'? "Why did they eliminate the reference to the census?" she asked. "This ambiguity could mean leaving out children or people who are not registered to vote, or even people who have not voted recently. Too many questions, not enough answers."
Asked how the Senate's proposed "bipartisan commission" was a true bipartisan commission, given Democrats' opposition, Rowden said new maps would require approval by both parties.
"The map can't be approved without Republican and Democrat approval," Rowden said.
Yurij Rudensky, redistricting counsel at the Brennan Center for Justice, who supports Clean Missouri, said the Senate plan would allow parties to "carve turf."
"They draw safe districts for Democrats, they draw some safe districts for Republicans, and then they decide where they're going to fight it out," Rudensky said.
Get Election 2020 & Politics updates in your inbox!
Keep up on the latest in national and local politics as Election 2020 comes into focus.