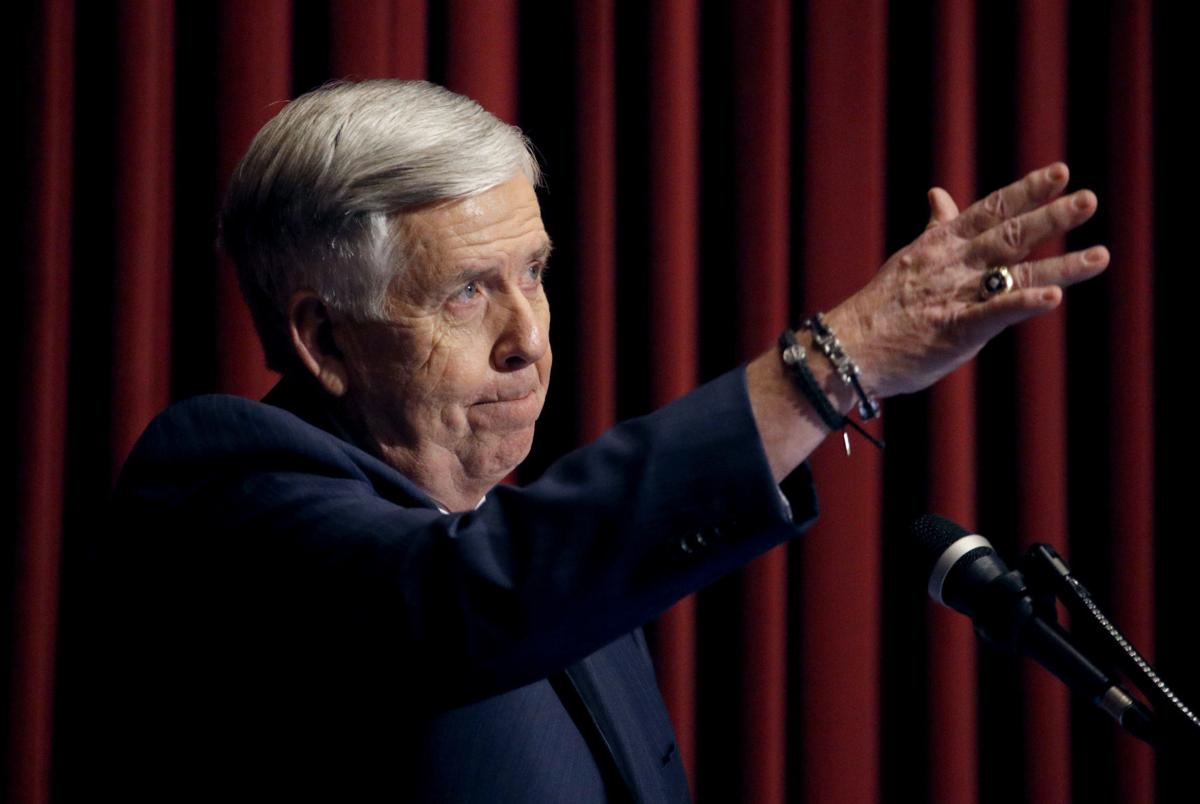 JEFFERSON CITY — In a major shake-up of his cabinet, Gov. Mike Parson announced a series of departures, ousters and transfers of senior officials Tuesday, including the immediate resignation of Sarah Steelman, who had run his Office of Administration.
Steelman told the Post-Dispatch she was summoned to Parson chief of staff Aaron Willard's office and asked to resign.
"I asked if I did something wrong, and he said 'no.' So I resigned," Steelman said.
Parson provided no insight into why he was reshuffling his cabinet, which is made up of more than a dozen agency heads in state government.
"We appreciate the great work our agency leaders have achieved in service to all Missourians. These leaders have helped move our state forward while navigating some of the hardest times in our state's history," Parson said in a statement.
In addition to Steelman and Tidball, Missouri Department of Mental Health Director Mark Stringer announced his retirement effective at the end of the year.
"This transition in state government will better position our cabinet to provide the best possible service to Missourians in the coming years. We look forward to our new leaders helping us continue our momentum and bring greater opportunity to Missourians all across the state," Parson said.
As commissioner of the Office of Administration, Steelman oversaw key parts of Missouri's sprawling state government, ranging from janitorial services at state buildings to multimillion-dollar computer contracts.
In November, law enforcement officials began investigating alleged harassment of Steelman and former chief operating officer Drew Erdmann. The probe centers on tracking devices placed on their vehicles by a private investigator with the alleged aid of Rep. Dottie Bailey, R-Eureka.
Steelman has been a fixture in the Capitol, serving as a state senator and state treasurer before taking the commissioner position in 2017 at the request of former Gov. Eric Greitens. Parson named Department of Revenue Director Ken Zellers to replace her.
Also out is Tidball, who has served as acting director at the state's welfare agency since 2019.
Tidball has been grilled by lawmakers over shortcomings at the Department of Social Services for the past several months, including the findings of a federal watchdog that said the state wasn't properly tracking and reporting runaway or missing foster children.
A spokeswoman for the governor said in June that the administration was actively searching for a full-time DSS director. For now, however, Knodell will run the agency after having just served as acting director at the Department of Health and Senior Services after former director Randall Williams was ousted.
Tidball, who has been with the state since 1995, will return to her position as a deputy director of the department.
House Minority Leader Crystal Quade, D-Springfield, said it was not a surprise that Tidball was replaced, but she said she hopes Parson moves quickly to find a full-time director.
"I do have questions about what's going on with that department. I wish the governor would put someone in that position with experience in child neglect and abuse," Quade said.
Quade also lamented the lack of information about why Parson made the moves.
"This is about a fourth of the cabinet being switched up without an explanation, which is really curious and kind of concerning," Quade said.
She also said Parson's move to cut ties with Steelman was "pretty shocking."
"It's concerning. I feel like Sarah deserves a little more than one line," Quade said.
Sen. Brian Williams, D-University City, said he is pleased Parson is addressing problems within the department that oversees foster children.
"I'm hoping that the change means the governor's office is taking it seriously and attempts to fix the problems," Williams said. "I'm looking forward to working with him to keep kids and families safe."
Parson also announced that Maggie Kost will take over as acting director of the Department of Economic Development following the departure of Rob Dixon, who left the top job for a new post at Ameren. Kost is a deputy director in the department.
Taking over for Stringer at DMH is Valerie Huhn, who serves as a deputy director at the department.
Stringer spent 24 years at department, including the past seven as director.
"The commission is grateful for Mr. Stringer's years of service to the Department of Mental Health," said Teresa Coyan, who chairs the state's Mental Health Commission. "It has been a privilege to work with such a devoted, respected and innovative mental health advocate."