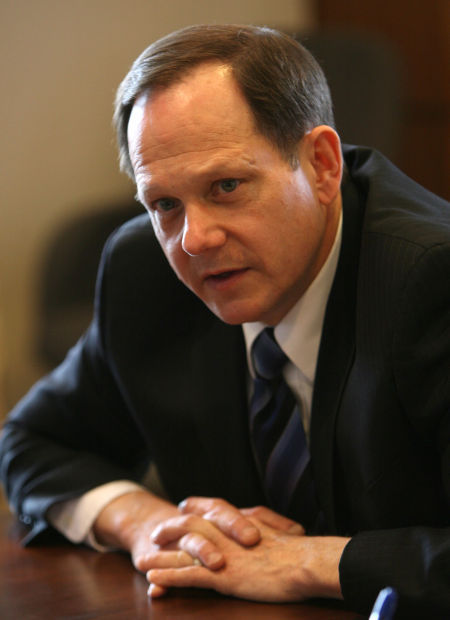 ST. LOUIS • Mayor Francis Slay is pushing to raise the minimum wage in the city, joining cities across the nation in a quest to boost the income of low-wage workers.
Specifics of Slay's proposal are still under consideration, but a draft bill would raise the city's minimum wage to $15 by Jan. 1, 2020. A formal bill is expected to be filed at the city's Board of Aldermen by next week. Alderman Shane Cohn is sponsoring the measure.
"Mayor Slay is committed to raising the issue with the Board of Aldermen this summer," said Mary Ellen Ponder, Slay's chief of staff. "He believes, and he thinks most residents agree, that a higher minimum wage would be a good thing."
But the board may have a deadline looming.
The Missouri Legislature passed a bill in this year's session to bar cities from raising the minimum wage higher than the state level, or taking other actions that would require businesses to provide employee benefits that "exceed the requirements of federal or state laws, rules or regulations."
If Gov. Jay Nixon signs the bill, it would take effect by Aug. 28, city officials said.
Before that date, St. Louis City Counselor Winston Calvert said, the city is "confident that the city has the authority to adopt its own minimum wage and that the state law does not prevent the city from doing so."
Raising minimum wage has been a popular national trend. A 2014 Pew Research poll found 73 percent of the public supported raising the federal wage to at least $10.10 an hour. But it has drawn ire from business groups.
The St. Louis bill is expected to exempt small businesses who employ 15 people or less, or businesses that do less than $500,000 in gross sales.
The proposal would slowly raise the wage, setting a base rate of $10 upon passage. It would then increase the rate annually by $1.25 every year until reaching $15 in 2020. Starting in 2021, the $15 an hour rate would be raised or dropped based on the national rate of inflation.
The proposed hike will be controversial — especially among groups that long have complained about the city's 1 percent earnings tax.
"Raising the minimum wage, especially by this large of an amount, is going to lead to more job losses," said Michael Rathbone, a policy analyst at the Show-Me Institute.
Rathbone said raising the wage significantly above that of other surrounding communities could cause businesses to leave town.
"The more you raise the minimum wage, the more you cause labor costs to rise," Rathbone said. "It's an incentive to relocate."
Kansas City officials had hoped to allow voters to decide in August on a proposal to raise the city's minimum wage to $15 an hour by 2020. Now, the city is holding community meetings to find consensus on the issue.
Cities in more liberal states have had swift success.
The St. Louis push comes after the Los Angeles City Council voted last month to raise its minimum wage from $9 to $15 an hour by 2020. Other cities, including San Francisco and Chicago, have also approved increases.
Sacramento, New York City, Washington, D.C., and others also are considering wage proposals.
But advocates said the national push has largely been ignored in the Midwest.
"With this proposal, supported by Mayor Francis Slay, the fight to raise wages significantly for underpaid workers struggling to get by has spread beyond America's coastal cities to the heartland," said Christine Owens, executive director of the National Employment Law Project, in a statement. "The proposal is a strong and meaningful step towards lifting workers out of poverty, alleviating taxpayers of the unfair burden of subsidizing companies that pay wages so low their employees must rely on public assistance, and boosting the local economy, which will benefit from extra spending that comes with higher wages."
A cost-of-living adjustment boosted Missouri's rate by 15 cents at the start of the year. Missouri's current minimum wage rate is $7.65 per hour, just higher than the federal minimum of $7.25.
Coincidentally on Tuesday, Missouri Secretary of State Jason Kander announced that three initiative petitions that would raise the state minimum wage had been qualified for circulation, meaning groups that back such a change may begin collecting signatures toward placing it on a public ballot.
Last year, St. Louis raised the minimum wage for all city workers to $10.10.
The proposed wage hikes are designed to help the working poor, who proponents say are struggling to survive in the current economy.
A recent study by the National Low Income Housing Coalition recently found that the average hourly wage to afford a basic two-bedroom apartment in St. Louis is $15.69.