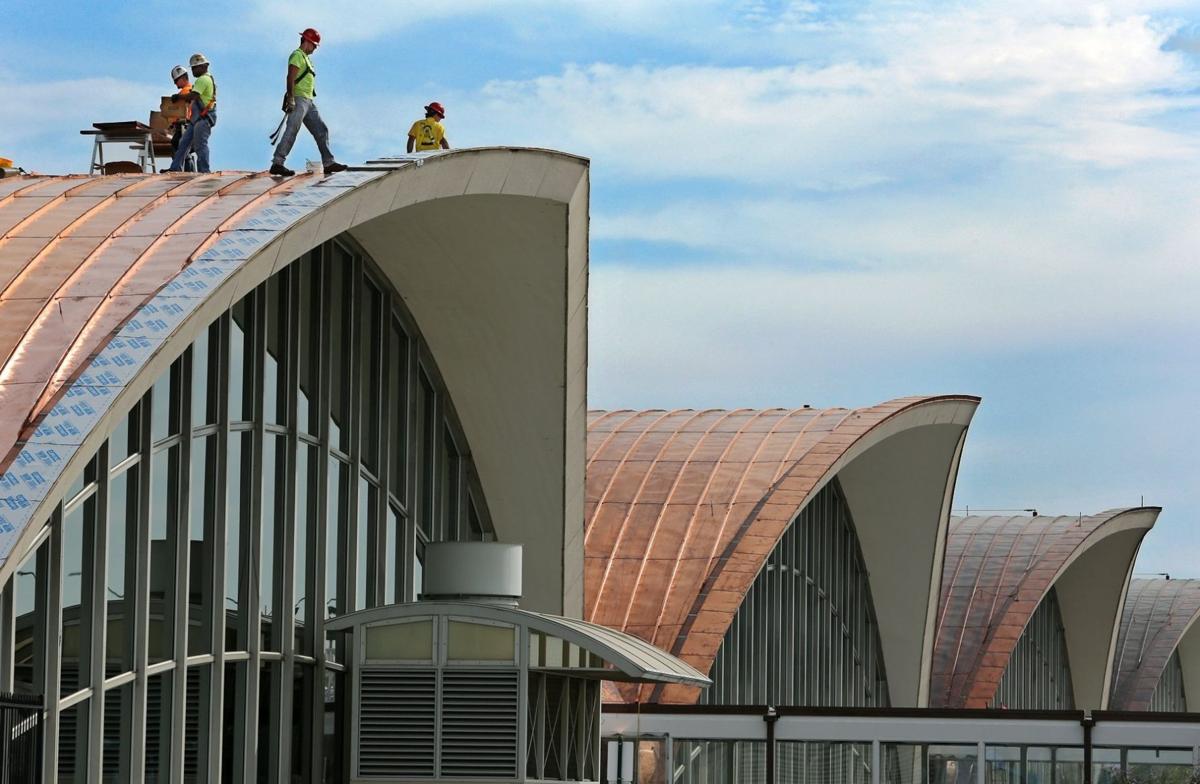 The city is asking for federal approval to study whether it's a good idea to put St. Louis Lambert International Airport under private management.
Mayor Francis Slay was in Washington with Travis H. Brown, president of Grow Missouri Inc., an organization funded by retired St. Louis investor Rex Sinquefield, to apply for one of five open slots in the Federal Aviation Administration's Airport Privatization Pilot Program.
The preliminary application made Tuesday asks only for the OK to examine privatization, and a decision could come in a month.
Before such a plan would be enacted, it would need approval from the Board of Aldermen, the Board of Estimate and Apportionment, airlines that serve Lambert and voters.
If eventually given the final go-ahead, something that would be at least a year away if it happens at all, the city would retain ownership of the airport and its land, but a private company would lease it. Money coming into the airport could be used for needs beyond the airport and by the city and St. Louis region, something not allowed under the current operation system.
Slay said the money could bolster infrastructure, and he cited the Northside-Southside MetroLink expansion, a project that he made a priority in the waning days of his administration, as one potential recipient of such funds.
"I don't think anyone would disagree that Lambert needs a big shot in the arm," Slay told the Post-Dispatch from Washington.
The airport has battled tough times in past decades, although it has seen a recent surge in passenger traffic and flights.
It suffered a devastating blow and loss of flights to Europe when American Airlines ceased its hub operations through a series of cuts after absorbing the bankrupt Trans World Airlines in 2001. A $1 billion runway built when Lambert was still a bustling hub has been underused, and attempts to get a China Hub faltered.
But the airport saw a 10 percent spike in passenger traffic to about 13.9 million people in 2016. It has added new destinations, more flights and larger planes — airlines at Lambert added 733,000 seats last year. It's working to get an international air-cargo facility running, as well as a "dual-customs" facility capable of clearing goods moving to and from Mexico. Even shipping livestock is being explored.
Revenue that the city receives from the airport has remained flat for several years at about $6 million annually, and it is not expected to change under the current operating structure, according to the city. But under a public-private partnership, the city said it would receive "an immediate capital infusion for non-airport uses" or it could get substantially increased annual payments.
The airport's budget is $170 million, and supported entirely by user fees paid by airlines and concessionaires and federal funds.
An airport seeking to participate in the airport privatization pilot program must receive preliminary FAA approval through an application process to reserve one of the slots available under the program, according to the FAA. Once that agency approves the preliminary application, the airport can select a private operator to manage the airport, negotiate an agreement with the private operator and prepare a final application to submit to the FAA.
Commercial service airports such as Lambert, can be leased, but not sold.
Only two commercial service airports completed the privatization process established by the FAA privatization program, the report said.
But the Luís Muñoz Marín International Airport in San Juan, Puerto Rico, which was privatized in 2013, is the only one with a private operator under the provisions of the privatization pilot program. Aerostar Airport Holdings is operating the airport under a 40-year agreement with the Puerto Rico Ports Authority.
Others are looking into going with private management.
The FAA accepted in December a preliminary application to participate in the privatization pilot program by the Westchester County Airport in White Plains, N.Y., which is owned and operated by Westchester County.
And it approved a preliminary application from the Hendry County Airglades Airport in Clewiston, Fla., which is owned and operated by Hendry County, in 2010. The FAA says that airport is preparing a final application.
Grow Missouri has put up a dollar amount "in the low six figures" to pay for people to help with the application for Lambert, and the city has no money invested in the application.
Slay said Grow Missouri had no financial interest in the project.
Rhonda Hamm-Niebruegge, the airport's director, was not available for comment Wednesday, said Jeff Lea, an airport spokesman. He did say that she was not in Washington with Slay.
Local leaders were largely unaware of the application but were open to learning more about what private management could mean for St. Louis.
"This is the first I'm hearing about this," Comptroller Darlene Green said by phone late Wednesday. "And that is all I can say without having any other information regarding this subject."
St. Louis County Executive Steve Stenger said in a statement that he supported exploring the idea of such a public-private partnership.
"Done correctly, a large private investment to upgrade the airport could be a game changer for St. Louis County and the entire region," he said.
The office of Board of Aldermen President Lewis Reed has not yet seen anything on the idea, said Tom Shepard, Reed's chief of staff.
"We are all for increasing revenue and efficiencies at the airport, but certain operations need to be publicly managed," Shepard said. "Citizens need to take note of the players involved in this as we await details of any proposed arrangements."
He brought up Reed's role in putting a stop to a controversial 2013 effort supported by Slay to approve a $250,000 consulting contract with Veolia Water North America. Slay said at the time the aim wasn't to outsource the water division but to investigate ways to keep water rates from rising.
Two members of the airport commission reached Wednesday night said they were not aware of the Slay administration's plans.
One of them, Rik Nemanick, said that wasn't unusual.
"Usually these things go through the Board of Aldermen before they get to us," he said.
Commissioner Kathleen Osborn said that although she didn't know the details of Slay's plan, she had heard talk of potential public-private partnerships in the past and there had been discussions about potentially pursuing whether it would be a plus for the city.
And the woman likely to be the city's next mayor is willing to consider the idea.
"I am open to the idea of exploring a public-private partnership at Lambert Airport as long as it makes sense for city taxpayers," Alderman Lyda Krewson, a member of the airport commission, said in a statement. "I will look forward to hearing from the FAA later this spring."