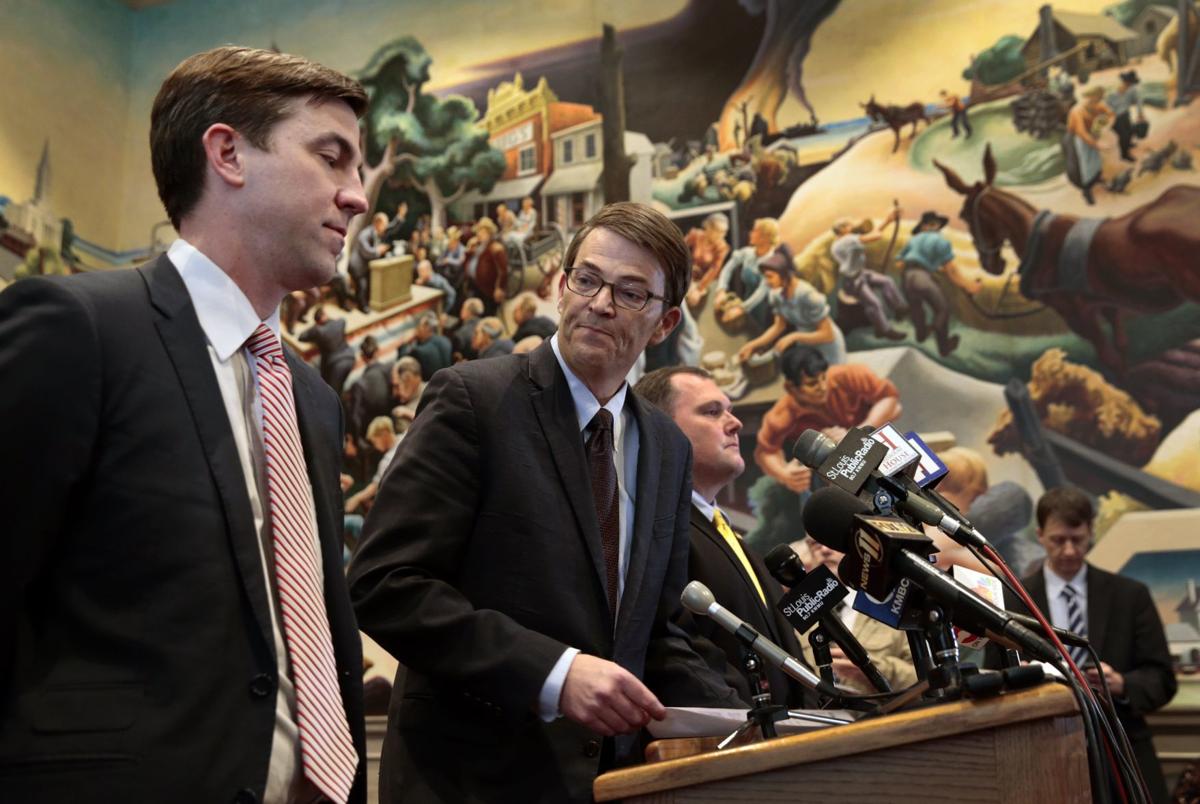 JEFFERSON CITY • Members of a special committee formed to investigate Missouri Gov. Eric Greitens say the panel could meet behind closed doors when it hears testimony from certain witnesses.
Although Rep. Tom Pierson Jr. said he would prefer to keep the entire proceedings of the historic and high-profile committee open to the public, he and Rep. Kevin Austin, R-Springfield, are raising the possibility of barring the public from some of the meetings.
In particular, they said the woman at the heart of the scandal involving the governor has not been publicly identified and should not be forced into the public eye.
"You wouldn't necessarily want to impose on her that way. You'd want to respect her wishes," Pierson, D-St. Louis, said Tuesday. "I think if we do subpoena some folks who have their identity anonymous, that may be something we respect."
Rules outlining how the special committee will operate allow for the meetings to be closed to the public at the discretion of the chairman.
Greitens is accused of taking, without consent, a photo of a woman with whom he had an affair in 2015.
The probe, which is not likely to get underway until next week, could lead to the impeachment of Greitens, but it also could result in no action or in a censure from the Legislature.
The committee will have subpoena power and could call the governor and the woman to testify. They are due to submit a report on their investigation in early April, according to the resolution.
"We are going to be asking questions of witnesses on both sides and hope to have a process with full involvement from everyone involved in the matter," Barnes said.
"This is not meant to embarrass or harass anyone. This is neither seeking to exonerate or witch-hunt anybody. This is just meant to gather facts," Austin said.
Others on the panel include Republican Reps. Don Phillips of Kimberling City, Jeanie Lauer of Blue Springs and Shawn Rhoads of West Plains. Democratic members include Pierson and Assistant Minority Leader Gina Mitten of Richmond Heights.
According to the resolution forming the panel, members and committee staff will operate under an order not to discuss the testimony with the public until the probe has been concluded.
On Tuesday, he was scheduled to oversee the unveiling of a painting of George Washington Carver in the governor's mansion, but the event was closed to the press.
The governor's woes continued to have strong political repercussions.
In Washington, U.S. Sen. Roy Blunt, R-Mo., told reporters in the Capitol Tuesday that the Greitens situation was a "disappointment for everyone involved."
Asked about Greitens' claims that St. Louis Circuit Attorney Kim Gardner, a Democrat, conducted a partisan investigation, Blunt said: "I think that the legal system and the legislative look at this will be appropriate."