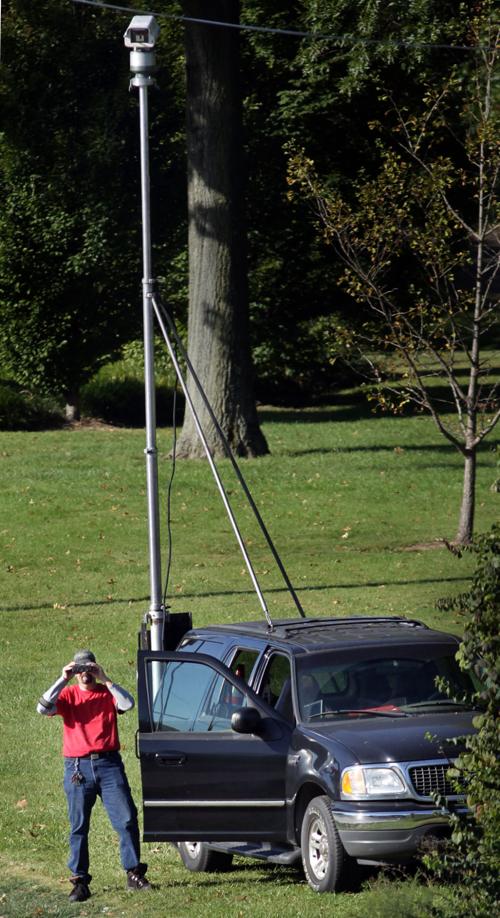 While much of the debate about speed cameras in the St. Louis area could be summed up as "It's a cash grab" vs. "It's about safety," a different argument is being heard in federal court:
Call it "Stop infringing on our patent" vs. "We invented this technology."
American Traffic Solutions, of Arizona, one of the nation's largest photo enforcement companies — and the dominant player in the red-light camera business in St. Louis — is suing the much smaller Sunset Hills-based B&W Sensors, which has carved out a niche with speed camera contracts in the area. American Traffic Solutions, which goes by ATS, is seeking a preliminary injunction to halt B&W's use of the technology it claims infringes on its patents.
Although ATS is better known in greater St. Louis for operating red-light cameras, it is also one of the nation's biggest speed camera outfits. The company has just one speed client in greater St. Louis — Calverton Park — and says it hasn't bid for any others. Meanwhile, upstart B&W Sensors has made inroads in speed enforcement with cameras in Cool Valley, Country Club Hills, St. Ann and several other small cities in the area.
In a complaint filed last year in U.S. District Court in St. Louis, ATS said B&W infringed on its patents for the technology using photography to simultaneously clock multiple vehicles on a single roadway. It says B&W has misrepresented its speed-camera services to potential customers by falsely claiming that ATS could not offer them.
ATS also complains that B&W has brought negative local attention to speed cameras, damaging the potential market for ATS in the St. Louis area. St. Louis County Police Chief Tim Fitch has aggressively criticized the proliferation of speed cameras in north St. Louis County.
"As long as municipalities and private camera companies continue to feed off of some of the poorest people in the St. Louis region, it would appear that nobody really cares," Fitch wrote on Sunday in his blog.
In its filings, B&W says it invented the technology before the patents were granted to ATS last year by the U.S. Patent Office. B&W claims ATS copied B&W's patents for multivehicle tracking.
"We now have the untenable situation where two U.S. patents having identical claims have been issued to two separate owners. Obviously, there simply can't be two separate entities who each own a patent with the same patent rights," B&W attorney Craig Tadlock wrote in the lawsuit.
B&W says ATS' patents are invalid and unenforceable, and asked the court to block ATS from ever asserting again that B&W infringed on them.
And B&W says it has much more to lose than ATS. A preliminary injunction would be likely to mean the death of the company, Tadlock wrote.
The case went to Judge Audrey G. Fleissig in June. There is no deadline for the judge to rule; complex patent cases can take months to sort out.
An injunction could affect the municipalities in the St. Louis area that use B&W Sensors equipment to write speeding tickets. The injunction would last until a full trial on the merits of ATS' arguments.
Meanwhile, B&W "would have to stop using ATS' technology," said Ed Dowd, a St. Louis-based attorney for ATS. He said B&W would be "free to use any other alternative technology that was available."
Officials of two of B&W's municipal clients said they didn't know about any court battle that could affect their speeding ticket operations.
"I wish I would have gotten a heads up," said Dennis Oglesby, the Flordell Hills marshal. The tiny north St. Louis County community has a speed camera on Jennings Station Road. The city credits the camera with dramatically reducing serious accidents on the busy road.
Country Club Hills mayor David Powell Sr. said the lawsuit "doesn't concern me" and "doesn't concern the city."
B&W would not comment on the lawsuit, other than to say it would vigorously defend itself.