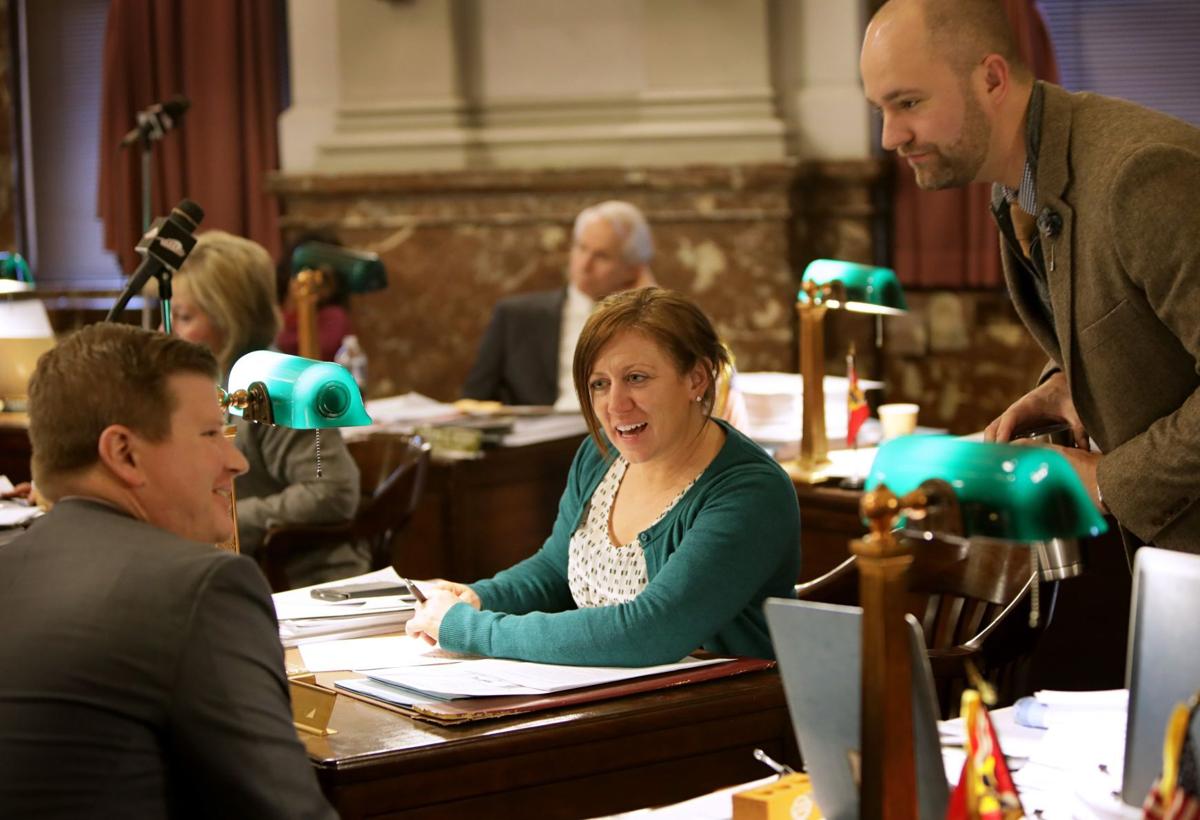 ST. LOUIS — After city voters last week elected four new aldermen aligned with the progressive faction of the party, some members of the Board of Aldermen say they're interested in changing the rules that govern committee assignments. One alderman wants that debate held in public.
The board's caucus meeting, which sets procedural rules for the legislative body after municipal elections every two years, is scheduled for 9 a.m. Tuesday morning at the Laborers' Local 42 union hall on Ewing Avenue.
On Monday, Alderman Christine Ingrassia, who represents parts of several south and central corridor neighborhoods, sent a letter to Aldermanic President Lewis Reed asking that the meeting be opened to the public. She argued it is not exempt from the state's open records and meeting law because setting the rules relates to the functions of the Board of Alderman.
"I believe the Sunshine Law in the state of Missouri clearly indicates that if we are undertaking business that has to do with the workings of the Board of Aldermen, the meeting needs to be public," Ingrassia told the Post-Dispatch Monday. "This is not in any stretch of the imagination meant to be adversarial or accusatory. I just think sometimes these things that are steeped in history and tradition just kind of keep moving forward without anyone asking questions. I think we have a way to address it and admit that we should have been doing it differently and move on in order to serve our constituents better."
Ingrassia said she began researching the rules in the wake of city voters passing Proposition D in November, which made the city's March primary election nonpartisan and established a top-two runoff in the April municipal election. The board has for years been made up entirely of Democrats, but many ran without a party label this year under the new rules.
Reed spokeswoman Mary Goodman said Friday that the meeting isn't covered by the state's open records law because it's a party function. Any aldermen or incoming aldermen declaring themselves to be Democrats can attend, she added.
"The president has called a caucus of the Democratic Party of the Board of Aldermen as he has always done," Goodman said. "It is a Democratic Party caucus meeting as we always have had."
But the Board of Aldermen's attorney, Louis Galli, suggested that the caucus meeting is not a political party meeting, according to a copy of an email obtained by the Post-Dispatch.
The board would be meeting "as a public 'public governmental body' to discuss 'matters which relate in any way to the performance of the public governmental body's functions or the conduct of its business,' which is 'public business,'" Galli wrote. "None of the exceptions for closed meetings apply."
Goodman said the caucus is not a public meeting because it is intended for members of one political party to "organize and create their agenda without members of the other party disrupting."
Any official votes on rule changes are done in public at the Board of Aldermen, Goodman added. "Nothing is official until the full Board of Aldermen meets and votes in public, which will occur on April 20," she said in a text message.
Ingrassia declined to discuss specific rule proposals or whether they were being sought because of Tuesday's election results. The new members were backed by the progressive wing of the party, and a leader of the effort, Alderman Megan Green, says their wins give progressives 15 votes — a majority — on the 29-member board. That faction of the board has often clashed with Reed and his supporters.
Mayor-elect Tishaura Jones appears to have a friendly majority on the Board of Aldermen, where progressives hope to have a closer working relationship with the mayor. 
Some members of the board have already hinted that they may pursue rule changes on committee assignments. While seniority determines who serves as chair, current rules empower Reed to decide committee membership and which committees handle bills. Alderman Dan Guenther, a progressive who represents several south side neighborhoods, said last week he felt Reed has relegated some progressives to less impactful committees.
Ingrassia said some rules changes could update outdated language and may offer "an opportunity to determine whether or not there are ways to make the rules more equitable for everyone."
"I think there's definitely an appetite for some rule changes," she said. "Quite honestly, I don't know how long it's been since they've been comprehensively looked at and addressed."
Alderman Joe Vaccaro, who represents parts of southwest St. Louis and is considered aligned with Reed's faction, said the push appears designed to take away some of Reed's power. But Vaccaro isn't convinced the progressives have 15 votes and suspects Reed will be able to "keep it under control."
"I don't really think there's going to be a lot of change," Vaccaro said. "If they really do want to change a lot of rules, then I think it'll be game on."
James Page, who unseated Alderman Tammika Hubbard in the 5th Ward covering downtown and the near north side last week, said Monday any rule change efforts weren't designed to take power away from Reed's office. Rather, he said, some aldermen are looking for "more efficient, more equitable ways of distributing roles and responsibilities."
Ingrassia said Monday she hoped the caucus meeting would be pushed back to follow the state's open meeting and records law.
"If we do it the right way, it hasn't been properly noticed," she said. "So in my mind, we shouldn't be having a meeting tomorrow, we should be posting it at least 24 hours in advance."
While he said he had no problem with opening the meeting, Vaccaro questioned whether other caucus meetings, such as the aldermanic African American caucus, would have to be public under Ingrassia's argument.