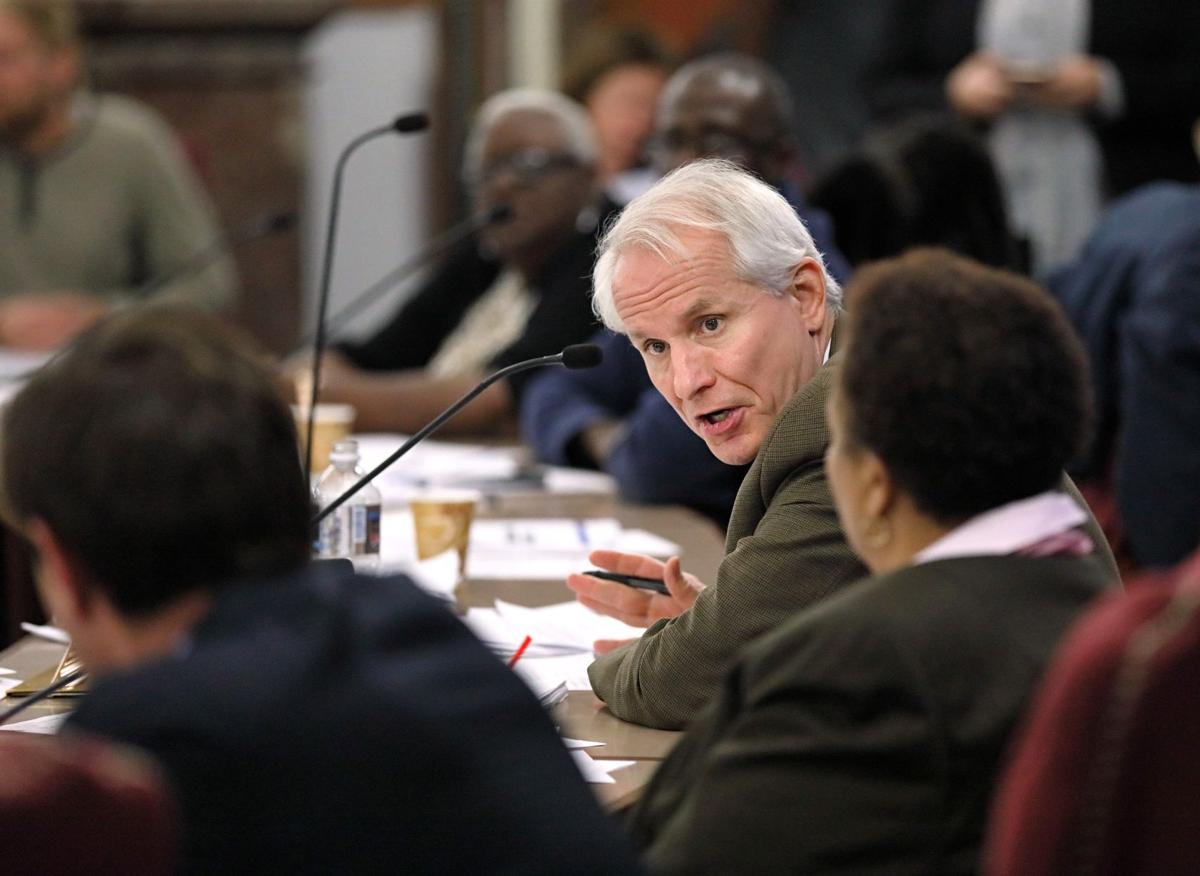 ST. LOUIS — Joe Roddy, who has served as a St. Louis alderman for more than 30 years, will not seek reelection in March, another long-serving city legislator to step down as the old guard struggles to fend off challenges from younger, more progressive candidates.
Roddy, 62, is the longest-serving member on the board now. He represents Forest Park Southeast and the Central West End, some of the most affluent and job-heavy areas of the city. And he has worked closely with civic leaders behind major redevelopment projects such as the Cortex tech district, Botanical Heights and the St. Louis University-SSM Hospital and Midtown redevelopment district. His 17th Ward, anchored by the Washington University Medical Center and the region's largest employer, BJC HealthCare, has seen dramatic reinvestment and population shifts in the last three decades. Its neighborhoods have become two of the trendiest in the region.
Elected in 1988 and for the last six years chair of the powerful Housing, Urban Development and Zoning committee, Roddy will depart amid a shift in the city's dominant Democratic party toward younger, more progressive leaders. In recent years, they've taken seats held by longtime pols, such as Alderman Cara Spencer's 2015 win over 20-year incumbent Craig Schmid in the 20th Ward and Dan Guenther's 2017 defeat of 9th Ward Alderman Ken Ortmann, who had held the seat since 1999. In the 8th Ward, Annie Rice now represents an area that Steve Conway had held for 27 years before resigning to eventually take a job as Mayor Lyda Krewson's chief of staff.
Though Roddy doesn't have a challenger yet, he faced the toughest race of his career in 2017, when he won with 58% of the vote.
SLU wants power to guide development, offer incentives in 395-acre area surrounding SSM's planned new hospital. 
His retirement is the end of a political dynasty. He and his father before him dominated local politics in Forest Park Southeast for almost 70 years, as it transformed from an Irish working class neighborhood to one struggling with disinvestment to its recent rebound as the trendy Grove district.
Roddy's father, Joseph P. Roddy, was once described as the closest equivalent to a political boss in St. Louis. First a laborer on the loading docks of the old Stix, Baer and Fuller department store, the elder Roddy was alderman for the 17th Ward from 1953 to 1968. He later would be appointed by Missouri Gov. Warren Hearnes to fill the St. Louis Circuit Clerk position. The younger Roddy remembers his father dropping everything to travel to the 1968 Democratic National Convention in Chicago to lobby the governor for the appointment, following the death of clerk Phelim O'Toole.
The position used to be among the most powerful in city politics. It controlled the largest cadre of patronage jobs and was used to reward supporters and control an organization to deliver votes to favored Democratic candidates. The elder Roddy would go on to become the head of the city's Democratic Party until 1982, when, in a political upset, he lost reelection as clerk to future Mayor Freeman Bosley Jr.
The younger Roddy was elected to the ward in 1988, drawn to the role by growing up around politics. He remembers people coming by his family's house nearly every day, asking for jobs or political support from his father, who always traveled with an entourage. But the younger Roddy never made politics his sole profession, earning a business degree and later an MBA from Washington University.
Decisions on property tax breaks had been mostly driven by a neighborhood's alderman. Politics could still present roadblock to incentive guideline map. 
Early in his career, he worked in real estate finance, which, he said, served him well as he began working with developers to rebuild the Central West End in the '90s and 2000s. Urban real estate had been decimated following the 1986 federal tax reform that limited the effectiveness of federal historic tax credits. The downturn was so bad Roddy said he felt forced to allow the demolition of several historic buildings in his ward — a fact he still lamented in an interview this week. But it wasn't until the late '90s and early 2000s, when Missouri passed its own historic tax credit, that renovation of the old structures again became financially attractive to developers.
Backed tech district
He was an early proponent of the idea of a tech district, a plan that later morphed into the successful Cortex area on what was once an old swath of underused industrial structures.
His use of tax incentives has drawn criticism from progressives as his ward became richer and whiter. Roddy has sparred with the young progressives over development and aldermanic privilege — the tradition of staying out of development decisions in other wards. He defended his redevelopment efforts over the decades, arguing they helped stabilize neighborhoods when the city was in freefall in the late '80s and early '90s.
"If you have a flat to declining tax base, you need to figure out how to reverse that first," Roddy said.
Those areas redeveloped because of their proximity to the jobs in Cortex and BJC, he said, and the next logical redevelopment area will be the adjacent neighborhoods just north of Delmar, he hopes.
The proposal has prompted political sparring and reinvigorated the debate over community benefit agreements.
"I feel like I've done almost as much as I can with my ward," Roddy said.
The city's next big debate will be over criminal justice and police reform, he said. After 70 years of disinvestment in the city, the last few years of good investment in certain neighborhoods is "fragile and fleeting" and unsustainable without lowering murder rates in the city.
But he said he'll leave that debate to the next generation.
"I'm an old white guy who's had a charmed life," he said. "And for me to go ahead and interject myself in the criminal justice debate, it just creates confusion and it's not making a substantial contribution to solve the problem."