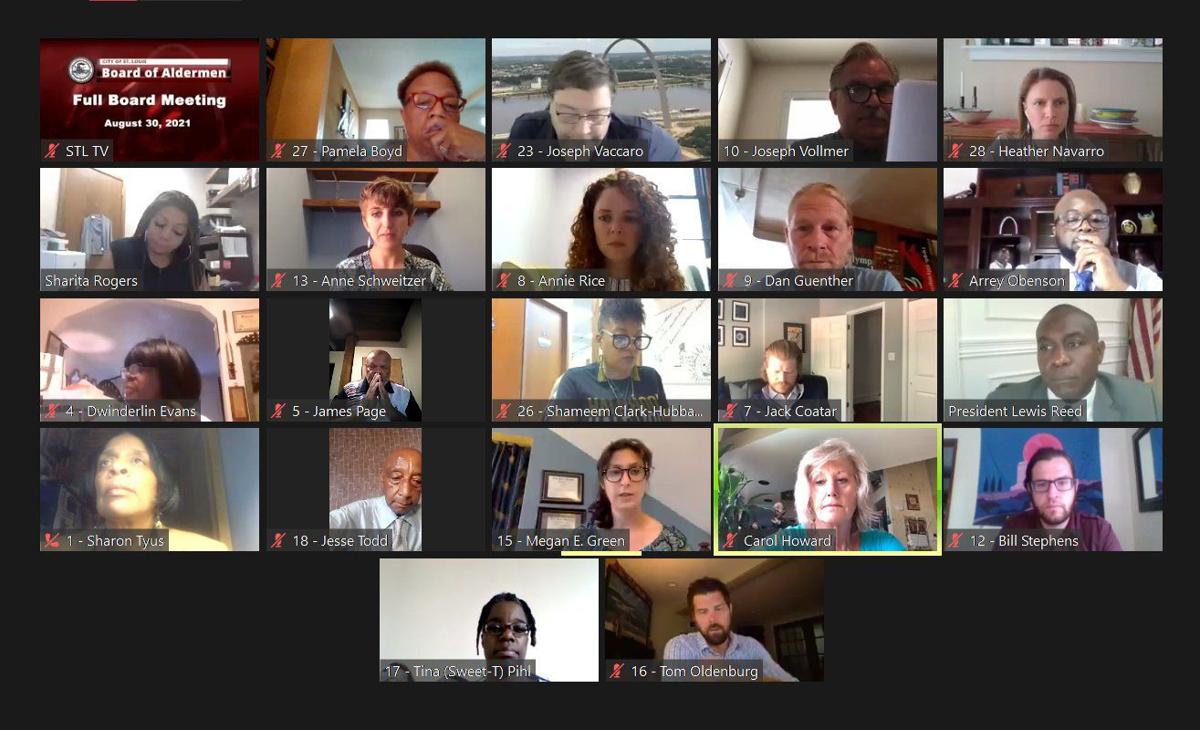 ST. LOUIS — City aldermen on Monday quietly voted to continue St. Louis' indoor mask mandate, in sharp contrast to the rancor displayed on the issue in recent weeks by their peers in St. Louis County.
Aldermen, on a voice vote and with almost no discussion, passed a resolution backing the continuation for another 30 days of the order, which had expired Wednesday.
No one voted against the extension of the directive, issued by Dr. Fredrick Echols, the acting health director, to try to stem rising coronavirus cases in recent weeks.
"I think it sends a strong message that we're doing this unanimously," said Alderman Jack Coatar, 7th Ward, a co-sponsor of the resolution. "This is in response … to the growing delta variant and the issues we've been seeing with that."
The County Council on Friday endorsed a similar county mask order but only after previously rejecting it amid weeks of debate and contentious public hearings.
But enforcement of the county order has been blocked by a St. Louis County Circuit Court judge. The county has asked the judge to lift a preliminary injunction against the order there, citing the 4-0 council vote. It has requested a hearing on Sept. 8.
Mayor Tishaura O. Jones' office on Monday issued a statement saying the mayor was grateful to the Board of Aldermen for its action, which unlike in the county took place without any hearings.
The city resolution, sponsored by Aldermanic President Lewis Reed, also calls on the city health department to submit a written report by Sept. 11 on the city's vaccination efforts.
"We've got to attack this in two ways … both vaccinations and continuing to mask," Coatar said.
Attorney General Eric Schmitt has filed legal challenges against both the city and county mask orders but no court action has taken place on the city version.
The renewed city mask order, which was issued Monday, applies to people 5 and older in indoor public places and public transportation. Exempted are people as they eat and drink in restaurants and bars and those with medical exceptions.
The revised order, set to expire Sept. 29, also adds an exemption for people with "religious beliefs or practices" that prohibit wearing a face covering.
The aldermanic vote was in response to a new state law requiring local governing bodies to renew after 30 days any health orders restricting access to businesses.
Echols last week in a letter to aldermen said he planned to issue the extension last Wednesday but he ended up waiting until aldermen acted.
Kim Vanden Berg, a city health department spokeswoman, said when the city has received complaints that a business is allowing people to enter unmasked, the agency has contacted the establishment to explain the order and its importance.
"We start with that education," she said. "Our main focus is protecting the health of the city of St. Louis and its residents."
She said she didn't know if additional enforcement efforts are under consideration.
The city council in Kansas City earlier this month voted to extend that city's mask mandate and on Monday the Jackson County Legislature did so for some of Kansas City's suburbs.
No action on Jones veto
Meanwhile, the mayor's line-item veto of $33 million from a pandemic aid bill passed by aldermen last month was routinely read aloud to the board, which met by teleconference.
But no effort was made Monday to override the veto. Reed's legislative director, Mary Goodman, said she didn't think a decision has been reached yet on whether to attempt an override. An override needs support from 20 of the 29 board members.