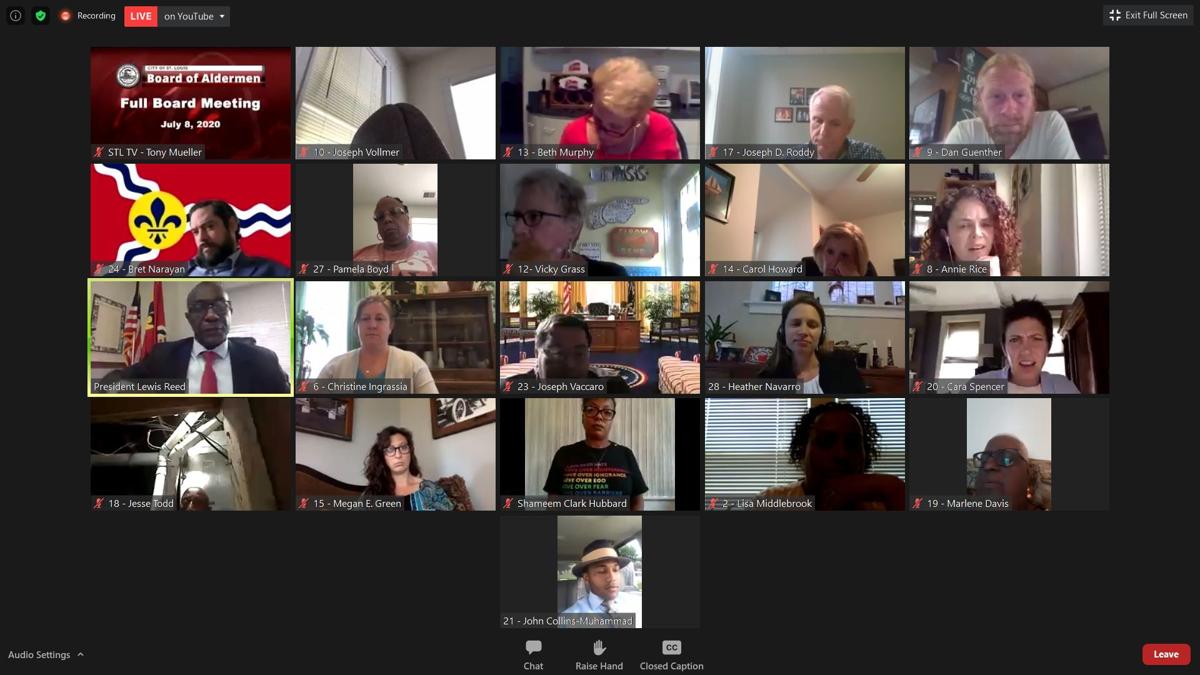 ST. LOUIS  — Voters will decide at the Nov. 3 election whether to remove the residency requirement for police and other city employees following action Wednesday by the Board of Aldermen.
The board voted 22-4 to put the issue on the ballot. Aldermen also passed bills to beef up use-of-force restrictions for police and outlining how the city will spend $64 million in federal aid to deal with the coronavirus pandemic.
The residency repeal sponsor, Alderman Joe Vaccaro, D-23rd Ward, repeated his argument that putting the issue before voters via a city charter amendment is preferable to letting the Missouri Legislature deal with the question.
"If we don't vote for this, it's going to pass in Jeff City," he said. Earlier this year Mayor Lyda Krewson, facing a chronic shortage of police officers, pressed state lawmakers to act after aldermen last year rejected a previous bill.
Another supporter, Carol Howard, D-14th Ward, said the measure also would help the city attract more applicants for other hard-to-fill jobs. "We don't have people to trim the trees, we don't have people to sweep the streets," she said.
But opponent Annie Rice, D-8th Ward, said removing the residency rule would make it less likely that police officers will view the people they're dealing with as neighbors. Having more nonresidents in the department, she said, could make it akin to "invading forces."
State law already allows police officers and firefighters to live in the suburbs once they have seven years' service.
Alderman Jesse Todd, D-18th Ward, also renewed his call for the city personnel department to step up efforts to recruit city residents for vacancies. "We have plenty of people right here in this city who can do the job," he said.
The other negative votes were from Megan Green, D-15th Ward, and Cara Spencer, D-20th Ward.
Aldermanic President Lewis Reed allowed the bill to be taken up for final passage despite the fact that the board's rules committee had yet to send it to the floor.
That spurred committee chairman Sharon Tyus, D-1st Ward, to allege in a telephone interview after the meeting that the bill wasn't legitimately passed. Tyus didn't attend.
Reed ruled that the committee had already fulfilled its ministerial function of ensuring that changes made to the bill during the legislative process were incorporated correctly.
He alleged that Tyus' committee had intentionally delayed action on that and some other bills, which was denied by Green, another committee member.
The use-of-force bill, sponsored by Reed, would write into law some existing city police restrictions. Chokeholds are banned, officers must intervene when force is inappropriately used by fellow cops and de-escalation tactics are mandated.
The bill also adds some new policies, such as requiring police officers to file a report when a gun is pointed at someone regardless of whether it's fired.
Aldermen on Wednesday also:
• Put on the November ballot a tax revamp aimed at attracting more companies to offer high-speed internet service in the city.
The measure would require fiber network providers to pay the 7.5% gross receipts tax now levied on telephone service.
That would replace a right-of-way fee for companies laying fiber networks, which sponsors say is among the highest in the nation.
• Authorized a community improvement district at the site of the planned pro soccer stadium west of Union Station. The measure would allow an additional one-cent sales tax to be levied on items sold at the stadium and raise about $300,000 a year. 
• Approved the "to-go" sale of alcoholic beverages packaged by restaurants and bars through the end of the year to mirror temporary rules adopted by the state to help such businesses deal with the coronavirus.
Also Wednesday, Dwinderlin Evans and Vicky Grass, who won recent special elections to fill aldermanic vacancies in the 4th and 12th wards, were sworn into office. For the first time, women now outnumber men, 16-13, on the board.
In addition to wrangling over the time taken by Tyus' committee on some bills, Alderman Christine Ingrassia, D-6th Ward, Tyus and others complained that the special board meeting Wednesday had been improperly called.
They said board rules allow such a meeting only through a motion approved by a board majority. Reed said the board did that when it approved a motion at its regular meeting last Friday to adjourn until Wednesday.
Get Election 2020 & Politics updates in your inbox!
Keep up on the latest in national and local politics as Election 2020 comes into focus.