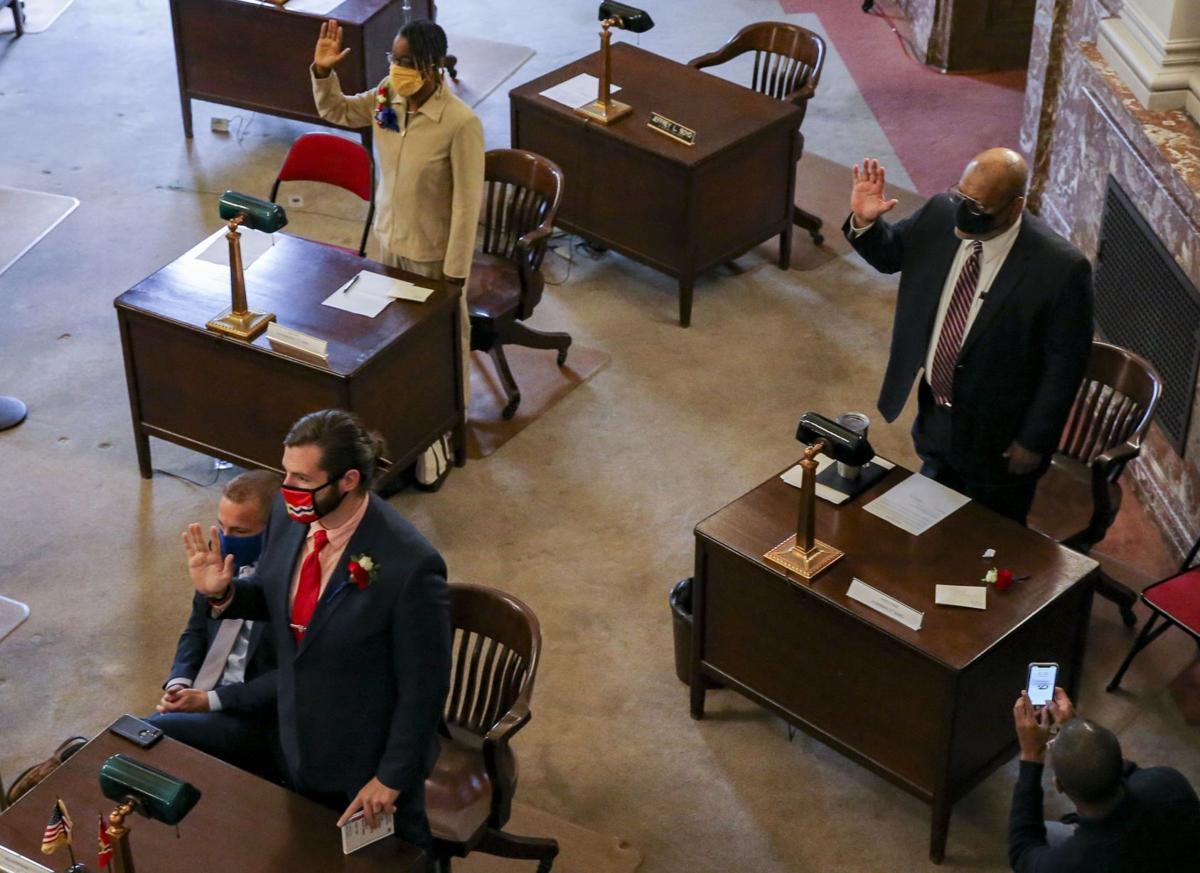 ST. LOUIS — The public will be able to testify at all St. Louis Board of Aldermen committee hearings under a rules change the board endorsed Tuesday as one of the first official acts in its new session.
The proposal, sponsored by 8th Ward Alderman Annie Rice, in part demonstrated the new strength of the progressive faction of the board, which had expressed interest in changing some of the chamber's rules. But a proposal to change committee assignment rules, which was backed by some progressive members, did not pass during a closed-door caucus meeting last week.
The 29-member St. Louis Board of Aldermen does not allow public comment when the full board is in session. During committee hearings, which are often during the day, public comment is usually allowed, particularly on development matters where state law requires it. But some of its committee meetings do not always allow members of the public to speak on bills. For instance, the recent proposed changes to a firefighter pension board that former Mayor Lyda Krewson vetoed did not have a public hearing in committee.
Rice emphasized the rule change would still allow committee chairs to limit the amount of time each member of the public could speak.
"The chairperson still controls the flow of the room," she said. "This is just saying that at any public meeting we should welcome the public to testify on the issue that's in front of us."
Still, her proposal, which passed 16-10, garnered some opposition from several members of the board considered part of the establishment wing, who worried the change could cause committee hearings to drag on for hours.
"Then every meeting will go for hours on end," said 23rd Ward Alderman Joe Vaccaro, who chairs the board's public safety committee. "And it's not always necessary for some of the things that we do. It's always been up to the chairman to make that decision."
But Rice and supporters said any such instances would be rare and pointed out that many local government bodies have hearings that go well into the evening hours to accommodate public testimony.
"Whenever a citizen takes time out of their day to come down to City Hall, we should give them three minutes of our time to hear them out," said 24th Alderman Bret Narayan.
Alderman Marlene Davis, 19th Ward, made a motion to send the proposal to committee but later withdrew it.
Alderman Jack Coatar, 7th Ward, who represents downtown and won reelection against a progressive challenger, said the rule change still gives "ample discretion" to committee chairs.
"It's a bad look to be standing here saying one of the first acts we take as a new body is to say we don't want public input at our committee hearings," Coatar said. "We can probably just pass this today and move on with more pressing matters."