CLAYTON — The spread of COVID-19 showed no sign of slowing Monday as St. Louis County officials reported a record for new daily infections and local hospitals reported a record number of people hospitalized with the coronavirus.
The worrisome numbers come after weeks of surging COVID-19 cases locally and across the U.S., compounded by the new, highly contagious omicron variant, holiday travel and gatherings, and colder winter weather driving people indoors.
In St. Louis County, the state's most populous county, the rolling seven-day average of new COVID-19 cases hit 1,696, a record in the daily case rate since the global coronavirus pandemic reached the metropolitan area in March 2020.
The daily case rate represented a roughly 130% increase since last week, according to the county Department of Public Health. At least 23% of people being tested for COVID-19 were confirmed to be infected, a positivity rate higher than at any previous point in the pandemic.
"This is the worst we've ever been in the number of cases and the positivity rate in the pandemic," County Executive Sam Page said at a news conference Monday.
"The hospital admissions last week are the highest they've ever been. And I don't see this getting better in the next week or two, and I don't think anyone else in the public health world or the health system is expecting it to get better anytime soon," he said. "We have a problem."
Across the St. Louis region, the four big health care systems — BJC HealthCare, SSM Health, Mercy and St. Luke's — reported a total of 964 patients with confirmed COVID-19. The previous record, of 962 patients, was seen on Dec. 1, 2020.
On average over the past week, 159 people were admitted each day to area hospitals with COVID-19, the highest level seen so far throughout the pandemic.
The number of children hospitalized with COVID-19 doubled over the weekend. On Thursday, the most recent available pediatric data, there were 26 children hospitalized with the virus locally. On Monday, there were 54, according to the task force.
On Monday, a newly added site began offering PCR tests at the St. Charles Family Arena, at 2002 Arena Parkway in St. Charles. It is one of multiple state-sponsored sites expected to open in the coming days, in response to the recent, overwhelming demand for tests.
AIM Laboratories, a Bridgeton-based company founded in 2009, was offering the self-administered PCR tests at the Family Arena. Between 1,500 and 1,600 people had signed up to get tested on Monday, said Raza "Sonny" Naqvi, president and CEO of AIM Laboratories.
Demand for COVID-19 tests has risen swiftly over the past 10 days, Naqvi said, and the portion of tests returning positive results has jumped. A few months ago, less than 1% of the COVID-19 tests run at AIM Laboratories were returning positive. Last week, the rate got as high as 14%, Naqvi said.
The site is open from 8 a.m. until 4 p.m. every day through Jan. 13. Appointments are required. To control traffic, the site is booking 35 cars for each half-hour slot.
Mask vote
The rising case numbers in St. Louis County had prompted at least one local legislator to call for a countywide policy requiring masks in indoor, public settings. In a letter dated Dec. 30, Councilwoman Lisa Clancy, D-5th District, asked the council to adopt a mask mandate in response to rising case numbers.
Page on Monday said he supported the move. The county last month lifted a mask order issued by Page and Dr. Faisal Khan, acting health director, because of a Missouri judge's ruling striking state regulations that allowed such orders. The county has appealed the judge's ruling.
The council could effectively replace the mask order with legislation requiring masks, Page said.
"It's time to let the County Council take legislative action on this urgent issue," Page said. "A mask mandate will result in less confusion, more compliance and keep our economy going and keep our schools open."
But it was unclear Monday that a mask requirement would get majority support on the seven-member County Council.
The council's three Republicans — Councilmen Tim Fitch, R-3rd District; Mark Harder, R-7th District; and Ernie Trakas, R-6th District — have opposed any countywide requirement to wear masks, whether by order of the public health department or by an ordinance approved by the council.
Fitch has also argued that a new mask mandate would violate a recent state law giving local politicians' oversight of health orders and limiting such orders to 30 days within an 180-day period.
Of the council's four Democrats, only Clancy and Councilwoman Kelli Dunaway, D-2nd District, have consistently voted to uphold a countywide mask requirement.
Council Chair Rita Days, D-1st District, and Shalonda Webb, D-4th District, have previously rejected mask orders.
Days said Monday that she supported masking to limit the spread of COVID-19 but did not know how she would vote on a mask requirement.
Days said she wanted to "ensure we're within the confines of the state legislation and the court decisions that have been made."
"I am supportive of masking, that is not the issue," Days said. "The issue is: Are we doing it legally?"
In her letter, Clancy had suggested the council schedule a committee meeting to discuss any concerns about the legality of a countywide mask requirement.
But Days said Monday that she would not hold a hearing, leaving the council to take up the issue at a regular meeting Tuesday shortly before taking a vote.
Without masks, Page said, COVID-19 would spread at a faster rate and infect more workers, adversely affecting local health care facilities and businesses and causing a "shutdown" of the community.
"COVID is causing its own restriction: businesses are struggling due to an employee shortage and much of that is caused by workers coming down with the virus," Page said.
"COVID will shut down our community or at least slow it down, unless we intervene. Vaccines, masks, avoiding crowds — it's a simple way to work together to control the virus. Otherwise that normal that we all long for is nowhere in sight."
The county health department also warned the rise in COVID-19 cases was particularly concerning for children, many of whom have not been vaccinated. At least 4,518 children in St. Louis County tested positive for COVID-19 in December, officials said.
Only 20% of children ages 5 to 11 in the county have been vaccinated, according to county figures.
But the vaccination rate is widely disparate across different areas of the county: In north St. Louis County, only 5% of children are vaccinated, compared to 42% of children in central parts of the county, county figures show.
Estimates from the U.S. Centers for Disease Control and Prevention show 71% of the population in St. Louis County has received at least one dose of a COVID-19 vaccine, and 61% are fully vaccinated. In St. Charles County, 59% of the population is fully vaccinated while in the city of St. Louis, the number is 55%.
Statewide, 53% of the population is fully vaccinated, and nationwide, the rate is 62%, according to the CDC.
Last updated at 4:52 p.m. Monday, Jan. 3, 2022, with comments by Councilwoman Rita Heard Days. 
COVID-19 testing at St. Charles Family Arena
COVID-19 testing at St. Charles Family Arena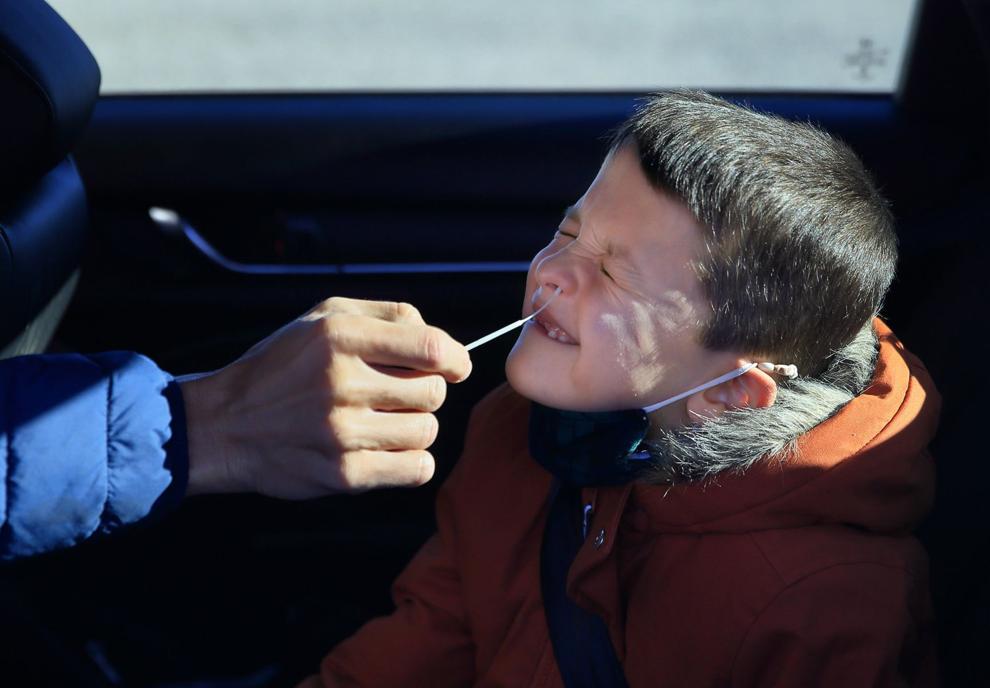 COVID-19 testing at St. Charles Family Arena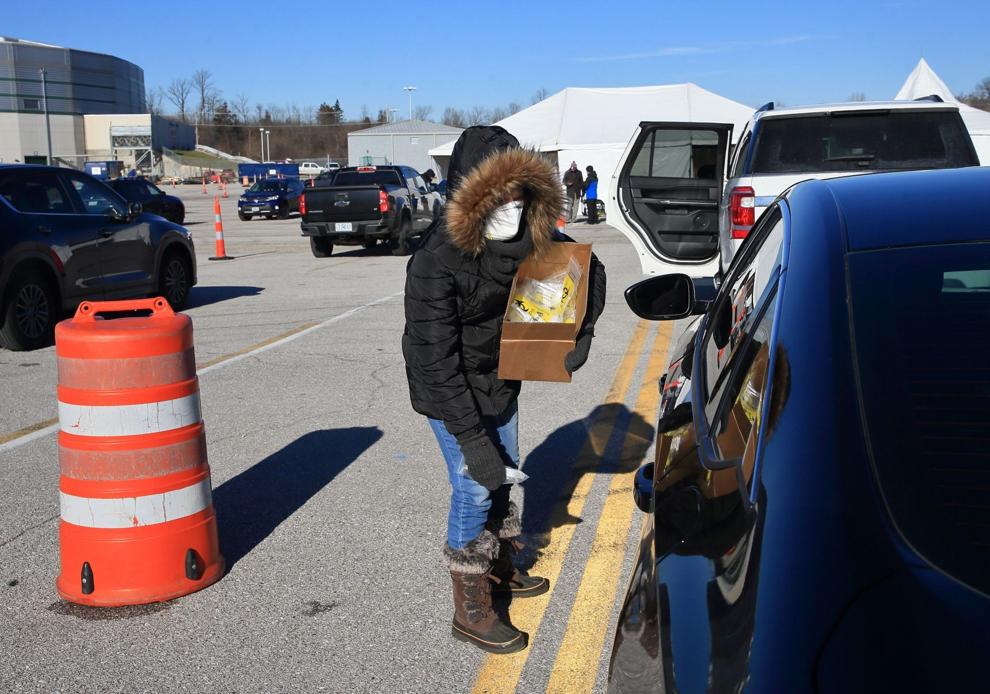 COVID-19 testing at St. Charles Family Arena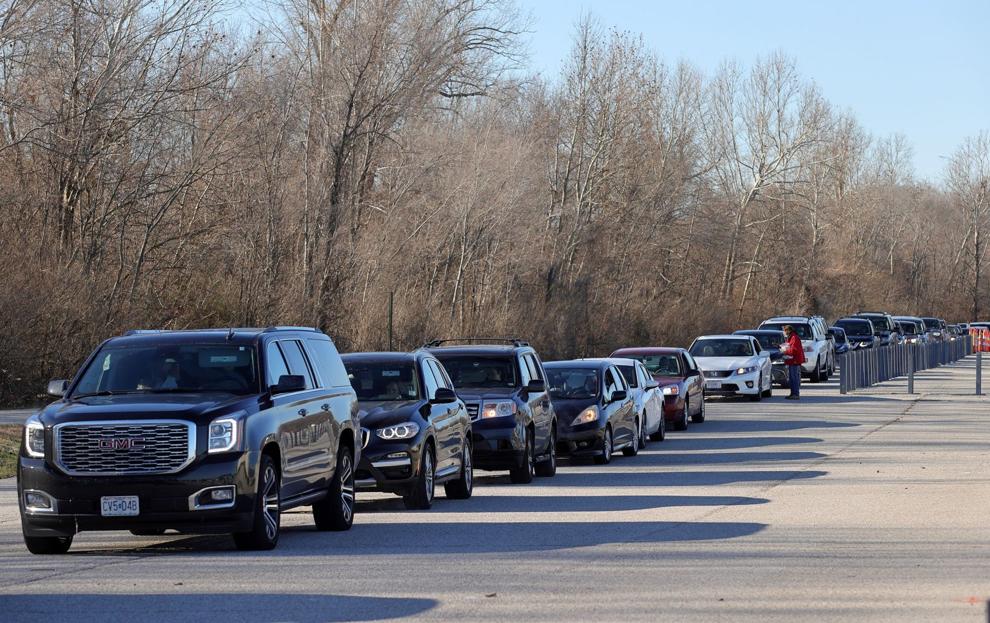 COVID-19 testing at St. Charles Family Arena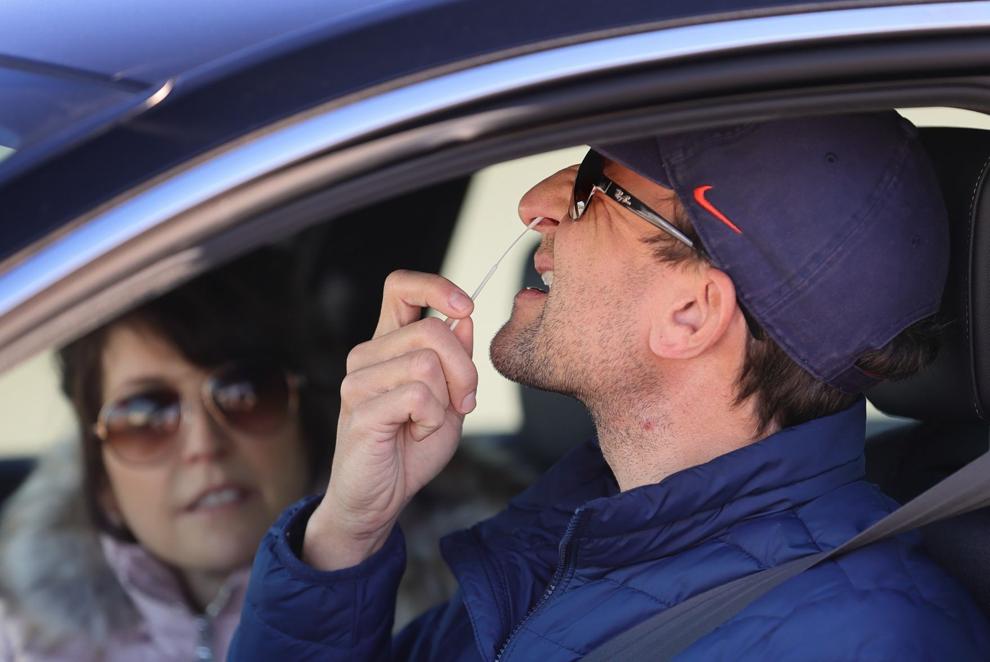 COVID-19 testing at St. Charles Family Arena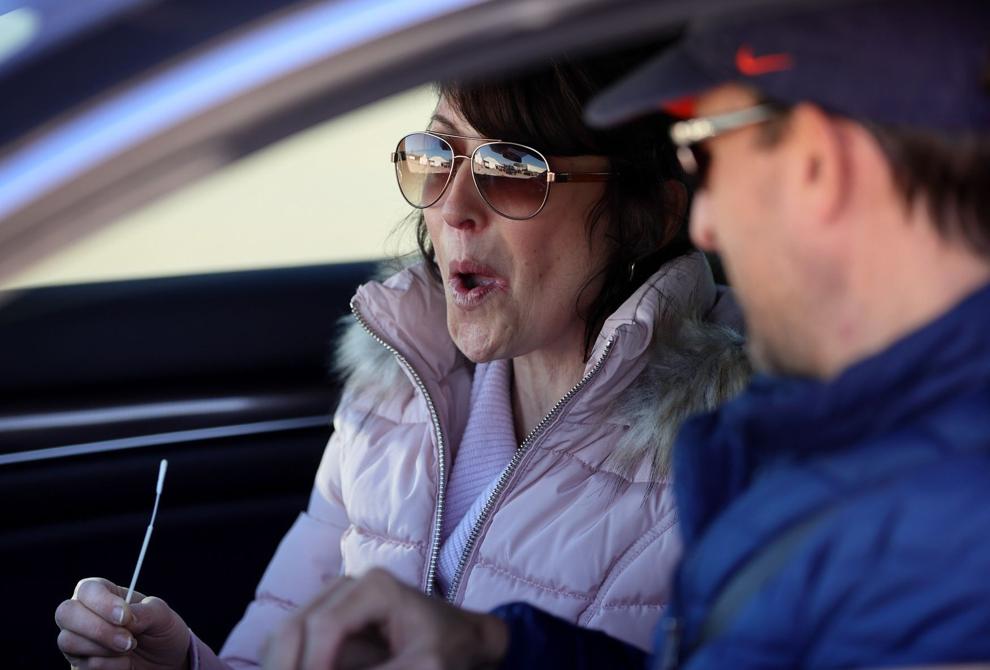 COVID-19 testing at St. Charles Family Arena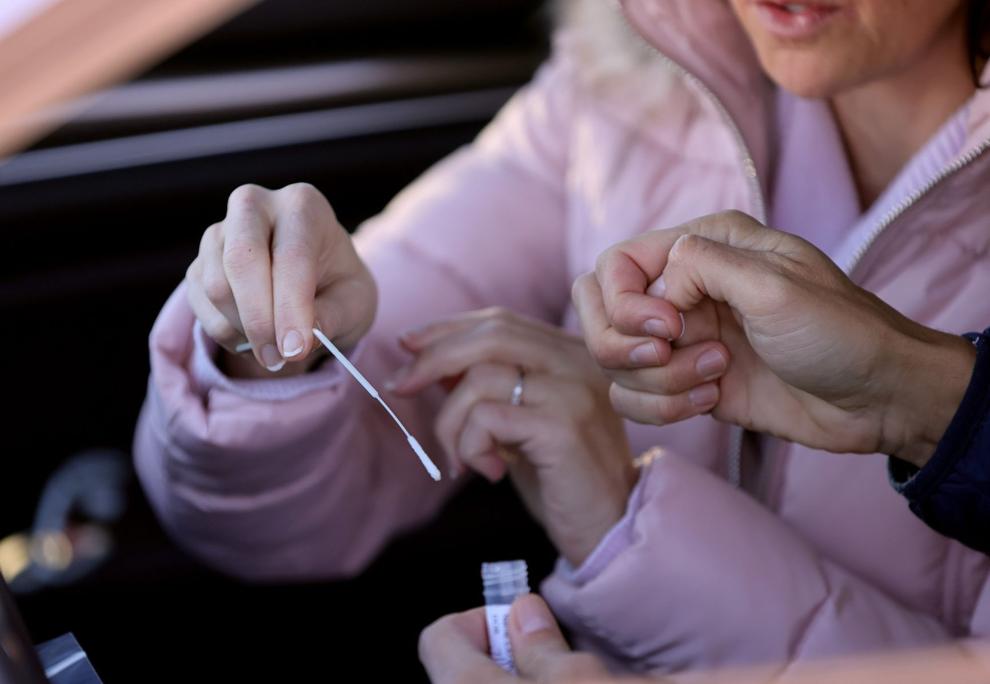 COVID-19 testing at St. Charles Family Arena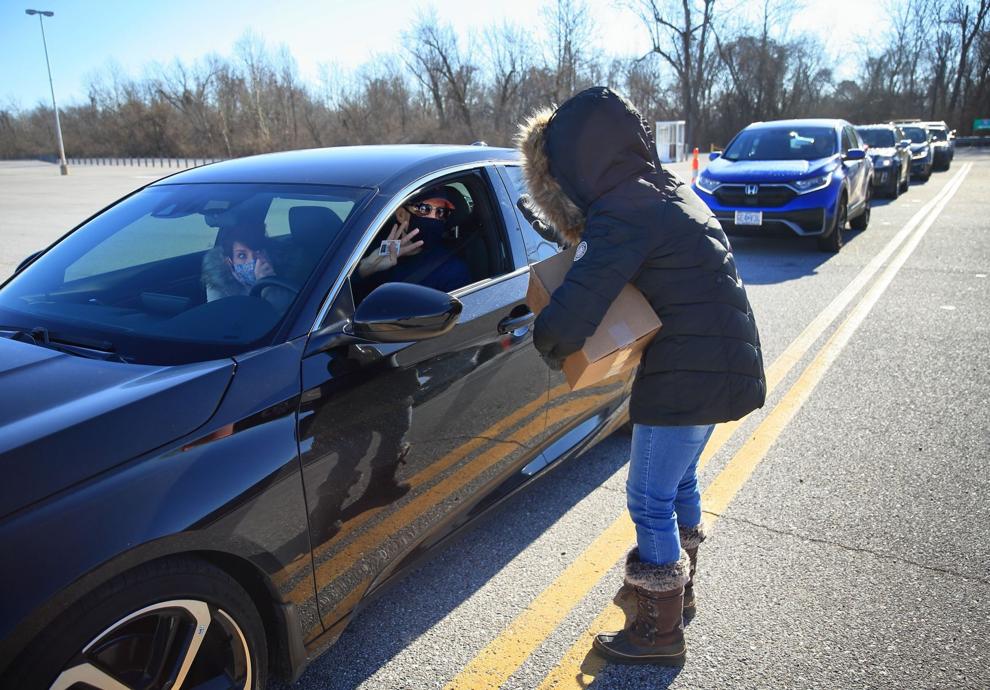 COVID-19 testing at St. Charles Family Arena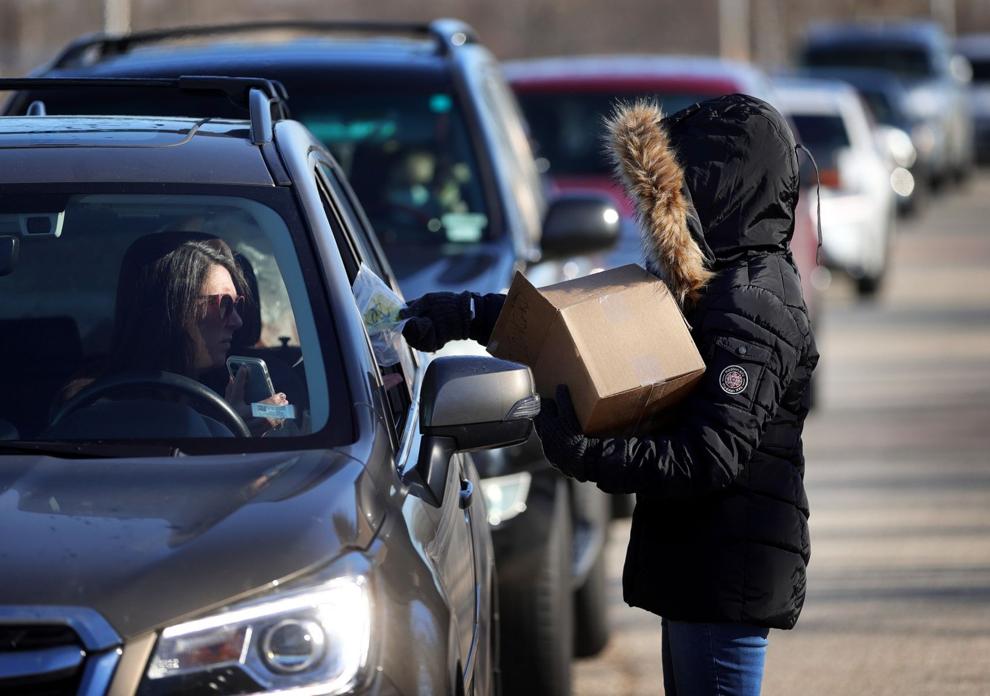 COVID-19 testing at St. Charles Family Arena