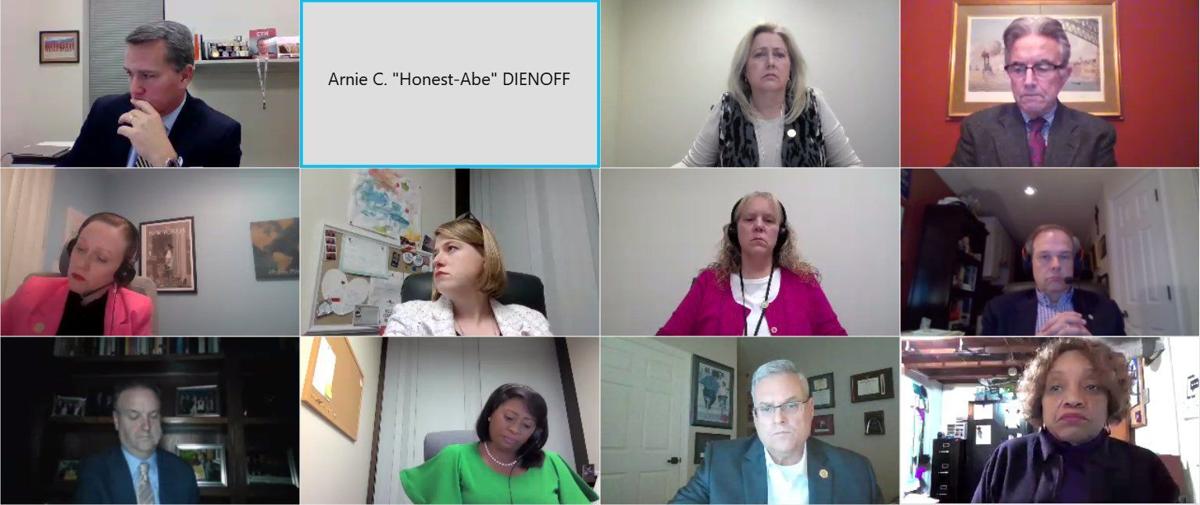 CLAYTON — The St. Louis County Council on Tuesday unanimously approved nearly $30 million in federal funding for emergency rental, utility and mortgage assistance amid the COVID-19 pandemic.
The legislation was one of a handful of measures to receive unanimous approval from the council Tuesday.
But the council meeting did not go without a dispute stemming from an ongoing court battle over council leadership between supporters and opponents of County Executive Sam Page.
The lawsuit, filed Jan. 16 by St. Louis County Counselor Beth Orwick, accuses Council members Rita Heard Days, D-1st District, and Mark Harder, R-7th District, of illegally taking charge of council meetings and asks a judge to declare Council members Lisa Clancy, D-5th District, and Ernie Trakas, R-6th District, as the council's legal chair and vice chair.
The leadership fight stems from the council's Jan. 5 meeting, at which lame duck Councilwoman Rochelle Walton Gray provided a key vote to retain Clancy as chair and elect Trakas as vice chair. Gray, Clancy, Trakas and Councilwoman Kelli Dunaway, D-2nd District, relied on an opinion by Orwick that Gray could continue to represent District 4 until Jan. 12, when her successor Shalonda Webb would be seated.
Days, Harder and Councilman Tim Fitch, R-3rd District, insisted Gray shouldn't have been allowed to extend her term into 2021. After taking her seat, Webb became part of a new council majority that voted to rescind the earlier leadership vote, then elect Days and Harder as chair and vice chair, a move that the Page administration contends is illegal.
Days, Harder and Fitch — three of the four defendants being sued by the county — on Tuesday sought to fast-track a bill to hire attorneys with Husch Blackwell, one of the region's largest law firms, to represent them in the court case for up to $525 an hour. The group had signaled last week that they would hire the firm. Webb joined the three council members Tuesday in voting to confirm the hiring, but Trakas, Clancy and Dunaway opposed the measure.
Trakas, Clancy and Dunaway instead tried to advance a competing bill that would set terms for the rival political faction to hire outside attorneys. That failed by a 4-3 vote.
Neither bill appeared on the council agenda Tuesday night because they were introduced hours before the meeting.
Trakas said Fitch's bill would violate state laws by requiring the county to pay for work done by the attorneys before a contract was executed. Clancy said the full price of the contract was unclear. 
But Fitch said there would be no way to determine the contract amount until the dispute plays out in court, arguing the bill proposed by the council's minority represented an attempt to limit the ability of members of the new council majority to defend themselves in court.
"They're the sponsors of this bill to tell us, who are being sued by them, who our outside counsel can be and how much they can be paid," Fitch said.
Webb, who is also named as a respondent in the county's quo warranto petition, separately wants to hire Smith and Associates, a St. Louis firm whose founder has worked as a public prosecutor, judge and attorney in several north St. Louis County municipalities.
In other action Tuesday, the council gave final approval to $45 million in industrial revenue bonds to help finance a 30,000-square-foot expansion of the Boeing campus near St. Louis Lambert International Airport.
Webb, a Boeing employee, abstained from the vote.
The council also approved a bill strengthening enforcement of a prevailing wage, a provision that sets a wage floor, for government construction projects. And the council authorized the creation of a second board of equalization to help process appeals to property value appraisals by the county assessor's office.