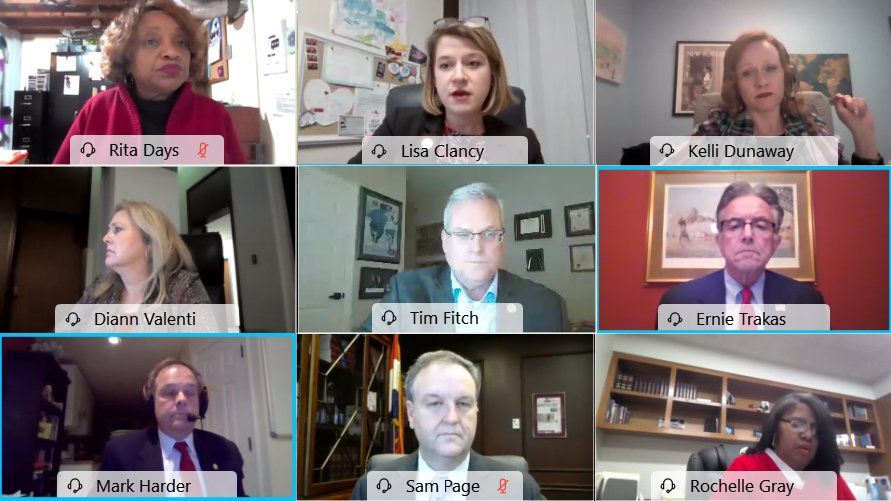 ST. LOUIS — The St. Louis County Council on Tuesday voted 4-3 to retain Councilwoman Lisa Clancy as chair of the seven-member body.
Clancy, D-5th District, won a second term as head of the council with the vote of Councilwoman Rochelle Walton Gray, D-4th District, whose successor will be sworn in next week.
But the three dissenting council members indicated they plan to vote next week to try to replace Clancy with Councilwoman Rita Heard Days, D-1st District, after Gray's successor, Shalonda Webb, is sworn in.
The split vote followed a bitter fight over whether the council charter and Missouri Constitution allowed Gray's participation in the vote for the leader of a government body she will no longer be a member of.
Webb defeated Gray in the Aug. 4 Democratic primary by a 10-point margin, then handily won the general election with more than 78% of the vote.
But under a charter change, also approved Aug. 4 by voters, Webb won't be sworn in as the next representative of District 4 until Jan. 12.
Gray and her supporters, including Clancy, say the charter extends Gray's term until Webb is sworn in, citing an interpretation on the legal question by County Counselor Beth Orwick that also determined the county must vote on leadership at its first meeting of the year.
Webb and her supporters, including Councilman Tim Fitch, R-3rd District, argued the state constitution limits terms of elected county officials to four years and that Gray's term expired Jan. 1. Citing the same objection, Days, Fitch and Councilman Mark Harder, R-7th District, voted against the advancement of a handful of bills sponsored by Gray.
The fight underscores the division between council supporters of County Executive Sam Page, led by Clancy, and Page's critics, including Days.
Days has often broken with other Democrats, joining with Fitch and Harder, to oppose Page.
Days, Fitch and Harder said Tuesday they plan to vote at upcoming council meetings to rescind Clancy's election and replace her.
"The vote should reflect a 3-3 tie because Councilwoman Gray's vote should not count," Fitch said.
Webb on Monday declined to say who she would have supported, but said Gray's participation in the vote effectively disenfranchised voters in her district, which includes Black Jack, Florissant, Spanish Lake, Bellefontaine Neighbors, Riverview and unincorporated northeast St. Louis County.
"The people in North County in District 4 have spoken very clearly, in August and again in November, that they want new leadership and that I have earned their support and trust to represent them as their new leader and serve them," Webb told the Post-Dispatch Monday.
"For them to not have a voice in selecting leadership of the council is really disenfranchising."
Gray pushed back against the assertion before the vote Tuesday.
"I cannot be removed until the new person is sworn in," Gray said. "I still represent my district. I still get emails from the district. I still get phone calls. I don't think they would want my office vacated and then they have no one to communicate with."
Her vote Tuesday also drew condemnation from Hazel Erby, a longtime councilwoman in District 1 who became one of Page's chief critics after he outmaneuvered her in 2019 to line up support on the council to elect him to replace former executive Steve Stenger. Erby was later appointed the county's first diversity director, but was fired in August and later sued the county alleging discrimination.
"What a disappointment!," Erby said in a tweet. "To see outright corruption blatantly displayed in front of the voters! Shame on them!"
Clancy was nominated by Councilman Ernie Trakas, R-6th District and elected with the support of Gray and Councilwoman Kelli Dunaway, D-2nd District. She voted for herself.
Trakas, who was reelected to a second term in November, argued that if Gray's vote didn't count, then neither should his vote, or Dunaway's. Both council members were reelected in November to second terms.
"By that analysis neither myself nor Dunaway should be able to vote — and that is clearly not the case," Trakas said.
Fitch did not push back against the argument.
"Legally he's right," he said. "Four people should be voting here, that's it. … It really should be three in favor of Days and one in favor of Clancy."
In a statement, Clancy said she was elected by a bipartisan coalition in a historic first for the council.
"This year, it will be more important than ever for us to work together, across party lines, to help St. Louis County recover from the pandemic," she said.
The council also voted 4-3 to confirm Trakas as vice chair of the council, over Harder, who was nominated by Days.
Asked after the meeting about the plan by dissenting council members to vote to rescind her chairmanship, Clancy said. "We will continue to follow the charter and the council's rules."
Fitch said a section of the charter that states "the council shall be the judge of the qualifications of its members" would allow the council to rescind her chairmanship by a 4-3 vote, but it was unclear Tuesday if the charter would require a simple majority or a supermajority of five votes.
In other action Tuesday, the council voted 4-3 to give final approval to a bill extending the county counselor's office's ability to contract with outside law firms.
Days, Fitch and Harder voted against the bill after failing to win support for halting the bill to add requirements that would have subjected outside law firms to the county's minority-business participation requirements.
Clancy and supporters of the bill argued that the minority requirement would limit the county's ability to respond to legal challenges. At a meeting Dec. 22, Dunaway said a substitute Fitch introduced to require minority participation was seeking "a unicorn."
St. Louis NAACP President Adolphus Pruitt published a letter Monday to Trakas and Dunaway, the bill's sponsors, referencing the comment and calling for minority-participation requirements.
Days on Tuesday also criticized Dunaway's comment and doubted that there was a shortage of Black-run law firms available.
"I think an apology is owed," Days said. "To say that there is none that can be used in our legal work in this area is an understatement."
Asked by Fitch if he would support the minority requirements, Page said he would work with the councilman on the issue and noted the county had been working with the Mound City Bar Association, a St. Louis-based association of Black attorneys, to identify minority attorneys to work with St. Louis County's legal staff.
The council leadership positions are tasked with running the council's weekly meetings. While the position for most years rotated among members of the council's majority political party, the chair was elevated into a high-profile role after Page held the position for three years in a bipartisan bloc against former County Executive Steve Stenger.
Editor's note: This report was corrected Wednesday to reflect that Councilman Ernie Trakas, R-6th District, nominated Chairwoman Lisa Clancy for reelection.