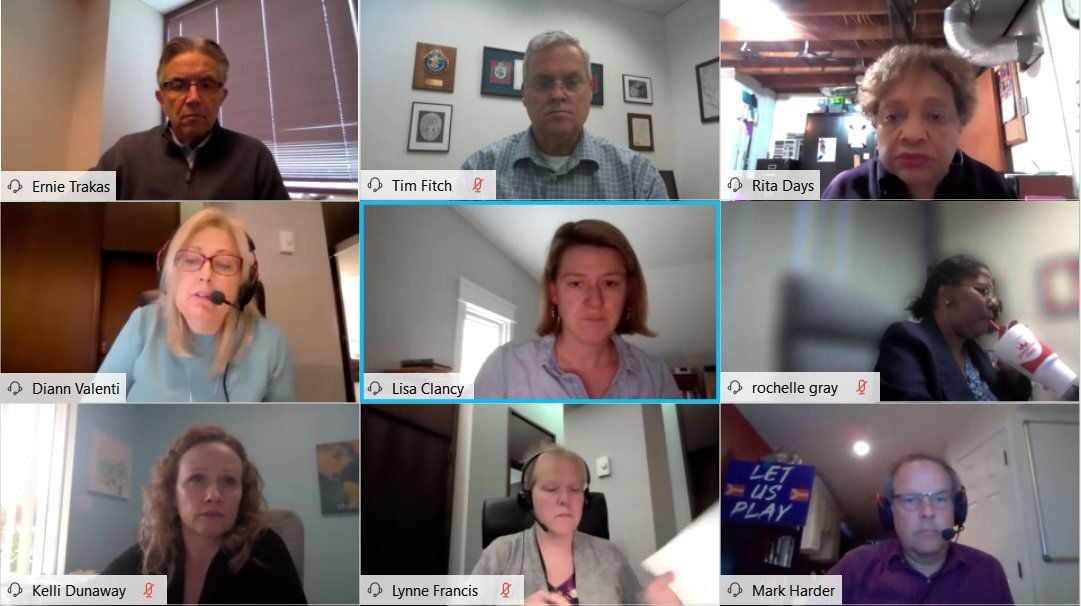 CLAYTON — The St. Louis County Council on Monday voted 4-3 to approve two bills limiting the power of County Executive Sam Page and the health department during a pandemic, after ending nearly a week of unprecedented public comment.
Page said after the meeting that he would veto both measures, which would likely kill the bills, given the council needs five votes for an override.
The two bills would require County Council approval to extend a state of emergency declared by the county executive, as well as health orders, beyond 15 days. The bills also would allow the council to decide how long the emergency should last.
Councilwoman Rita Heard Days, D-1st District, joined Councilmen Tim Fitch, R-3rd District, Mark Harder, R-7th District, and Ernie Trakas, R-6th District, in approving the bills, arguing they were not aimed at reversing current public health orders but at checking Page's power.
"It is not about masks, it is not about social distancing — it is about inclusion, and collaborating with your legislative branch of government," Days said.
But Council Chairwoman Lisa Clancy, R-5th District, and Councilwomen Rochelle Walton Gray, D-4th District, and Kelli Dunaway, D-2nd District, said the bills would politicize decisions recommended by health experts to limit the spread of COVID-19, regardless of intent. Clancy pointed out that the St. Louis Metropolitan Task Force, which represents the region's major hospital systems, asked the council to reject the bills.
The Missouri State Medical Association, the St. Louis Metropolitan Clergy Coalition, Local 655 of the United Food and Commercial Workers, the St. Louis County NAACP, the AARP of Missouri, and the Missouri Chapter of the National Education Association also urged the council to reject the bills.
"I call on my colleagues to put public health ahead of politics and vote no on these bills," Clancy said before the final vote.
The meeting on Monday was a continuation of the Oct. 13 regularly scheduled council meeting. The council received 2,230 emailed comments for that meeting. While in previous meetings the council had limited the public comment period to two hours, Clancy and her allies said this time all the comments should be read into the record — a move critics described as a delaying tactic. The meeting stretched over five days — Tuesday, Wednesday, Thursday, Friday and part of Monday — as a result.
On Monday, with more than 1,400 comments remaining, Fitch called for a vote to stop reading them aloud.
"I believe that we have heard more comments than in the history of county government," Fitch said, "and I see both sides very clearly, and I think that it is time to move on with our (council) agenda."
Clancy opposed the motion, suggesting the council instead recess and allow council staff to read through the comments and summarize them in a report Tuesday morning before its next meeting.
"Given the gravity of this issue I think it's important that we honor the requests of the public to make their voices be heard," she said.
The council voted 4-3, with Days joining the three Republicans, to end public comment.
Fitch, a co-sponsor with Harder of the two bills limiting Page's authority, said the council currently does not have a say in major decisions about how the county responds to the COVID-19 pandemic.
"Up until this point, we haven't been consulted as your elected legislative body," he said. Rejecting the bills "will leave all of these important decisions to just one man," he said, referring to Page.
Dunaway argued that the health orders are based on recommendations by health experts, and that their recommendation outweighed frustrations with how exactly the orders were implemented.
"There are no easy decisions here," she said. "But at the end of the day ... I see strong, science-based leadership."
Harder said the council would not necessarily vote to lift the current mask mandate or other health orders.
"These decisions have been made in a vacuum with just the executive branch and the assistance of the health department," Harder said. "I think we would agree on many of them, but we need to have a say, and the opportunity to have a say, which we do not have today."
Gray pointed out that each council member in April 2019 had selected Page, then council chair, to replace County Executive Steve Stenger after he resigned in a federal pay-to-play county case.
"We should have some trust in his decision-making," she said.
Days fiercely denied that she supported the bills because she wants to reverse current health orders designed to limit the spread of COVID-19.
The pandemic, which has disproportionately affected Black residents, has hit her north St. Louis County district particularly hard, she said.
"I am not in support of lifting the mandates," Days said. "I'm not in support of undoing the social distancing. And if that's what these folks were told, they were lied to."
Days also took the opportunity to criticize Page's administration's handling of the pandemic at large, including the distribution of $173.5 million in federal COVID-19 relief funding.
"Not once we were asked our thoughts or priorities," she said.
Even if the bills wouldn't immediately lift current health orders, they would cause them to expire after 15 days without five council members voting to extend them, Clancy said.
"The problem with saying that this is not about a mask mandate or any of the other health ordinances, is that in practical effect, the bills mean that mask mandates, occupancy limits ... would automatically expire unless the council decides to take action to extend them," Clancy said.
"So, I think it's very short-sighted for folks to argue that that is not what this is about."
A third bill by Trakas would also require council approval to extend emergency and health orders past 15 days — but by a minimum of four votes, rather than five. That would make it somewhat easier for a county executive or health director gain council approval.
Trakas held the bill from a final vote Monday as a backup, he said, in case the other two are invalidated by legal challenges. County Counselor Beth Orwick told the council earlier this month the charter would not allow the requirement for a supermajority to approve extending emergency orders.
I will veto bills 222 and 223. They will not become law. My first priority is to protect the health and welfare of our residents and these bills undermine those efforts and jeopardize the safety of all of us.

— County Executive Sam Page (@DrSamPage) October 19, 2020