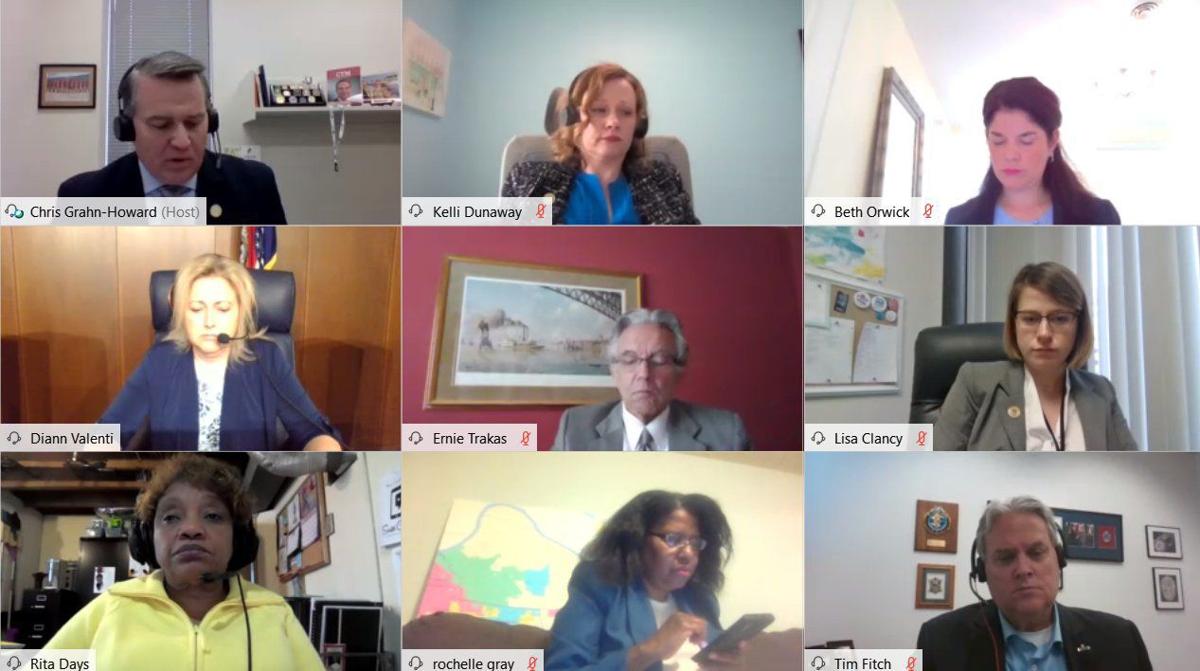 CLAYTON — Three weeks after voting to give St. Louis County Executive Sam Page's administration the authority to spend $173.5 million in federal coronavirus money without further legislative approval, members of the County Council on Tuesday said they were frustrated with a lack of organization and communication in the relief effort.
Some of Page's closest allies in county government questioned whether his administration had a plan for how to spend the relief money, and how spending decisions were being made.
The comments came during a meeting of a special council COVID-19 oversight committee and in interviews after. Council Chairwoman Lisa Clancy created the committee amid public criticism of her and her three fellow Democratic councilwomen for voting over the three Republicans in ceding the council's traditional legislative oversight.
The Republicans had refused to participate in the committee, saying the Democrats already gave away the council's main oversight power. But on Tuesday, it was the Democrats ripping the coronavirus response and even urging a Page adviser to solidify plans for humanitarian relief before the money got spent on other things.
"Maybe there is a plan and we just don't know about it," Councilwoman Rita Heard Days, D-1st District, said after the meeting. "There did not seem to be one from the meeting today."
The Republicans said the comments by their colleagues were proof they were right all along.
"I don't want to gloat and say I was right, but I just know human behavior in government," Councilman Mark Harder, R-3rd District, said. The result of the council giving Page full authority is "what you see right now — very little oversight, spending money in the wrong places for the wrong things."
Doug Moore, a spokesman for Page, said in an email that the county executive expected the council to ask difficult questions and that his staff took them seriously and expected to hear more from them as the relief money is spent.
The committee chairwoman, Kelli Dunaway, D-2nd District, said after the meeting that Cindy Brinkley, the retired Centene executive appointed by Page to lead the effort to address public health, humanitarian and economic crises facing the county, was not always involved in decisions.
"She knows what's happening in all of these buckets," Dunaway said. "The concern we have is that outside of her sphere of influence, things are happening. Decisions are being made by the administration. Some are good, and some are good ideas but impossible to execute."
Dunaway said: "We have some concerns that ideas aren't going through a robust enough process to determine viability before being thrown out into the marketplace. ... We're worried that things that are priorities are going to be cast aside because there isn't any money left over because there wasn't enough proper planning and vetting and execution."
During the hearing, Deborah Patterson, who reports to Brinkley and heads up the humanitarian response, told the council members she did not know how much money she would have in her budget. She discussed how her unit would award future grants, but said $2.6 million in grants to five nonprofits to provide food did not follow that protocol.
The councilwomen had wanted to talk to Patterson about supporting child care once businesses reopen. Patterson had no information for them.
Clancy told Patterson there may not be much time to get a plan together before the money was gone. She said she saw the possibility of funds being diverted to other places.
The business relief grants make up more than half of all the roughly $28 million the county has committed so far. But council members said Monday the loan program has been a headache from the start when Page announced it without notice.
Page last week pushed back the deadline for the program because of "high interest" in it. But the committee revealed the program has been beset by technical glitches, rule changes and confusion.
Many applicants had to reapply, some because they had signed up by cellphone and inadvertently dropped a pin on a map at a location that did match their address. Fitch said in an interview after the meeting that he had 700 applicants in his district all listed at the same address.
Under the proposal, each of the seven council districts would receive $2.5 million. But requests for grants ended up being more than twice what was available, leaving council members in charge of deciding which businesses should get what.
There was a huge disparity in the amount requested in each district, from under $2 million in the 4th District in far north St. Louis County to nearly $14 million in the 3rd District in far west St. Louis County.
Days said there was a "lack of coherence" in how the administration releases information about what it's doing. She said in an interview that "right after COVID hit, I made a comment in the council that it would be best if the administration could give us some heads up on issues that are happening around this pandemic, because my information was coming from constituents who get it from Twitter. And I was critical of that. But I don't really see it has gotten much better."
"I think that that was part of the frustration today, if you will notice when Deborah Patterson said, 'I don't know what the budget is. I don't know how much money we're spending here.' I think that's the frustration that all of us are having at this particular point. We need to have a budget and then you figure out what you can do within that budget."
She said that "in any organization, you have a leader, and at some point the buck stops at the leadership."
Days said she did not regret her vote with her fellow Democrats to give the administration full appropriation power.
"But I was hoping there will be a few more systems in place for these decisions as they're being made. … Maybe they are still working on it, but I don't see that at this point."
Concerned about COVID-19?
Sign up now to get the most recent coronavirus headlines and other important local and national news sent to your email inbox daily.