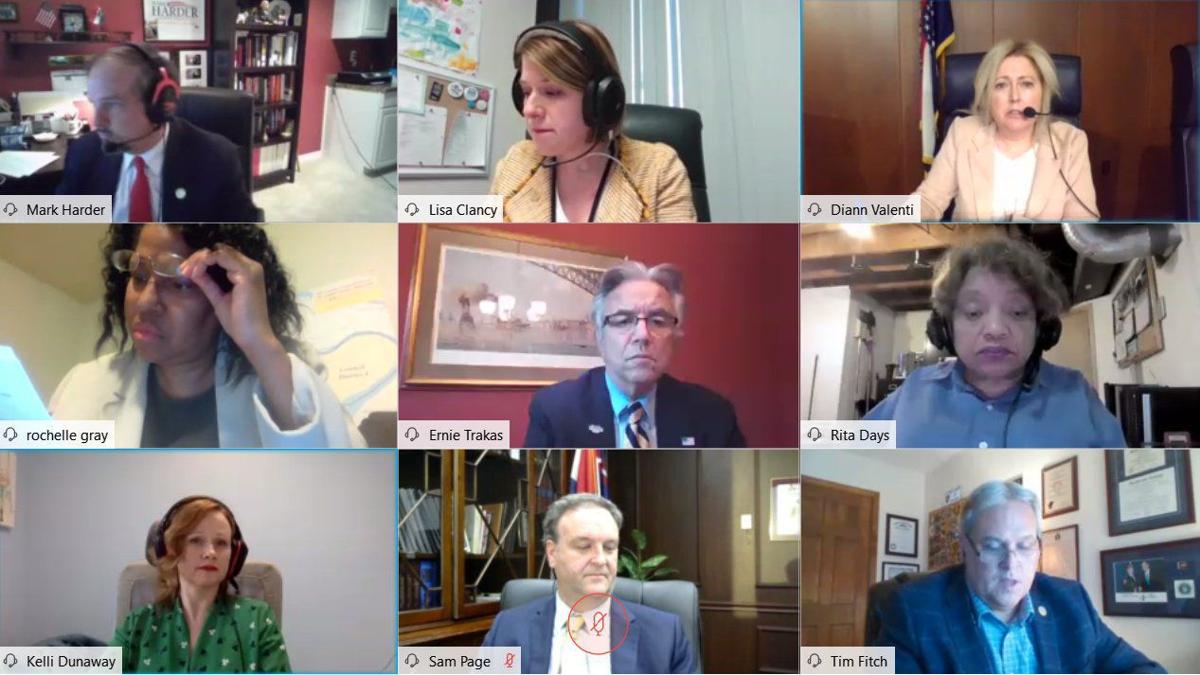 CLAYTON — As St. Louis County Executive Sam Page's administration prepared to accept $173.5 million in federal coronavirus relief this week, his staff offered little more than a rough framework for how they would spend the funds — except that they are likely to do so without legislative oversight from the County Council.
On Tuesday, the four Democrats who make up a council majority advanced a plan that would allow the Page administration to spend the federal aid without coming back to the council for approval of specific programs. The measure is likely to pass 4-3 next week.
The three council Republicans — Tim Fitch, Mark Harder and Ernie Trakas — are furious, accusing Page of trying to control the windfall to help his chances in the Democratic primary on Aug. 4. Fitch also said on Wednesday that Council Chairwoman Lisa Clancy had a conflict of interest because her brother, Jon Clancy, runs Page's campaign. Clancy accused the Republicans of trying to "sabotage" the county's response to an emergency.
A political scientist who tracks St. Louis-area governments said on Wednesday he understands why some people may be alarmed by a legislative body's willingness to cede its oversight power to the executive, noting that the legislative body in Jackson County, Missouri, has refused to do so.
"It's not normal in government to do that," said Ken Warren, a professor of political science at St. Louis University. "Even the U.S. Congress and President Trump are working together, to an extent. I believe in a check-and-balance system and I don't believe giving all that money to the county executive to spend at will is a good idea."
He added, "Where that money goes is highly political, and I don't think Page should have the exclusive authority to decide."
Clancy said it's the environment — a public health emergency — that's not normal, and that she didn't need to know more than the framework for how the aid would be spent.
She said she did not have a conflict of interest. She said when Page hired her brother, he did so without her consultation. She said she wasn't thrilled about how it would look, but that it had no impact on her role as council chair.
"My life would be a hell of a lot easier if my brother was doing something that didn't have to do with politics," she said. But, "I don't blame Sam Page or anyone else for wanting to hire him to work on their campaigns. … Jon is well qualified."
Clancy said things may be different if Page's predecessor, Steve Stenger, who is serving a federal prison sentence after admitting to directing county contracts to political donors, were still in office.
But Warren said it doesn't matter how much trust Page has in the community. "Our constitutional system is based on nontrust. The most power granted in the Constitution is the power to say no. The Congress can say no, the president can say no, the courts can say no."
"It's nothing personal, but we shouldn't trust any single leader," Warren said. "We should not trust the county executive to spend wisely. He may be (honest) but you should put a check on his power, and that's what the county council is for."
Page has clarified that it's not he who will make the decisions, but teams of advisers he has put in place to address what he has called three crises in one: a public health crisis, a humanitarian crisis and an economic crisis. And, the bill that grants his administration the spending authority also comes with the requirement that the county create an online tracking tool for reporting each expenditure.
Doug Moore, a spokesman for Page, said in a statement Wednesday: "This is our 9/11. We need to focus on the emergency response. This is a grant for an emergency. Our transparency portal will show how every dollar of the grant is spent, and every council member knows that the funds can only be used for COVID-19 related expenses. Any money that does not fit federal guidelines will have to be reimbursed."
Page and Clancy have talked about a desire to keep council members involved in decisions. Council members and their staff members had been meeting with members of Page's administration on a rotating basis in a system designed to circumvent the Sunshine Law and avoid public notice requirements. The Post-Dispatch objected to the practice and Clancy ended the practice on Monday. The administration also ceased distributing "briefing notes" to the council members.
It was not clear how council members could act in an advisory role under the law. Warren said if meetings resulted in decisions, then that was "a blatant violation of the Sunshine Law."
Trakas said, "The idea that the administration is going to ask us our opinions and keep us involved, so what? The fact of the matter is everyone knows what opinions are and the simple fact is it has no influence. It's just spin. The only real oversight and checks and balance is the ability of the council to review and appropriate funds as needed."
Other than an initial $7 million plan to purchase coronavirus tests and hire an academic-based research team to devise a system of using those tests, the administration has not laid out a plan for how the rest of the funds would be used. The Post-Dispatch requested any plan on March 30 and again on April 16; Page's office said they would not be able to respond to the request until May 8.
"Detailed budgets are difficult for an emergency. Needs change daily and we have to have some flexibility during this crisis," Moore said.
Dave Robertson, a political science professor at the University of Missouri-St. Louis, said the dispute between the council members was a "classic political science problem. Everybody would have been better off if they had worked to achieve consensus on this, but they failed."Jeremy Kohler • 314-340-8337 @jeremykohler on Twitter jkohler@post-dispatch.com