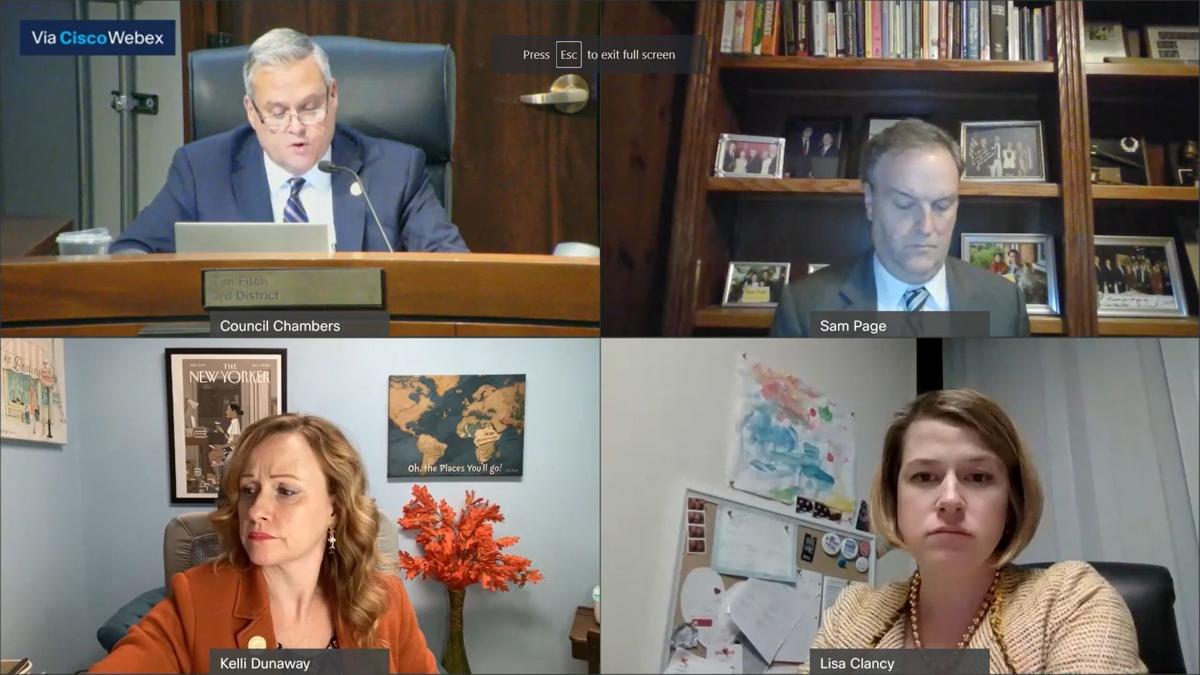 CLAYTON — The St. Louis County Council on Tuesday rejected a motion by Councilman Tim Fitch to declare open a confidential internal investigation of Dr. Faisal Khan, the acting county health director who made an obscene gesture at anti-mask protesters as he left a contentious council meeting on July 27.
Fitch, a Republican who represents the 3rd District, was joined by Council Chair Rita Days, D-1st District, and Councilman Mark Harder, R-7th District, in voting to make the report a public record.
Voting no were Council members Shalonda Webb, D-4th District; Ernie Trakas, R-6th District; Lisa Clancy, D-5th District; and Kelli Dunaway, D-2nd District.
The vote comes after County Executive Sam Page denied a council request to review the report behind closed doors. Page said the report involved a "personnel matter," and therefore was confidential. The county separately denied a Post-Dispatch open records request for the report.
Although Page said last month he "verbally reprimanded" Khan for giving protesters the middle finger, some council members — Fitch and Days especially — are still angry because of Khan's explanation for his behavior.
In a blistering July 28 letter to Days, Khan accused several members of the audience of heckling him, making racist comments and "shoulder-bumping" him as he left — accusations that were not corroborated by several videos of the meeting or testimony from police officers at the meeting. He also complained in his letter that Days, the council chair, had allowed those offensive comments to be made unchecked, and accused Fitch of questioning his credentials and stoking the crowd.
Khan apologized to Days in an Oct. 5 email saying he regretted a "momentary loss of composure," but has declined requests for comment on the letter.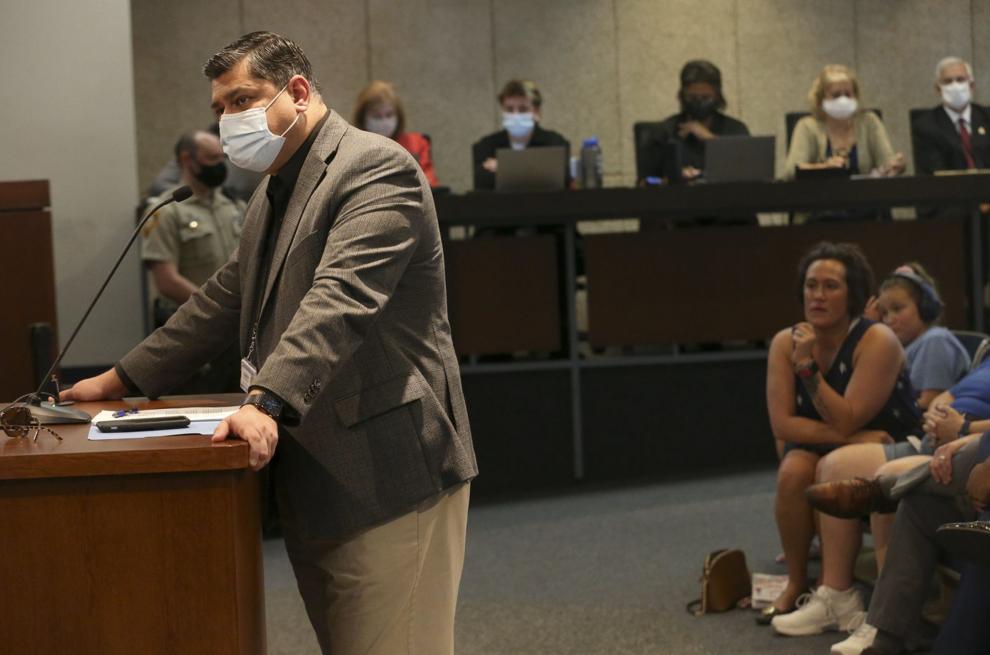 Fitch, a former county police chief, last week argued that because Page said he reprimanded Khan, the county's internal investigation was subject to open records requests, citing a 2015 Missouri appeals court ruling that the city of St. Louis' police department could not keep secret internal personnel records investigating officers who used 2006 World Series tickets taken from scalpers.
In that case, the department had disciplined some of the officers for mishandling evidence, but refused to release investigative records to activist John Chasnoff, who then sued. Police argued the release of those records would violate officers' privacy protected under the so-called Garrity protection, a Fifth Amendment right against self-incrimination for public employees who can be compelled to provide information to their employer under threat of discipline.
The Missouri Court of Appeals for the Eastern District upheld a St. Louis judge's order to release the records, ruling "that the police officers lack a protectable privacy interest in these records of their substantiated on-the-job police misconduct."
Fitch, however, delayed a vote last week because Webb was absent from that meeting. In past weeks, Webb had been part of a four-person majority with Fitch, Days and Harder generally aligned against Page. At the July meeting with Khan, the four council members and Trakas voted to rescind the mask order Page had issued.
On Tuesday, Webb appeared to have been convinced by Trakas' argument that the council had no authority to vote to open the record.
Webb asked Trakas to elaborate.
The Chasnoff decision, Trakas said, concerned whether police were required to release their investigative documents. But the Khan report, Trakas argued, belonged to Page's office.
"We didn't conduct the investigation, we didn't create that report in question," Trakas said. "That was created by the administration. And the Sunshine Law, in my opinion, is clear that we are not the governmental body authorized to release that document."
Fitch said the council vote was just meant to "formalize" his position that the Khan report is subject to open records requests.
He urged news organizations or members of the public to request the Khan report and sue if denied.
"Clearly this is already an open record, I was just trying to formalize it with this vote and obviously that failed but that does not mean it remains a closed record," Fitch said. "That will be up to a court to decide."
Right to privacy?
Jean Maneke, an attorney and legal adviser to the Missouri Press Association, told the Post-Dispatch that the Chasnoff case "reaffirms" that while records related to misconduct by public employees "may" be closed, they are not required to be closed.
"It reinforces that the county has the ability to open this record if it chooses to, even if it was previously closed," she said, shortly before the County Council vote Tuesday.
The case, Maneke said, is relevant to the county's Khan report because it distinguished between personal privacy and alleged on-the-job misconduct by a public official, and affirmed that there is no confidential protection for the latter.
"My focus is, is this something that is so personal that the disclosure deals with an embarrassing fact or what you usually think of as an invasion of privacy?"
"And it's not. This is something that was done by a public employee, attending a meeting in the performance of his duties as an employee, and in a public place, to the public."
Originally posted at 9 p.m. Tuesday, Oct. 19, 2021