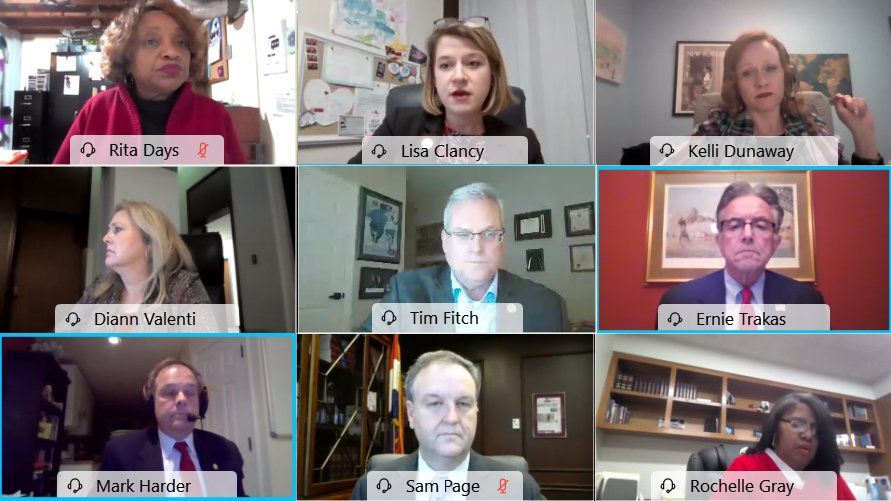 CLAYTON — St. Louis County Counselor Beth Orwick has canceled contracts with four law firms that critics on the County Council argued were invalid because the measure authorizing the contracts was approved with the vote of a councilwoman whose term had expired. 
Orwick's decision is the latest fallout from a court ruling earlier this month that found that Councilwoman Rochelle Walton Gray's participation in the Jan. 5 council meeting was illegal.
Gray's was one of four votes on the seven-member body that gave Orwick permission to hire outside law firms for up to $400 an hour without subsequent council approval. Orwick cited the crush of pending litigation and her office's shortage of staff attorneys in making the request.
Gray, a first-term Democrat who represented District 4 in north St. Louis County, voted even though she had been defeated in the August primary by challenger Shalonda Webb. Gray asserted her participation was legal because Webb would not be sworn in until Jan. 12 as the result of a charter amendment that changed when county officeholders' terms begin.
Gray's votes on Jan. 5 also helped Lisa Clancy, D-5th District, and Ernie Trakas, R-6th District, win the top leadership posts on the council, but that move was reversed the following week after Webb was sworn in. Webb and critics of County Executive Sam Page — Council members Rita Heard Days, D-1st District, Tim Fitch, R-3rd District, and Mark Harder, R-7th District — then voted to replace Clancy and Trakas with Days and Harder.
Orwick sued to reverse the new majority's action, but St. Louis County Circuit Court Judge Tom Albus on March 2 ruled against the county, affirming Days as council chair. 
Albus' ruling did not address Gray's other votes on Jan. 5, but Page critics on the council argued that the ruling also invalidated the measure allowing Orwick to hire law firms without council approval. In statements to reporters, Page denied the ruling affected the contracts.
In a letter to the County Council published Friday, Orwick did not comment on the dispute but said she terminated the contracts last week after the law firms were "unjustifiably subjected to harassment, media inquiries, and the threat of nonpayment by people with no authority to do so."
Fitch, who told the Post-Dispatch after the Jan. 5 meeting that Gray's vote also jeopardized the contracts with outside law firms, said Friday that the court ruling left Orwick with no choice. 
The new council majority last week said they lost confidence in County Counselor Beth Orwick.
"It's very clear that it never passed to begin with — the vote, according to what the judge ruled, was 3-3," he said. "She had to terminate those contracts and there is no reason for why she did other than that court ruling." 
Fitch wrote a letter March 7 to the law firms to raise concerns that their contracts were no longer legally valid, but questioned Orwick's allegation that the firms were subject to "harassment." 
"If she considers a letter from a council member harassment, I'd like to hear that explanation from her," Fitch said. 
Katherine Dockery, a spokesperson for Page, said she did not have details about how much the county paid to the law firms as of last week. Orwick would provide that information to the council before its next meeting Tuesday, she said. 
In her letter, Orwick asked the legislative body to reauthorize the outside legal work by adopting legislation similar to the bill she sought approval for Jan. 5. 
But approval could be hard to gain under a new majority at odds with Page and with Orwick. Fitch, Harder, Days and Webb voted last week to declare no confidence in Orwick, in large part because of her role in the leadership dispute.
Fitch said Tuesday that he was unlikely to support reauthorizing the contracts without changes that would give the council greater oversight.
"She is asking for again a blank check to be written for these law firms — and for me that's a nonstarter."