JEFFERSON CITY — Steve Stenger may be locked in federal prison, but his likeness looms in one St. Louis County-based Missouri House district.
Republicans have blanketed the 99th District — which includes parts of Ballwin, Manchester, Valley Park and unincorporated St. Louis County — with ads tying Democrat Trish Gunby to Stenger, the former Democratic county executive convicted of federal corruption charges this year.
Both parties are competing for suburban support in Missouri ahead of the 2020 election season. For Republicans, losing here would cause extra heartburn because former Rep. Jean Evans, R-Manchester, resigned in February to become executive director of the Missouri GOP.
Gunby, of unincorporated St. Louis County, told the Post-Dispatch that claims in the recent ads — her campaign provided copies of four internet ads and one mailer — were fabricated.
"It saddens me to think that these are the ploys that some will use even if they are falsehoods and lies basically," she said.
Gunby said she had never met Stenger and suggested imagery in one of the ads amounts to a racist dog whistle and an "attack" on the city of St. Louis.
The ad features cut-out pictures of Gunby and Stenger on a map of St. Louis and St. Louis County. Arrows that read "drugs" and "crime" point from the city to the county.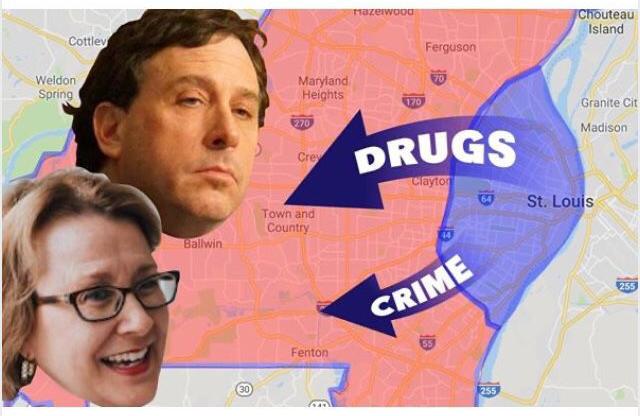 "I'm all about elevating the region," Gunby said. "So I would never have attacked — and I feel like it's an attack on the city — I would never have done that."
Scott Dieckhaus, campaign manager for Lee Ann Pitman, Gunby's Republican opponent, shrugged off Gunby's criticism. He said the campaign did not coordinate with the House Republican Campaign Committee, which sponsored the ads.
"If Trish doesn't believe that there's a drug and crime problem in the city she's pretty oblivious to the problems of the region," he said.
The ads say Gunby supported a statewide vote on a St. Louis-St. Louis County merger, and supported making Stenger mayor of a new "metro city" until 2025.
A spokesman for the House Republican Campaign Committee defended the group's ads, pointing to two instances where Gunby voiced support for at least some type of consolidation on social media.
Gunby said she has worked on regional consolidation efforts, but ultimately opposed the ill-fated "Better Together" plan earlier this year because Stenger would have been made "metro mayor." She said she was also concerned city residents and minorities would lose political clout under the proposal.
Gunby provided emails to the Post-Dispatch from March that document her opposition to making Stenger metro mayor. In a May interview, she said she opposed a statewide vote on the merger.
"I don't think the state should have a vote on how we govern ourselves," Gunby said then.
The GOP cited an instance when Gunby commented "Yes!" on a June 12, 2017 Facebook post on Better Together STL's page. The group had shared a Post-Dispatch article in which Stenger and St. Louis Mayor Lyda Krewson expressed initial support for some kind of city-county coordination.
The article was published more than a year before Better Together released its controversial merger plan to the public.
No matter, said Dieckhaus: "The intent of the group from the outset was to merge the city and county and to support that blindly calls into question her judgment in and of itself."
The HRCC also cited a post on Twitter that Gunby "liked" in December 2018.
The tweet, from St. Louis City Talk, said: "I'm 100% for merger of St. Louis and the cities and incorporated areas in the County. But, unless we have a single taxing district, police/fire dept and school system, nothing will change."
I'm 100% for merger of St. Louis and the cities and incorporated areas in the County. But, unless we have a single taxing district, police/fire dept and school system, nothing will change.

— St. Louis City Talk (@STLCityTalk) December 29, 2018
Without winning the 99th this November, Republicans already command more than a two-thirds majority in the Missouri House.
Gunby, through Sept. 30, had raised $122,668 for her bid to flip the district from Republican control. She had $62,214 in the bank going into the final month of the election season.
Pitman, also of unincorporated St. Louis County, had raised just $15,755 for her bid, and had $7,067 in the bank, according to ethics commission records.
The HRCC is spending money in the district, meaning the GOP side has no lack of resources. On the Democratic side, the party's House Victory Committee is also expected to drop money on the race.
The HRCC has more money. Going into October, the group had nearly $450,000 on hand compared to the Democratic committee's $95,000.