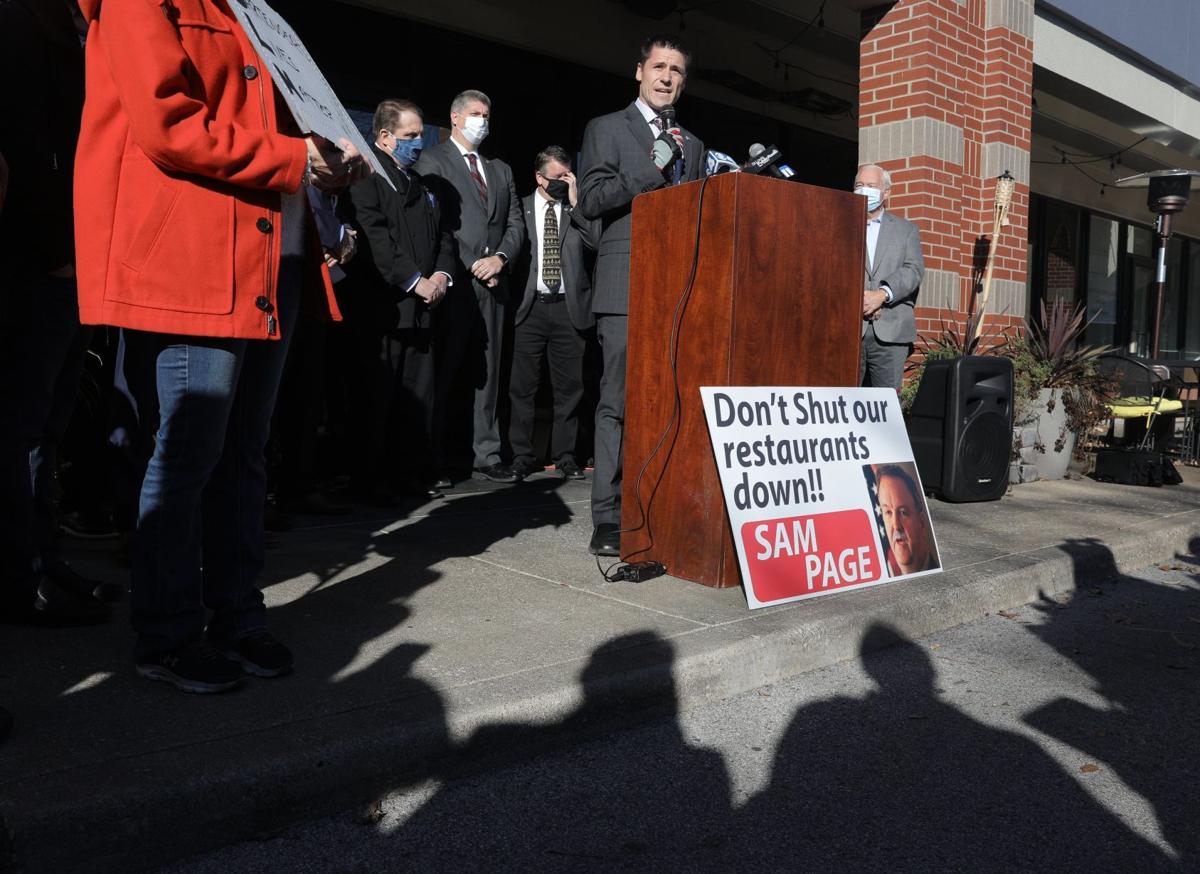 JEFFERSON CITY — St. Louis County is in the final steps of hiring a team of lobbyists to help fight Republican-led efforts to strip local health officials of their power to control a deadly pandemic.
The move comes as legislation is advancing in the Capitol to limit the length of health orders imposed during a state of emergency before a county board is required to weigh in on them.
The package also would create a tax credit for business owners who are forced to close because of a declared state of emergency. And, it would exempt churches from public health orders.
One of the sponsors, Sen. Bob Onder, R-Lake Saint Louis, says the health limits are a work of "tyranny" by St. Louis County Executive Sam Page, a Democrat.
An estimated cost for their work was not immediately available. In addition to focusing on the legislation, the team also could advise the county on how to manage future federal emergency relief aid and to help improve COVID-19 vaccination rates.
"I do know it's for multiple issues," said Page spokesman Doug Moore.
The cap on the contract is $150,000, he added.
St. Louis County has been a focal point of complaints. Page used his power to order restaurants to end dine-in service in November amid a record rise in cases. The ban was lifted on Jan. 6 in light of a reduction in new cases and a series of new safety protocols.
Under the new rules, restaurants are capped at 25% of their occupancy limit, must close by 10 p.m. and are required to take the name and contact information of at least one member of each dining party.
Business owners have said those limits are still hurting their businesses.
Many Republicans in the GOP-controlled Legislature have been at odds with public health guidance, which urges mask-wearing and limited outings and gatherings in order to slow the spread of COVID-19, which has killed more than 7,100 Missourians in 11 months.
A Senate committee forwarded the proposal to the full Senate on Thursday after it sat dormant for two weeks because one of the sponsors tested positive for COVID-19.
Sen. Andrew Koenig, R-Manchester, said in January that it is his "choice if I want to risk getting COVID. No one is forcing anybody to stay home."
Days later he was in quarantine, unable to continue work on the bill. He was back in the Capitol this week.
With the endorsement of the committee, the legislation now is set for debate in the full Senate. No date for a debate has been scheduled.
A similar package of limits also is being considered in the House.