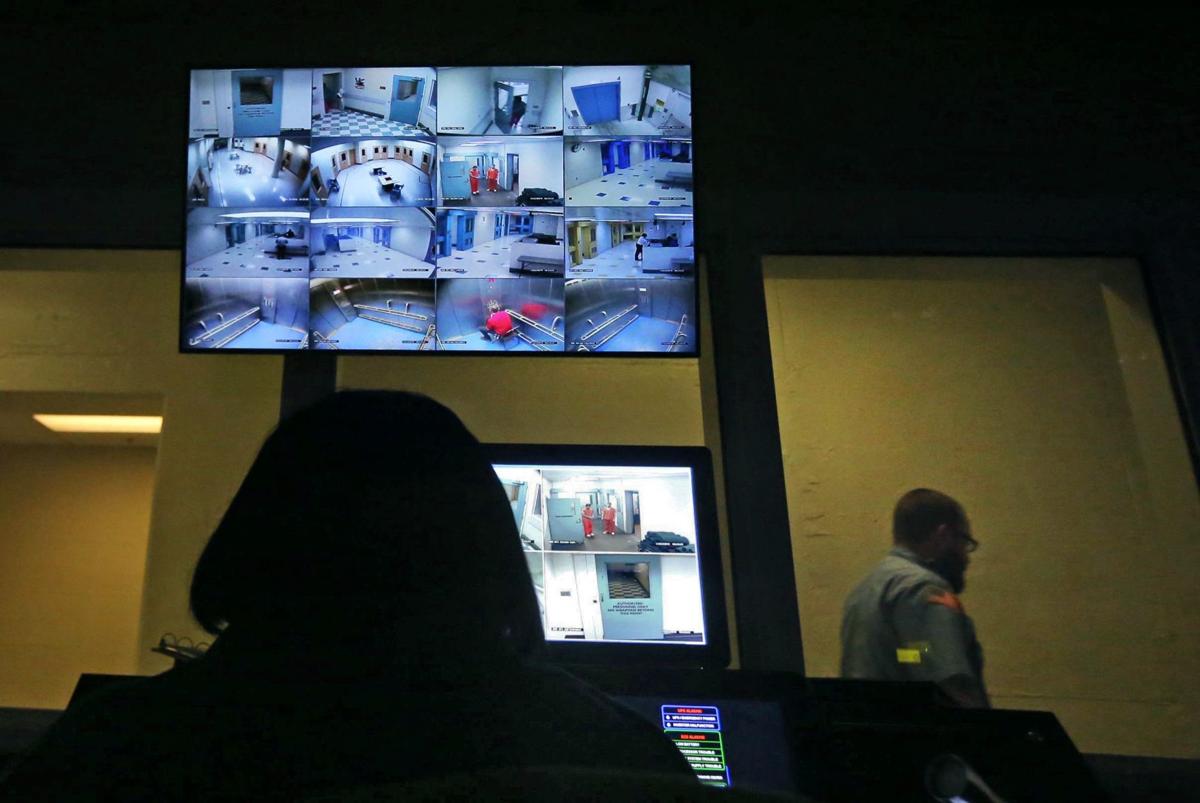 CLAYTON — When St. Louis County Executive Sam Page announced in June that he was reviving a long-dormant board to advise officials at the county jail in the wake of a rash of inmate deaths, he said the group of respected professionals "isn't one that will tolerate being ignored."
And it's not. Several members of the Justice Services Advisory Board expressed alarm on Friday they have received scant information from county officials about the death of inmate Jo'von Mitchell on Dec. 27, and were in the dark about how reforms were working that were put in place last year.
Board members also pushed back on advice from assistant county counselor Genevieve Frank to exclude the public from an upcoming meeting to discuss the county's response to the death with Justice Services Director Raul Banasco.
"I don't think this is a personnel matter," board member Mary Zabawa Taylor said. "And I think there's a way to have an open meeting involving the community and talking about the evaluation of this case that's not HIPAA violative and not in opposition to the Sunshine Law." (HIPAA — the Health Insurance Portability and Accountability Act — is a federal law that protects patient privacy and medical records.)
Jail deaths are complicated because they involve parallel investigations by the correctional and medical staffs. Under reforms enacted last year, the two sides are supposed to work more closely together. When Banasco suggested that the jail medical officials didn't need to attend the upcoming meeting, Taylor pushed back again. Evaluating the jail's comprehensive response was "the whole point," she said.
Mitchell, whose death was the fifth in 2019 involving an inmate at the jail, was not even listed by Banasco's staff as a topic on the board's agenda on Friday. To kick off the meeting, Banasco spoke for several minutes about staffing and training.
Taylor interjected around the 50-minute mark: "I'm just puzzled as to when we're going to talk about the most recent death in the jail and when we're going to talk about the in-custody death review. I don't see it on the agenda, and I was just waiting to see if you guys were going to bring it up."
Taylor, a volunteer in the criminal justice ministry at the jail and a former director of patient safety at Washington University School of Medicine, said members have "all done our own thing about trying to find out" what happened.
Speaking directly to Banasco and co-health directors Dr. Emily Doucette and Spring Schmidt, Taylor said: "You guys all seem to know what happened, and we do not know what happened except for some very early briefings, and I guess I feel like I'm at a loss for details of whether things we put into position really did work."
County officials have never released the results of investigations into four deaths involving inmates at the jail, telling the newspaper they were confidential personnel and health records. Page said in an interview in July that the county's lawyers advised him "you can't just release all this stuff that will be impossible for us to defend in any sort of litigation."
At the first meeting of the advisory board in July, then-interim jail director Troy Doyle told members the process would be more transparent going forward. The public would be told within 48 hours of the suspected cause of death, and within 30 days the county would complete a comprehensive investigation with a public release of policies that needed to be changed or staff that would be held accountable. A progress report would be issued in 60 days.
Banasco told the board on Friday the policy needed to be tweaked because delays in the police and medical examiner's investigations made it difficult to draw conclusions within 30 days. And, he said, the policy he inherited did not provide any guidance on how the findings should be communicated.
Board members said most of what they knew about the case came from a Jan. 15 Post-Dispatch story reporting on details from an internal report that had not been released to them.
The report said an internal investigation found that even though jail staffers seemed to understand by 4:30 a.m. on Dec. 25 that Mitchell was very sick, it took more than eight hours to take him to the infirmary. A nurse found him in respiratory arrest in his cell in the infirmary about 5 p.m. that day. He died two days later. The medical examiner has not ruled on his cause of death.
Mitchell should have been rushed to a hospital sooner, his brother said.
"I still have not received a copy of the internal report, nor have I been briefed on it," board member Tim McBride wrote in a letter read aloud by the board chairman, the Rev. Phillip Duvall. "It still amazes me that the Post-Dispatch has seen a copy of the report before at least this board member has. … It is difficult, if not impossible, for me to do the work we have been asked to do … without full transparency and information."
Duvall criticized the county's legal staff for a "problematic" culture of secrecy. "This process of not letting it out becomes an issue with transparency," Duvall said. "As if we're lying or we're withholding."
Beth Orwick, the county counselor, said in an email later, "I do welcome a meeting with members of the advisory board to go over their specific concerns so that they can be as effective as possible in helping with the county's continued efforts to improve operations" at the jail.
Board member Jeff Smith said board members want "to have credibility in the community, and when people are coming to each of us individually … our choices are to say, well, we don't know, because we don't have the answers. We don't want to say that because then, who are we? Figureheads? And we also don't want to give information that's not accurate."
Tashonda Troupe, whose son Lamar Catchings was found last March 1 in his cell dead from leukemia, said she was hopeful after the reforms were put in place, but told Banasco, "we still have no transparency. We still have no accountability. ... I need you to step it up and I'm not just talking about for me, I'm talking about for the community, for the jail, for the inmates."