ST. LOUIS — Gabby Durham, floor manager at the Kingside Diner in Clayton, took down a "carryout only" sign on the restaurant's front door Monday, marking the first day in weeks St. Louis County restaurants could resume limited indoor service.
"There was this panic for me when indoor dining closed just before the holidays," said Durham, 26, of Clayton, who has worked at the restaurant for two years while also pursuing a degree in social work. "So I'd say this is a relief."
A few regulars returned Monday to dine-in at Kingside for the first time since Nov. 17 when the county became the lone Missouri county in the metro area to suspend all indoor dining service amid record rises in COVID-19 cases. The ban was officially lifted by St. Louis County Executive Sam Page in light of a reduction in new cases and a series of new safety protocols.
Under the new rules, restaurants are capped at 25% of their occupancy limit, must close by 10 p.m. and are required to take the name and contact information of at least one member of each dining party.
The return of indoor dining was welcomed by many restaurant owners facing declining business, including a few who have pushed back against restrictions and sued the county for what they described as government overreach. And restaurant workers, including Durham, also welcomed the return of customers.
"When the restaurant was shut down in the spring, there were the added unemployment benefits," she said. "But those are not as high anymore, so you worry if there's no Kingside Diner or if it has to close temporarily, what will I do?"
Durham said Kingside was getting a delivery of plexiglass to separate tables and was taking contact information — a first name and email address or telephone number — of customers.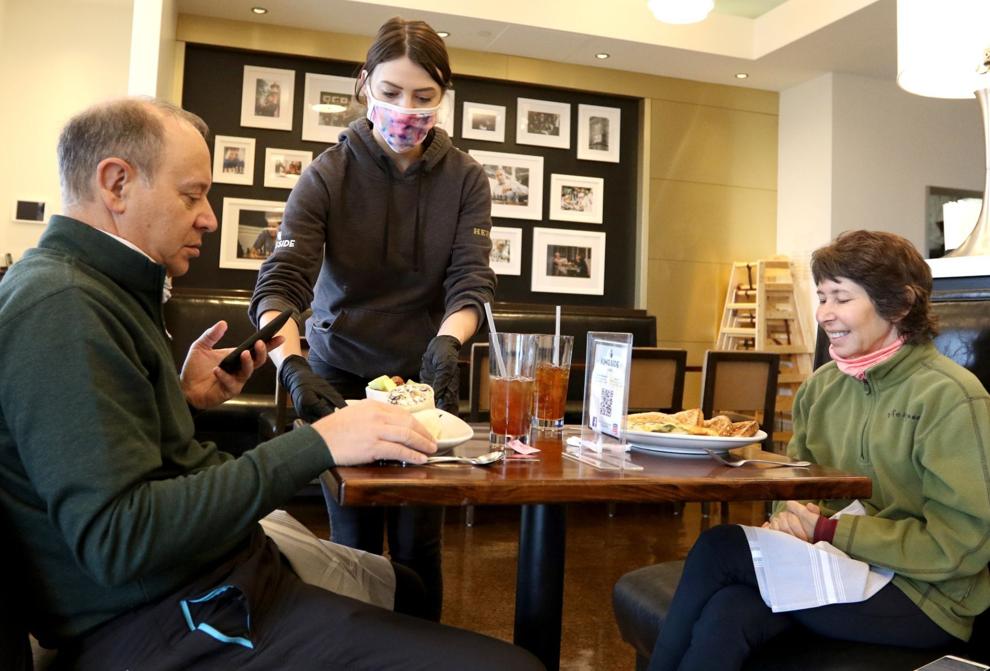 But while most restaurants in the county reopened Monday, two other establishments in Clayton remained under suspension for allowing indoor dining early, against county orders, according to St. Louis County Health Department spokesman Christopher Ave.
JP Fields sports bar and Barcelona Tapas Restaurant each had their county permits suspended for violating the indoor dining ban by hosting customers indoors past 10 p.m. on New Year's Eve, Ave said Monday. The two restaurants will need to resolve the suspensions before they can reopen, Ave said.
JP Fields owner James Campbell said Monday that he was not informed of a suspension, though he knew health officials had asked customers to leave the evening of Dec. 31. The owner of Barcelona could not immediately be reached for comment.
In a press briefing Monday, Page said the health protocols are meant to protect customers and employees, and warned the county would tighten dining restrictions again if cases climb.
Some critics, including Councilman Tim Fitch, R-3rd District, have pushed back on the requirement to record contact information as an invasion of privacy and suggested diners provide fake names.
"Diners have to provide their name to dine inside at restaurants?" Fitch said in a tweet last week after the plan to resume indoor dining was announced. "I'm wondering how often 'Sam Page' will be be signing in at county restaurants."
Page on Monday said he believes it will be a rare instance when customers refuse the measure.
"We're asking restaurants to do what we've seen in other jurisdictions across the state or across the country and provide a way for us to contact and for restaurants to help us contact anyone who might have been exposed," he said.
Diners' contact information will only be accessed by health officials who are tracing COVID-19 outbreaks, and will fall under federal patient privacy laws that protect private health information, Page said.
"Certainly there has always been a group of people who look at this pandemic as, 'What can I get away with?'" Page said. "We ask that folks will look at this response to the pandemic, in all business sectors and all walks of their life, as, 'What can I do to be helpful?'"
Tom Schmidt, owner of four locations of the BBQ restaurant Salt + Smoke, including one in the county on Delmar Boulevard in University City, said he doesn't mind staff taking customers' information if it means reopening dine-in service.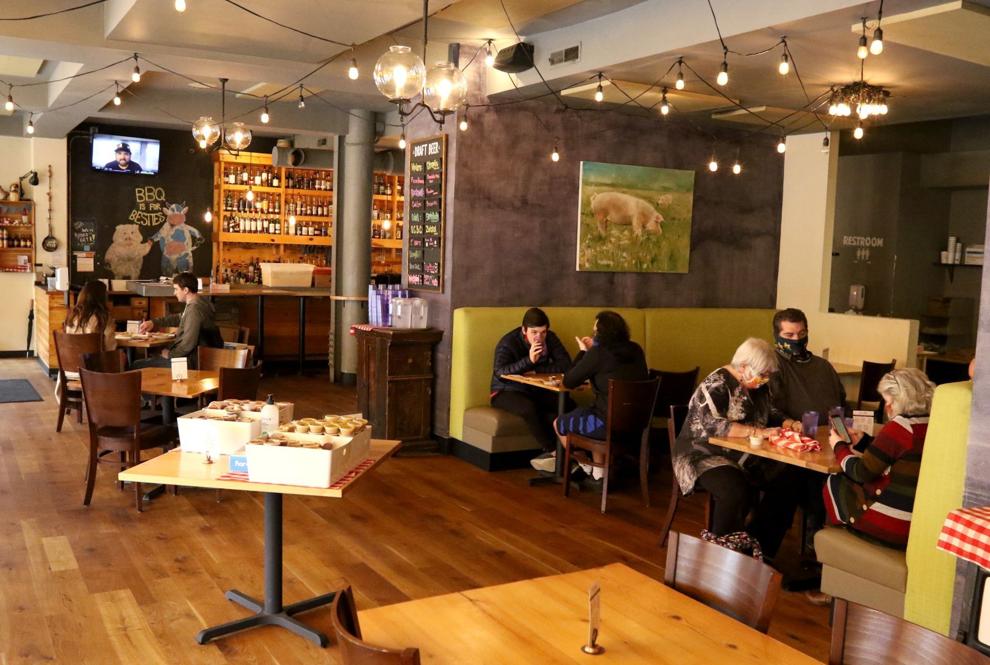 Since the November ban, the Delmar location has lost about $200,000 in revenue, Schmidt said.
"The county put out a grant for $5,000 for restaurants, but that's just a couple days of the revenue we're losing," Schmidt said, sitting in his Delmar restaurant that's about a four-minute walk to the city line for St. Louis, where restaurants have been able to continue dine-in service since spring.
When the weather cooled and patio seating grew limited, Schmidt said he had to cut employee hours at the Delmar location more than his other three restaurants.
"It's hard when I talk to my wait staff and they say, 'I worked eight hours and waited on one table making $8 in tips when restaurants like Mission Taco down the road in St. Louis city are full of people," Schmidt said.
Salt + Smoke waiter Rachael Aiken said Schmidt supplemented staff tips, but she still makes less than before the pandemic.
"I have a 2-year-old at home so I took off a few months at the beginning of the pandemic because I was worried about the virus," said Aiken, who has worked at the restaurant for five years. "But now I feel safe with all the safety precautions like taking temperatures before people come inside."
New COVID-19 hospitalizations in the St. Louis region have fallen since mid-November, according to the St. Louis Metropolitan Pandemic Task Force, which includes BJC, Mercy, SSM Health and St. Luke's facilities.
The seven-day average of new daily hospital admissions hit 95 at metro area hospitals Monday, down from its peak of 144 on Nov. 17, according to the task force.
Despite the reduction, task force commander Dr. Alex Garza called the admission rate "way too high" in a briefing Monday.
Garza said he's still concerned about a spike in cases following the holiday season. He said health officials are also closely following a new, more contagious variant of the coronavirus first discovered in the United Kingdom.
No cases of the UK variant have been identified in Missouri, the city of St. Louis Department of Health said in a statement Monday.
Statewide, Missouri added 1,196 new confirmed COVID-19 infections Monday. That brings the state total to 402,957 cases and 5,562 deaths.
Illinois on Monday recorded 5,059 additional confirmed and probable cases, and 79 additional deaths. There have been 984,880 total cases and 16,834 deaths in the state since the start of the pandemic.
By the end of 2020, entertainment, dining and artistic venues had closed, opened and closed again — some for good. 
From acclaimed chefs' new ventures to first-time restaurateurs' debuts, new restaurants managed to open even as the pandemic raged.
A guide to some of the biggest topics of 2021.
NOTE: On Saturday, April 17, 2021, the Missouri Department of Health and Senior Services (DHSS) noted on its dashboard that it discovered a database error that was causing individuals with both a positive PCR and antigen result to be counted as both a probable and confirmed case. This correction removed 11,454 cases that were counted twice in previous probable antigen cases, according the notation.
NOTE: Beginning Monday, March 8, 2021, the Missouri Department of Health and Senior Services (DHSS) began posting county-level data showing "probable" COVID-19 cases detected by antigen testing. Using historical data from the DHSS dashboard, we reconfigured this graph to include that number.