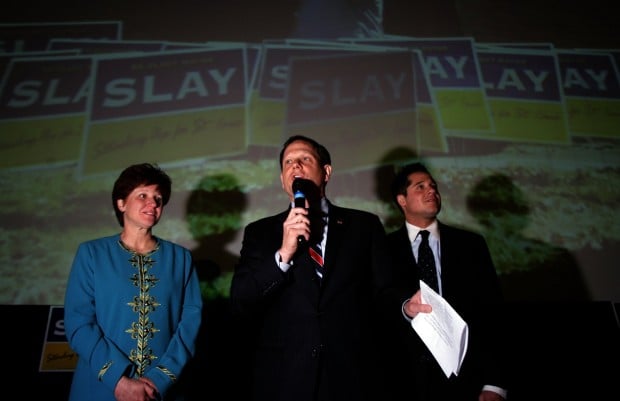 ST. LOUIS • The rangers who patrol Forest Park roads write dozens of tickets on nice summer days. Especially to drivers rolling stop signs.
So when Park Ranger Muradif Zlatic pulled over a white 2011 Dodge Avenger last August, he didn't think much of it.
Zlatic wrote the driver a ticket for violating the stop sign, and turned it in. The name on the license, he said, did not ring a bell.
But that would be one of the few times, over the next five months, where the name on the slip — Francis G. Slay Jr., the son of Mayor Francis Slay — didn't elicit a helping hand from a city insider.
This month, Slay Jr.'s ticket finally got paid. It had been reduced to "excessive vehicle noise" — no state driving penalties.
Slay Jr. never showed up for court, never sought an attorney to represent him, never went to the courthouse — and insists he never asked anyone to fix his ticket.
The steps a normal resident must take after getting caught rolling a stop sign were taken care of, one by one, by those inside the system: a parks manager, a courts clerk, a municipal judge, and, finally, a former city counselor.
In the aftermath, no one involved said they were asked by either Slay Jr. or his father for any favors. Most said quite the opposite — Mayor Slay foremost among them.
"When we found out here that there had been a ticket that had been voided, we instructed them to unvoid the ticket," said Mayor Slay. "We wanted to make sure there was no favored treatment."
Aug. 14, 2011, was a beautiful summer Sunday: 84 degrees, low humidity, with a nice breeze.
Slay Jr., 28, an account executive at Enterprise Fleet Management, was driving to a softball game that evening. Zlatic pulled him over just after the stop sign on Hospital Drive, down the street from the Steinberg Skating Rink.
Zlatic said he was just worried about protecting pedestrians.
"We want to keep the park safe for people," he said recently. "Honestly, I'm not into politics at all. I don't really know that many politicians. I don't follow that stuff."
The next day, the chief park ranger, Dan Stritzel, sent an email to three city staffers, all of whom indirectly answer to the mayor: a court secretary, the senior city attorney in municipal courts and the court administrator, Cathy Ruggeri-Rea.
Stritzel, who did not return calls seeking comment, titled his email "VOID ASAP." It listed the case number, the officer's name and one sentence:
"Hi, I have another that went down today that needs to be voided before it gets into the system."
And he closed the email like this: "!!!!!"
About a week later, one of Ruggeri-Rea's supervisors, Sonia Day, noted in the system that the charge was refused by prosecutors and closed the case. At that moment, Slay Jr.'s case became confidential. If asked about it, court clerks would say it doesn't exist.
And that was Slay Jr.'s first favor.
But, at the same time, Ruggeri-Rea had emailed Day, asking for whom the ticket was written. When she found out, she called the mayor's office, who insisted she reissue the charge.
So she called the city counselor. And the city counselor asked park ranger Zlatic to write a new ticket.
Slay Jr.'s first day in court was Oct. 4. He didn't show.
The judge, James Wahl, gave Slay Jr. a continuance. Ruggeri-Rea said she asked the judge why he did that, and he told her he always does it for park ranger tickets. She didn't know why.
Several current and former clerks in the municipal courts, however, said judges normally give $100 failure-to-appear fines, or even arrest warrants. Wahl did not return phone calls seeking comment.
In December, at the following court date, Slay Jr. again didn't show. But John Bouhasin, a former city counselor now in private practice, said he happened to be in the courtroom at the time and heard the judge read Slay Jr.'s name, twice.
Bouhasin called out to the judge. He pleaded guilty for Slay Jr. and got the charge modified to "excessive vehicle noise."
Finally, on Jan. 23, Slay Jr. was supposed to show up for his last court date, where he would pay the fine, which had not increased from its original $150.50.
But Slay Jr. didn't show for the third time. And this time, in a new courtroom, Judge Marvin Teer issued a bench warrant. A clerk entered Teer's warrant into the system Feb. 2.
Soon after, the Post-Dispatch called the mayor's office about the ticket, and the mayor's office contacted Ruggeri-Rea, who called Bouhasin, who wrote a check for the ticket, court costs, plus the lifting of the warrant — $185.50.
Bouhasin said Slay Jr. paid him back.
Mayor Slay argued that the favors hardly ended up helping out: "They really didn't do any favors," he said. "For God's sake, there's going to be a newspaper article!"
Slay Jr. said this week that he didn't know about his court dates — he had moved and hadn't changed his address on his license.
"I'm embarrassed it happened," he said. "It's certainly my fault for not driving safely enough."
And Mayor Slay said he was opening a larger inquiry into the issue in the municipal courts.
"I've asked our people to make sure we look at all that and find out whether this is a more widespread practice," the mayor said Friday. "Because that is unacceptable."
"In the end, somebody was trying to do him a favor, and really didn't," he added. "It turned out to be a headache for him, and me."