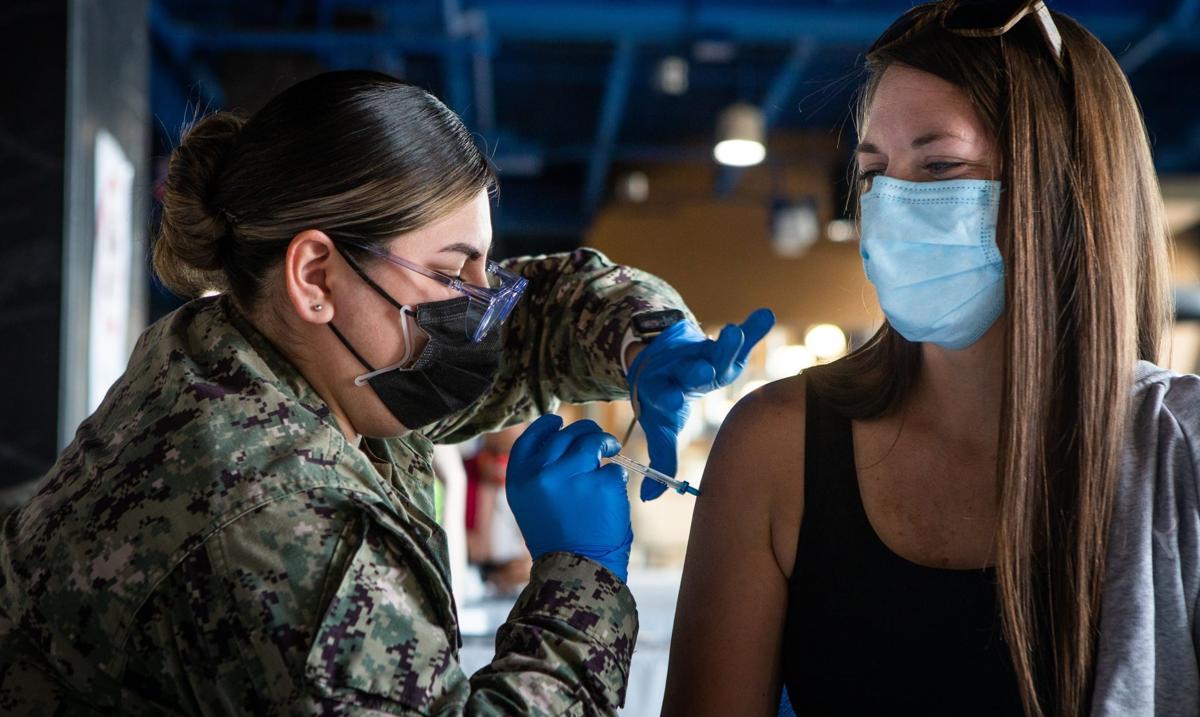 ST. LOUIS  — The city's lagging coronavirus vaccination rates haven't improved significantly since gift card incentive programs began rolling out in recent weeks, health officials say in a newly-released report to the Board of Aldermen.
However, the city so far has spent only a small portion of the $1.25 million allocated for that purpose in a bill signed into law on Aug. 16 by Mayor Tishaura O. Jones.
As of Sept. 2, the report said, only 46% of eligible city residents had completed the vaccination process and only 29% of eligible African American residents had done so.
Accordingly, ZIP codes in the heavily Black northern part of the city had the lowest rates and white-majority ZIP codes in southwest St. Louis had the highest rates.
Acting Health Director Fredrick Echols on Tuesday told the aldermanic Health and Human Services Committee that "there's still a large segment of our population that has a deeper level of distrust" in the health system built up over many years that can't be addressed by an incentive.
For example, he said, some older city residents recall the shutdown of two city-run hospitals in past decades and "still remember what it felt like to have resources stripped from their communities."
"It really requires persistent and genuine engagement over a long period of time," he said. He said officials in the city government need to reach out to such residents and say "we weren't here but we're sorry."
Still, he said, the incentives have spurred an "uptick" in vaccinations among some other parts of the population.
The $1.25 million in the bill that took effect Aug. 16 is for gift cards to be offered to any city resident vaccinated for COVID.
A health department spokesman, Harold Bailey, said later Tuesday that 620 gift cards were purchased since then through an informal process "to meet the urgency of the moment" and so far 228 have been issued at vaccination clinics.
But he said the city also has just completed seeking requests from companies seeking to provide cards for a more comprehensive program and that further steps will be announced when finalized.
In addition, he said, the Cardinals have donated 5,000 tickets to be used as incentives at city vaccination clinics. That's in addition to several hundred contributed by the team for use at clinics last spring at Busch Stadium.
The city also has a separate gift-card incentive program for city employees announced on July 27. As of Tuesday, the city personnel department reported, 65 employees getting COVID shots had gotten the $100 cards.
That number includes 17 employees getting shots before and 48 after the mayor announced Aug. 18 that all civil-service workers must get vaccinated by Oct. 15 or undergo weekly testing.
Dr. Mati Hlatshwayo Davis, an infectious disease specialist at John Cochran VA Medical Center appointed by Jones to succeed Echols, will assume her new role next month.
Echols will continue as health commissioner, the health department's No. 2 position he has held simultaneously.
The health department report noted that adults between the ages of 20 and 29 continue to make up the largest share of new cases, with roughly 65% of new cases last month below age 40.
The report also said that generally the proportion of new cases younger than 20 has been growing this year.
That age group made up more than 30% of new city cases in the first week of September, with those under age 10 the largest proportional increase.
Updated at 12:55 p.m. Wednesday