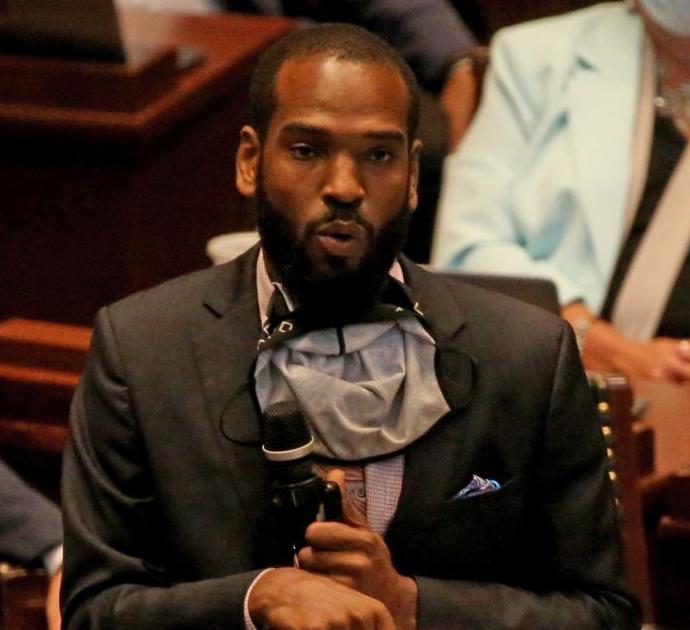 JEFFERSON CITY — A state lawmaker embroiled in an alleged sex scandal said he will not resign from office a day after his colleagues called for him to be censured.
"I won't be resigning, but I don't have an official statement," Price said. "I have no comment right now."
In an eight-page report made public Wednesday, the House Ethics Committee found that Price misled investigators by denying he had told an aide that he had sex with a college-age intern working in his Capitol office last January.
The 10-person panel also said he committed perjury by denying he had engaged in cellphone communications with the intern.
He also allegedly threatened his aide for reporting that he had told her he had sex with the intern.
House policy forbids lawmakers from having "romantic" relationships with interns, employees or anyone else they supervise. It was crafted after former Republican House Speaker John Diehl in 2015 resigned after acknowledging he had exchanged sexually charged text messages with a House intern.
"I hate that I'm in the middle of this," Price said Thursday.
Price, 36, whose district spans the west side of the city, including Forest Park and the Wells-Goodfellow neighborhood, won his second, two-year term on Nov. 3.
In their findings, the bipartisan committee said the full House will have to determine a punishment for Price. That could include stripping him of his committee assignments and not allowing him to meet with the Democratic caucus. He also will be barred from having an intern in the future, and the report calls for Price to repay $22,494 to cover the cost of the investigation.
Lawmakers who previously have been in similar circumstances have resigned their posts rather than serve under similar conditions.
Price said the timing of the committee's action raises questions. It came on the final day of a special legislative session as lawmakers wrapped up their work for the year.
Had the committee not acted, they would have had to restart their inquiry when the new legislative session begins.
"They did this on last day of session," Price said.
In a statement Wednesday, House Minority Leader Crystal Quade, D-Springfield, offered no opinion on the allegations, saying it will be up to the full House to evaluate the evidence and determine the appropriate action.
That brought taunts from Republicans, who said Quade should call for Price's resignation.
"I call upon Minority Leader Quade to take responsibility for the actions of her caucus members and institute changes to ensure this doesn't happen again. Rhetoric is meaningless without action. It's time for Minority Leader Quade to act," said Rep. Jered Taylor, R-Nixa.
But Republicans also are facing an ethical predicament on their side of the aisle.
Republican Rick Roeber of Lee's Summit was accused of physical and sexual abuse by his adult children in the weeks before the Nov. 3 election.
The ethics committee is expected to launch a probe into the allegations when the Legislature returns Jan. 6.
Roeber won't be allowed to join the House Republican caucus while the panel conducts its inquiry.
The 84th House District representative was set to be sworn in to a second term on Jan. 6