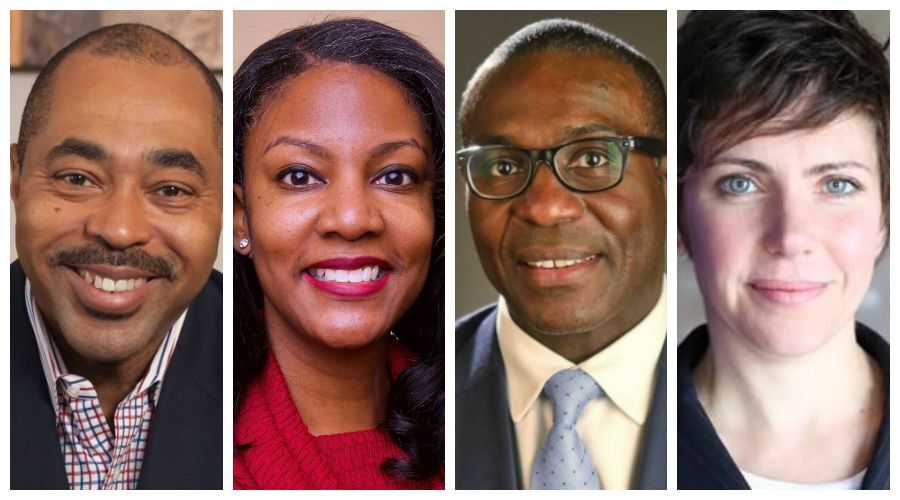 ST. LOUIS — City Treasurer Tishaura Jones' advocacy of decriminalizing prostitution has spurred disagreement from two of her March 2 mayoral primary foes, Aldermanic President Lewis Reed and utility executive Andrew Jones.
Tishaura Jones, in a lengthy platform released on her campaign website last week, said she wants to "destigmatize and decriminalize sex work."
Her campaign political director, Matt Rauschenbach, said decriminalization refers to prostitution. He said that means the accused aren't arrested, charged or fined but are connected with resources for employment, housing and drug addiction treatment.
Reed, in a statement issued by his campaign, asserted that areas where prostitution is legal are associated with a higher number of human trafficking incidents.
Reed also said it would increase the risk of children getting involved in illegal activity or becoming trafficking victims.
Andrew Jones said while he is "sympathetic to the issues that face sex workers," the connections between prostitution, human trafficking and drug trafficking are undeniable.
"Due to this link, I cannot, in good conscience, support decriminalizing prostitution," he said.
A fourth candidate, Alderman Cara Spencer, said prostitution has become a serious problem in some neighborhoods but that "our current punitive strategy isn't working well" to protect the community or sex workers from the effects of the sex industry.
However, she said she won't take a position on whether prostitution should be decriminalized entirely until she obtains more information on how it's currently prosecuted.
She added that government should work to reduce prostitution by preventing root causes such as drug abuse, mental health crises and sex trafficking.
Tishaura Jones, during a teleconference town hall forum put on by her campaign on Saturday, said she'd work with Circuit Attorney Kimberly M. Gardner to try to decriminalize sex work.
Chris Hinckley, chief warrant officer for the circuit attorney's office, said that office doesn't normally handle prostitution cases and that they are prosecuted by the city counselor's office in municipal court, which handles lesser offenses. The mayor appoints the counselor.
While Tishaura Jones advocates decriminalizing of prostitution cases, the city appears to already be doing something akin to that.
Rich Sykora, the chief prosecutor in the city counselor's office, said Wednesday that people suspected of prostitution are typically charged in municipal court with an ordinance violation, most often a charge of failure to disperse pedestrian traffic.
He said the cases are put on a person's drug court docket because many charged have drug or alcohol addiction issues. He said they often are placed on probation connecting them to voluntary treatment programs.
"We certainly don't go out there looking to put these people in jail or fine them," Sykora said. "Our interest is in changing their behavior."
He also said orders of protection are sometimes issued to bar people charged with prostitution or patronizing prostitution from returning to a neighborhood with persistent problems with the practice.
Rauschenbach, the aide to Tishaura Jones, said she would work with the city counselor to continue connecting them to mental health, drug treatment and other medical treatment and "will be a continued advocate against their incarceration."
Tishaura Jones lists her support for decriminalizing sex work on a part of her platform dealing with LGBT+ issues.
Rauschenbach, the Jones aide, said many in the "sex work industry" are transgender or "gender nonconforming." Such individuals, he said, often face hiring discrimination that forces them into sex work to make ends meet.