ST. LOUIS • In an announcement that stunned the city's political class and will likely spawn a year-long power struggle, Mayor Francis Slay, the city's longest-serving chief executive, said Friday he won't run for re-election when his fourth term ends 12 months from now.
This is not goodbye. I am going to be mayor for another year. I will have a full and, likely, controversial agenda to complete.
"I will not be a candidate for mayor next year," Slay, a Democrat, said at a hastily called news conference in his City Hall office. "This is not a goodbye. I'm going to be mayor for another year."
He pledged a robust agenda during his 16th and final year in office. "I have no intention of leaving early."
Slay's bombshell announcement comes less than two weeks after he said in a media interview, unequivocally, that he intended to run for a fifth term.
He didn't explain on Friday his sudden change of heart, though he did specify that "my health is fine." He said he told his family of his decision the previous night, and his staff that morning. He didn't take questions afterward.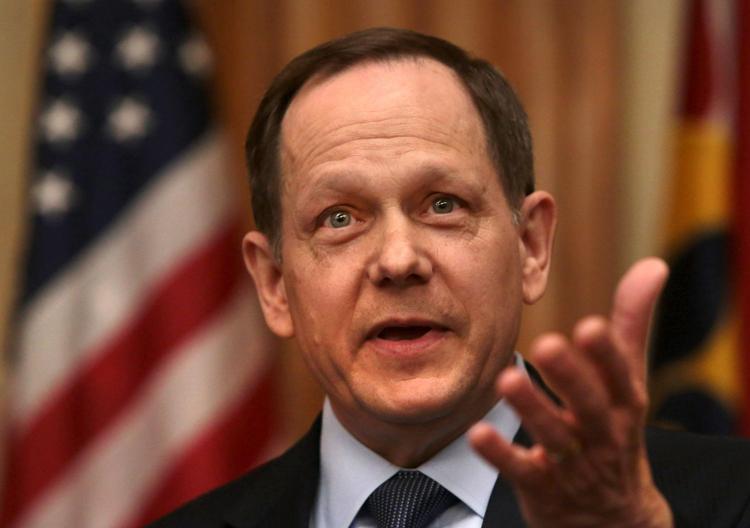 In an interview with St. Louis Public Radio that posted March 28, Slay — who in a three-decade political career has never lost an election — gave no indication he was even hesitating about a fifth-term run next year.
"Yes," he answered, when asked whether he intended to run.
When asked Friday why Slay would reverse his plans so dramatically in the space of less than two weeks, spokeswoman Maggie Crane wrote in an emailed response: "He changed his mind."
The announcement shocked Slay's political allies and adversaries alike.
"He always talked about running for a fifth term. I was shocked like most people," said former St. Louis County Executive Charlie Dooley.
Slay and Dooley forged a close alliance over 10 years, putting city and county economic development under one roof, opening up communication between public safety agencies and actively promoting the possibility of a merger to end a city-county estrangement dating to the so-called Great Divorce of 1876.
"We worked well together because he had the best interests of the metropolitan area in mind," Dooley said. "It wasn't just what was best for the city or what was best for the county, it was how the region could benefit."
Dooley cited the National Geospatial-Intelligence Agency retention, upgrades to the Gateway Arch grounds, the five-year extension to the city earnings tax, the construction of Busch Stadium III and the rehabilitation of Highway 40 (Interstate 64) as part of a "tremendous legacy" for Slay.
POTENTIAL SUCCESSORS
St. Louis Aldermanic President Lewis Reed, who ran against Slay in 2013 and was gearing up for another battle against him next year, said Slay's announcement caught him off guard. But he said he is glad that Slay made his political intentions clear a year ahead of time.
Reed, a Democrat, made it clear that he will seek to be Slay's successor.
"It's going to take a major overhaul, fresh blood, to make much needed changes to make our city safer," said Reed. He said the mayor's office must lead the charge to reduce crime in a city that has a national reputation for its high murder rate.
Editor's note: This is what Post-Dispatch metro columnist Greg Freeman had to say on the day…
Gregory F.X. Daly, the city's Democratic collector of revenue, also said he probably will join the race to replace Slay.
"I think I'm definitely going to look at the possibilities of the office and take the temperature and see how things are going to move forward," Daly said Friday.
He predicted that with Slay's announcement will come a long list of people considering a run.
"There are a number of people talking about it right now. I think it's the nature of the political cycle that when there is an opening you are going to have individuals take a shot at it."
St. Louis Alderman Antonio French, a Democrat who has been a vocal critic of Slay, said the mayor's announcement "is best for the city and an opportunity to move in a different direction." Like other critics, French has faulted Slay for focusing on rebuilding downtown and the city's Central Corridor while allegedly neglecting struggling African-American neighborhoods.
French said that with an incumbent out of the race next year, he expects a large number of candidates to step forward. He wouldn't say whether he will be one of them.
Tishaura Jones, who won a citywide race for treasurer in 2012, is among other Democrats who have been eyed as future mayoral candidates, along with Police Chief Sam Dotson.
Jones issued a statement thanking Slay for his service, but didn't specify whether she intends to run to replace him. Dotson did not immediately return a message seeking comment.
Through the years: Images of Francis Slay during his time as St. Louis mayor
St. Louis Mayor Francis Slay announces Friday, April 8, 2016, he will not seek re-election for a fifth term.