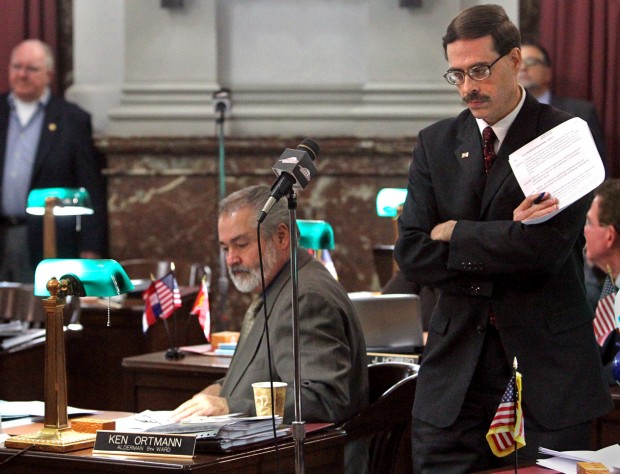 ST. LOUIS • Mayor Francis Slay's long-anticipated proposal to overhaul city Fire Department pensions ran up against a wall of firefighters and a reluctant aldermanic president Friday morning.
First, before the measure had even been introduced, the president of the firefighters union conducted a news conference on the steps of City Hall's grand rotunda, with at least 50 firefighters behind him, to announce the union's counterproposal and denounce the mayor's tactics.
"During our negotiations it was clear that the city had no intention of reaching a compromise with the firefighters union," said Chris Molitor, president of the International Association of Fire Fighters Local 73. "We made several proposals trying to meet somewhere in the middle, and the city held fast to its demands."
Minutes later, at the Board of Aldermen meeting, President Lewis Reed declined to assign the mayor's two bills to an aldermanic committee — a move so unusual that Reed himself couldn't name the last time he had done so.
The effect of the day's events was twofold:
First, it gave some aldermen a second plan to consider before the debate over Slay's proposal even began.
"I'm certainly uncommitted," said south side Alderman Fred Wessels after the meeting. "I believe the firefighters have a legitimate counterproposal and the aldermen should seriously consider it."
Second, it threw the mayor's bills into a race against time.
Reed, who has been warring with Slay over policy, has the power to assign the bill to any committee he feels fits the board's rules.
Traditionally, a bill concerning employee pensions would go to the public employee's committee. That committee is now chaired by Alderman Craig Schmid, the sponsor of the two pension overhaul bills.
But Reed also could send firefighter bills to the public safety committee, for instance, chaired by Alderman Greg Carter. Carter has recently scuffled with Slay's staff.
The choice is important. A committee chair could hear the bills quickly, get them through and back to aldermen for final votes. Or the chair could decide not to hear the bills at all, in effect killing the proposal.
The president has two weeks, by board rules, to assign the bills. And after 30 days in committee, aldermen could vote to remove the bills, if stuck, from the committee to which they were assigned.
But that would be too late. Slay only has six meetings — less than two months — to get his bills passed, signed and enacted into law before the session ends.
Reed said Friday after the meeting that he is not going to play politics with Slay. He did not assign the bills, he said, because they could go to one of several committees, are long and legally complicated, are similar to the content of an earlier bill — which could break board rules — and because he only had two days to review them.
"I'm not going to rush this because the mayor has a political vendetta," Reed said. "They've had eight months. I've had 48 hours."
Slay's office, however, is concerned that Reed is stalling.
Jeff Rainford, Slay's chief of staff, said he had two staffers call Reed two or three times a day for the last week. "They could not reach him," he said.
"We're not asking him to support the bill," Rainford continued. "Just let the process take place. Send it to the committee that every other pension bill and employee compensation bill goes to. Let it come up for a vote. And let the majority rule."
Meanwhile, the firefighters union presented a plan Friday morning that also would deeply cut benefits for those not yet hired — in some cases even deeper than the mayor recommends — but would leave benefits intact for current employees.
Union president Molitor said the measure would save $6.6 million annually for the next several years. He said it would change the accounting method used to fund the pensions, reduce disability benefits as already proposed, return 75 percent instead of all of each firefighter's pension contributions, decrease final salary calculations and add a minimum retirement age of 55 or 30 years of service.
Sam Dotson, the mayor's director of operations, said the city came to an impasse in negotiations because firefighters weren't willing to change any benefits for active employees, or discuss their former sick leave benefit, over which the firefighters have sued. And the union's proposed change in accounting method, Dotson said, doesn't provide enough long-term savings.
"We can't afford to kick the can down the road any longer," he said. "Somebody is going to have to take responsibility to address these issues. That's what the legislation we proposed does."
Firefighters gathered in City Hall said they were concerned.
James Kern, 51, a private at Engine House 32, said he was planning to retire in about eight years, but he's not sure whether he can make the money work if the mayor's bills pass. "I'm going to be one of those guys who say, "Welcome to Walmart," he said.
But he's also not sure he can work until he's into his mid- or even late 60s. "This is a young man's job," he said.
James Morgan, 59, a captain with 34 years in the department and as little as a year left until retirement, saw it as a money grab. "I think it's an attempt by the mayor to get his hands on the $400 million we have (in the pension fund)."
Now, Morgan said, maybe he'll just retire. "The longer I stay," he said, "the more likely it is that I'll lose benefits."