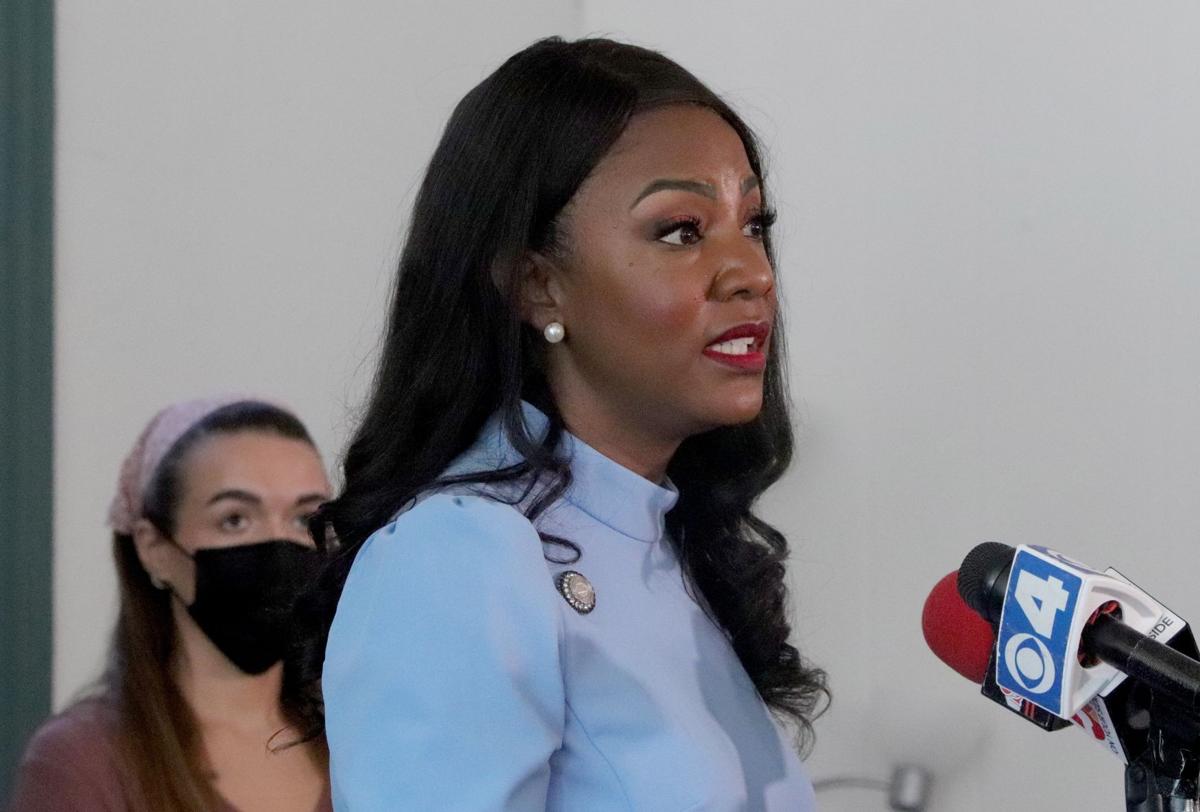 ST. LOUIS — Mayor Tishaura O. Jones on Monday used her line-item veto power to block $33 million in disputed funds while approving the rest of a $168 million pandemic aid bill passed last week by aldermen.
"I refuse to put St. Louis on the hook" for paying tens of millions of dollars back to the federal government, Jones said in announcing her move at a news conference Monday morning. "We cannot afford to get this wrong."
The $33 million, aimed at jump-starting business development along four major streets in north St. Louis, was added by the bill's sponsor, Aldermanic President Lewis Reed.
The veto was the latest volley in a monthlong battle between Jones and Reed over the issue.
Jones, in questioning the allocation's legality, relied on opinions from interim City Counselor Matt Moak and an accounting firm retained by the city.
She says federal rules for spending the money, passed by Congress earlier this year, don't allow it to be used on general economic development and that Reed's northside corridor plan isn't explicitly tied to problems related to the coronavirus pandemic.
Reed said in a statement that he was "extremely disappointed" by the veto and that the Board of Aldermen would "explore all our options to keep these dollars going to north St. Louis."
Reed insists the allocation would adhere to federal regulations, citing an opinion he obtained from a former assistant city counselor now in private practice.
Mary Goodman, Reed's legislative director, said overriding Jones' veto is among the options under consideration. That would require support from 20 of the 29 members of the board, which isn't scheduled to meet again until Sept. 17.
Jones at her news conference, in front of Ranken Technical College in north St. Louis, also lauded many of the other items in the aid bill.
She said a major priority of hers is the $5 million allocated for direct cash payments of $500 for about 10,000 families negatively affected by the coronavirus pandemic.
She called the overall bill "a road map to recovery as we navigate the crises facing our city."
Reed in his statement questioned why Jones didn't also veto $20 million allocated in the aid bill for a citywide fund to renovate dilapidated homes that Moak, the interim counselor, also had questioned in his July 9 memorandum.
That, Reed contended, shows that the veto of the $33 million wasn't based on Moak's reasoning. Instead, Reed alleged, Jones was engaging in "political retaliation" against some northside aldermen who got the board to remove their wards as possible sites for homeless encampments.
Jones' administration has been considering establishing such camps for people who won't go to traditional shelters and there is $2 million in the aid bill for that purpose. There's also larger amounts for other homeless assistance.
A spokesman for Jones, Nick Dunne, called Reed's allegation "ridiculous."
Dunne said the mayor didn't veto the $20 million because the city could meet federal regulations by having aldermen later this year pass a bill shifting that money to the city's Affordable Housing Commission from the city's main development agency.
The $33 million corridor proposal can't be fixed that easily, Dunne asserted. But Reed aide Tom Shepard said the board also could revise the $33 million allocation with a new bill if needed.
At her news conference, Jones said she would put forward an economic development plan that follows federal rules "and even more importantly, that goes farther in transforming our city."
"We need to think beyond just four corridors," she said, referring to the spending she vetoed. "Right now we're standing on Page Boulevard, which would not have qualified for federal dollars (under the bill.) We need to lift every disinvested neighborhood, not just a few streets."
Among others speaking in support of the bill were Neal Richardson, who heads the city's top development agency, St. Louis Development Corp.; Alderman Tina Pihl, 17th Ward; and the Rev. Darryl Gray, a civil rights activist.
The measure includes most of the $81.4 million in pandemic spending requested by Jones but also significant other outlays added by aldermen.
Allocations include about $15 million to help residents cover rent, mortgage payments and utility bills, $5 million to expand neighborhood violence prevention efforts, $1 million for mobile COVID vaccination clinics, $500,000 for vaccination education and marketing and $1.25 million for gift card incentives for the shots.
There's also money to expand senior services, aid early childhood education facilities, expand Wi-Fi, add new youth programs and job training and set up a northside center to provide entrepreneurs and small businesses with legal and technical support.
The bill signed by Jones also includes $5 million for police overtime pay, essentially restoring $4 million in police allocations cut from the regular city budget earlier this year at Jones' request.
Jones, in announcing her veto of the Reed business corridor plan, cited a city charter provision allowing mayors to cut spending items from bills containing "several items of appropriation."
That's done only rarely at City Hall because disputes over spending bills usually are worked out before they win approval of both the Board of Aldermen and the city's top fiscal body, the Board of Estimate and Apportionment.
In this case, the estimate board — made up of Jones, Reed and Comptroller Darlene Green — voted to support the aldermanic measure on Aug. 6 after Jones and Green tried unsuccessfully for several weeks to get Reed to revise his $33 million northside corridor measure.
After that vote, Jones said while she would sign the bill, she would have to work with Green to ensure that the federal guidelines were followed. On Monday, she said she was doing that with her veto.
Jones said her action Monday was the first line-item veto by a St. Louis mayor in about 20 years.
The city is set to get $498 million in federal money over two years under the plan passed by Congress, with about $249 million already received. The bill signed Monday includes the first installment of the $249 million.