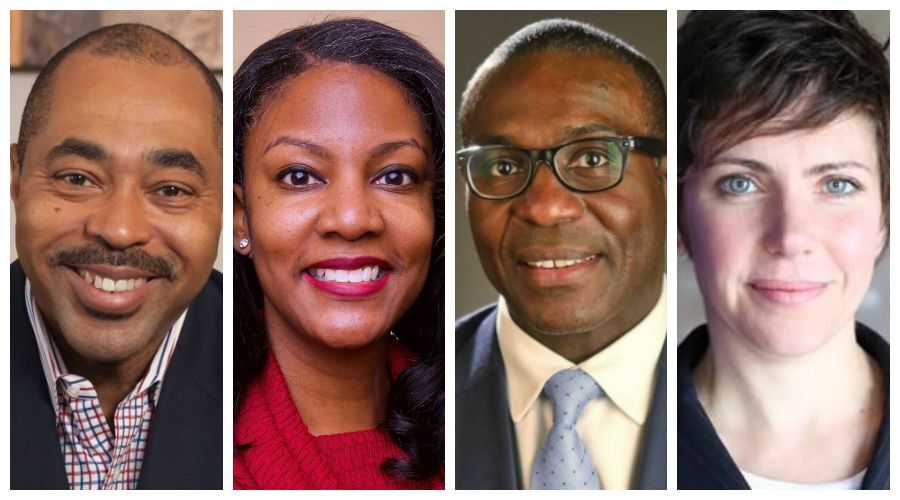 ST. LOUIS — Almost two years after the collapse of the Better Together merger proposal, the four candidates in St. Louis' Tuesday mayoral primary all talk about the need for regional cooperation.
But each does so cautiously, offering few specifics. None has called for consolidating St. Louis and St. Louis County or the less momentous step of the city reentering the county as one of its municipalities.
Alderman Cara Spencer said a reorganization of the area's governmental structure is "absolutely necessary for the success of our broader community" and that she would support having discussions on that.
But she said proposing something specific is a "top-down approach" like the one that failed with Better Together, which was overseen by a private committee.
"These are best answered with broad community engagement (including) the business community and the general public," Spencer said.
Aldermanic President Lewis Reed calls for additional city-county cooperative agreements, with combining police training programs one idea he'd pursue. Joint purchasing of some products and services is another.
"That is a more realistic approach," Reed said, saying strong opposition in the county to merger or city reentry is unlikely to change anytime soon.
City Treasurer Tishaura Jones put it this way: "How do you eat an elephant? One bite at a time. City-county merger is an elephant."
For her part, Jones cites County Executive Sam Page's endorsement of her candidacy — a relatively unusual cross-border step.
"It sends a signal to not only residents of the city and county but also our business community that we will work together," she said.
She said the two would focus on building up the regional public health infrastructure to control the spread of the coronavirus and to deal with other issues.
While stopping short of advocating merging the city and county health departments, Jones said she wants to "enlist the expertise" of the county agency to expand the city's delivery of direct health services to residents.
The other candidate, utility executive Andrew Jones, said that "we need to build better coalitions and open lines of communication" on day-to-day issues before even talking about structural changes.
"We're in the courting stage," Jones said.
He added that his emphasis would be on improving the city's own government. As it stands now, he says, the city's performance doesn't look good to possible suitors.
Board of Freeholders
Reed and Spencer both said they want to appoint new members to the city-county Board of Freeholders if Mayor Lyda Krewson fails to do so before leaving office April 20.
Election officials in September 2019 certified that petitioners gathered enough signatures of registered voters to trigger formation of the panel, which the Missouri Constitution authorizes to submit regional governance changes to voters.
Krewson and Page quickly made appointments to the board but it never started work because the mayor couldn't get an aldermanic panel to clear her nominees for confirmation by the Board of Aldermen.
Reed and Spencer both said they don't plan to make specific recommendations to a freeholders board. Spencer, however, said she'd like the board to "take a look at some of the big structural issues holding us back" regarding crime, racial segregation and service delivery.
Tishaura Jones prefers that several boards of freeholders be formed over the next five to 10 years to separately study subjects such as the area's multiple school districts, municipalities and fire protection districts.
However, she said, she doesn't believe making new appointments now to the board petitioned for in 2019 would be legal. She referred to a constitutional provision requiring freeholders boards to finish their work within a year after being appointed, a deadline that passed months ago.
Krewson and Page interpret the provision differently and say that the one-year period doesn't actually begin until the appointments are confirmed.
Spencer said before naming new members, she would order a legal review of that issue. Andrew Jones also wants a study of the legal question. If cleared to make the appointments, he said, he then would weigh whether to do so.
Since last summer, mayoral aides have said Krewson intended to try again with another round of appointees. But none have been submitted amid the press of pandemic issues.
And with only one more scheduled aldermanic meeting (and one other a possibility) before her term ends, it likely would be difficult to get a new list approved.
Lambert Airport
Reed supported the city's lengthy study of the possible leasing of St. Louis Lambert International Airport to private operators until the process was effectively halted by Krewson in late 2019.
Then, last spring, the Carpenters Union, the St. Louis NAACP and a committee founded by an associate of political megadonor Rex Sinquefield began a petition drive to put before voters a plan to require the leasing of Lambert if a bidder offered at least $1 billion upfront.
Spencer and Tishaura Jones opposed all of the airport privatization proposals.
Reed has since backed away from the full-lease idea and said recently that he can't see a scenario in which he would pursue that again.
Instead, he says that as mayor he'd push to get the county to give the city money to compensate for some of the sales tax revenue it gets from businesses at the city-owned airport, which is in the county.
If that happened, he said, he'd consider limited public-private partnerships to build some new Lambert facilities.
Spencer, Tishaura Jones and Andrew Jones all say they would consider proposals to put Lambert under regional governance and funding as a possible way to improve the airport. Spencer adds that any such effort also should involve Missouri state government and state money.
Andrew Jones says he would consider any airport idea on its merits, using objective analyses used in the corporate world. "We'll entertain and assess anything that comes before us," he said.
MetroLink expansion
Tishaura Jones and Reed say they'd continue with plans for a new Northside-Southside MetroLink line to be funded in part by a sales tax hike approved by voters in 2017.
Jones says her friendship with the new U.S. transportation secretary, Pete Buttigieg, might help the city's chances of getting the federal money that would fund the bulk of the estimated $667 million cost. She also hopes to get Page to back extending the proposed route.
Spencer, citing the hefty price tag for laying another MetroLink line and other concerns, instead would put priority on studying the possible implementation of less costly high-speed bus corridors and dedicated bus lanes on highways.
She said she also would look into using some of the sales tax money set aside for expansion to improving security on the existing line.
Andrew Jones, citing the cost of expansion and declining ridership, would table expansion for now and seek additional data and public input on the issue.
Reed, Spencer and Andrew Jones are open to rearming some MetroLink security guards if well-trained in firearms use. Tishaura Jones is skeptical of backtracking on Metro Transit's policy, begun last year, of allowing only police to carry guns on the trains.
Ward redistricting
Reed opposes shifting the task of drawing new ward boundaries from the Board of Aldermen to an independent commission, as proposed by a group that may petition to put such a change on the ballot in November.
Tishaura Jones says she supports the concept of a commission but wants to review the proposal's details before taking a firm position. Andrew Jones and Spencer were undecided regarding the proposition.
Spencer says she as mayor would push to have professional demographers "lead the conversation" if aldermen continue to make the decision.
Other issues
Reed and Spencer say the city hasn't gotten enough benefit from the joint Economic Development Partnership set up with the county in 2013, and they want to review it, with Reed pushing for more city seats on its board.
Reed, however, has backed off from his call in 2019 for the city to withdraw from the partnership amid reports of partnership officials' involvement in the pay-to-play scandal in former County Executive Steve Stenger's administration.
Reed and Spencer both said they would try to get the Missouri Legislature to take some action aimed at reducing gun violence in St. Louis. Spencer said she'd start with a proposal to prohibit children and teens from carrying guns on city streets and other rights-of-way.
Tishaura Jones says she hopes to develop a joint Jefferson City agenda with Page and Kansas City Mayor Quinton Lucas, who also has endorsed her this year.
Spencer, meanwhile, would seek to form a commission to review possible changes in the city charter. "Our charter is incredibly archaic," she said.
The candidates on transportation, governance
| | Andrew Jones | Tishaura Jones | Lewis Reed | Cara Spencer |
| --- | --- | --- | --- | --- |
| Should there be regional control and funding of Lambert Airport? | Would consider | Would consider | Opposes selling part-ownership to county, wants county to share sales taxes generated by airport | Would consider if city compensated, wants state involved |
| Should planning continue for north-south MetroLink extension? | Table idea because of cost, seek further public input | Yes | Yes | Prioritize less costly high-speed bus corridors, dedicated lanes |
| Would you appoint new members to the current Board of Freeholders? | Determine if legally allowed, then decide | No, legal deadline has passed, but wants future boards focused on specific issues | Yes | Yes, if legal advisers say it's allowed |
| Should an independent commission redraw ward lines instead of aldermen? | Undecided | Yes | No | Undecided, wants professional demographers to guide process if aldermen stay in control |