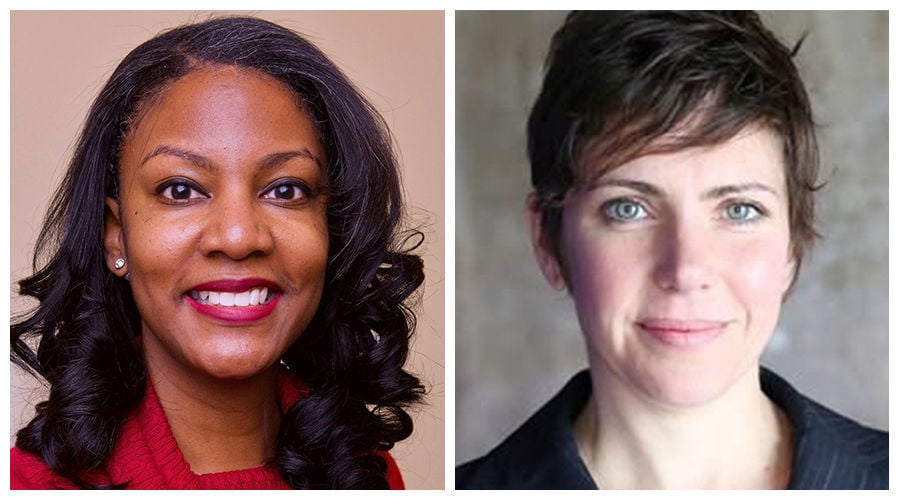 ST. LOUIS — Mayoral election rivals Cara Spencer and Tishaura Jones both say they want to use the $500 million the city expects to get from the recently passed federal pandemic aid bill on a mix of programs to help the city rebound.
Spencer on Tuesday announced she wants to devote about half of that total to housing stabilization, education grants and apprenticeships for young people and programs to keep small businesses in distressed areas and encourage other firms to move to the city.
"This is an unprecedented opportunity to change the course of our city by investing for the long term like our city has never done before," she said.
A Jones campaign aide, Matt Rauschenbach, said Jones would use some of the money on workforce development, improving energy efficiency, capital programs, mass transit expansion and shoring up the city's financial reserves.
Examining how a "universal basic income" program might work here is a possibility, he said.
"All options are on the table for providing relief to our people," Rauschenbach said in an email.
Both candidates said in the short term, they would allocate money to programs such as rent and mortgage assistance, homeless services and helping small businesses devastated by the coronavirus.
Spencer's draft long-term plan calls for giving as many as 1,000 prospective new homeowners up to $15,000 in down-payment aid, with a preference given to current city residents. Up to 2,000 low- to moderate-income homeowners could get up to $15,000 to repair their residences.
Spencer also wants to spend up to $25,000 per building to protect and stabilize vacant structures owned by the city Land Reutilization Authority.
To fund "gut rehabs" of up to 1,000 homes, grants of as much as $50,000 up to 25% of the sale price would be available.
The housing initiatives would be reserved for what Spencer called traditionally disinvested areas, with 65% going to north St. Louis.
On education, Spencer proposed providing grants of up to $2,000 for every graduate of a public high school who meets yet-to-be-set income restrictions for up to four years of college or trade school in the St. Louis region.
"The idea is to empower folks who otherwise would not be in a position to get help from their families to pay for college or trade school," she said.
She also wants to subsidize work-based internship and apprenticeship programs for others and spend up to $1.5 million per building to redevelop empty schools "in a manner congruent with their intended purpose."
Regarding business development, Spencer wants to offer up to $10,000 to businesses with fewer than 20 employees in areas that have been traditionally disinvested, with 65% of the money assigned to north St. Louis.
In addition, she would make available grants of as much as $15,000 to startup or "early stage" businesses already headquartered in the city or which move into the city.
Spencer, the 20th Ward alderman, said the overall goal of her plan is to enable people to stay in their homes, stabilize neighborhoods and "address the long-standing disinvestment" on the city's north side and parts of the south side.
She also pledged that if she is elected, the spending process would be transparent and that she would have zero tolerance for "insider deals" and privatizing public assets, whether it's St. Louis Lambert International Airport or parking enforcement.
That was a reference to a contract that Jones as city treasurer executed with a management company.
Rauschenbach, Jones' aide, said she would work to establish a spending process in which St. Louisans have a voice.
"It's critical that there is public input in the spending of this money," he said.