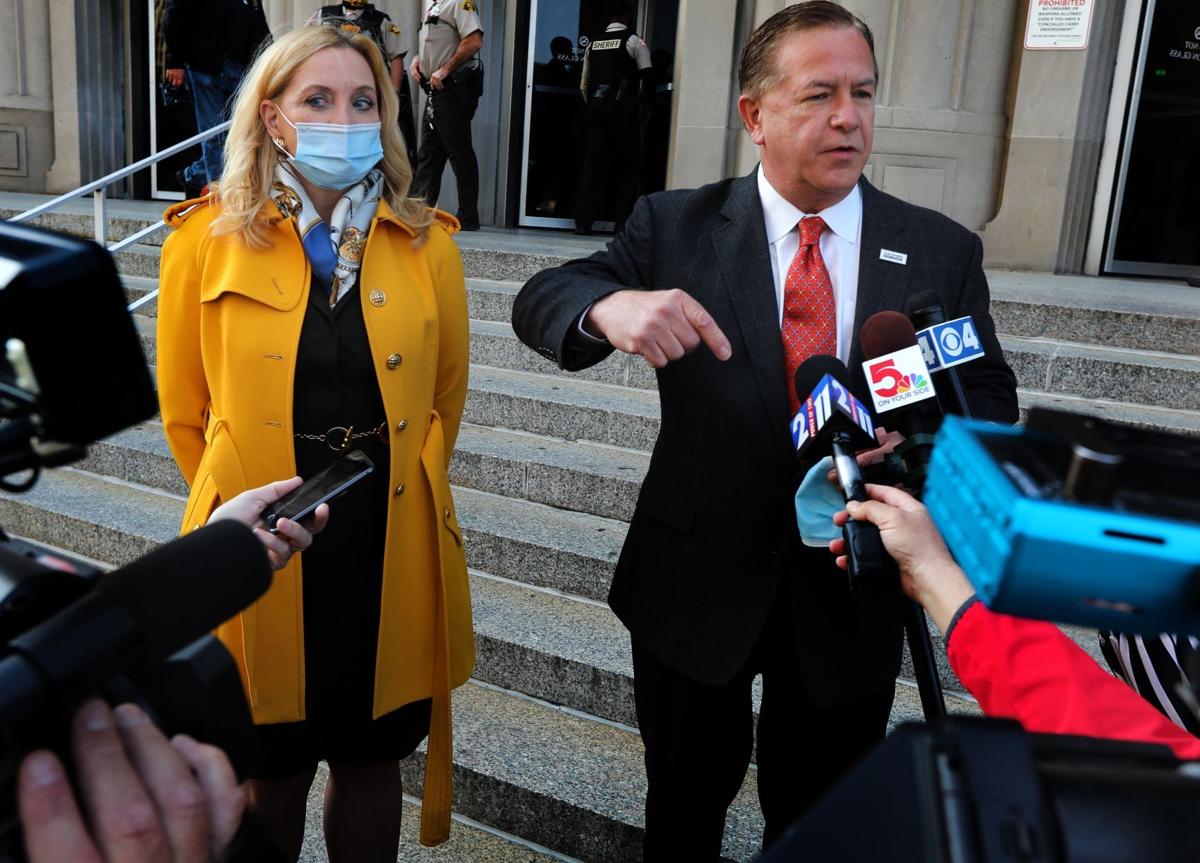 Updated at 10:50 a.m. Thursday
ST. LOUIS — An overdue payment of about $2,105 of city bills for water service and trash collection on U.S. Senate candidate Mark McCloskey's home posted in city records on Thursday morning, a city official said.
Tom Vollmer, chief of staff in the collector of revenue's office, said the online credit card payment was made on Monday. The payment was for $1,853.58 in water service and $252 for trash collection.
The last previous payment received for the home was in October 2020, Vollmer said.
Our earlier report, posted at 7:30 p.m. Wednesday:
ST. LOUIS — City water bills for U.S. Senate candidate Mark McCloskey's Central West End home haven't been paid for a year, the St. Louis collector of revenue's office said Wednesday.
Tom Vollmer, chief of staff for the collector's office, said city records as of late Wednesday morning showed an outstanding bill of $2,105 owed on the Portland Place home by McCloskey's wife, Patricia McCloskey, in whose name the account is listed.
"She hasn't paid in a year," Vollmer said, explaining that the last payment made was in October 2020.
Patricia McCloskey on Wednesday said in an interview that she paid the outstanding bill by e-check a few days ago shortly after getting a notice by certified mail from the city that a lien was put on the property because of the issue. She said she was given a confirmation number.
Vollmer said there can be a delay of three to four days for certain payments to show up in the city computer system.
McCloskey said she and her husband had been unaware until they got the recent certified letter that they owed the city anything.
"I saw it late last week," she said.
She said the U.S. Postal Service had stopped regularly delivering mail to their home shortly after the couple gained national attention on June 28, 2020 for waving guns at protesters outside their home.
"Since our event, the post office (wouldn't) deliver at all," she said.
She said mail service had begun again only about six weeks ago.
McCloskey said a postal worker who regularly delivers mail to her and her husband's law office had checked on the situation regarding their home. She said he was told that postal employees assigned to deliver in their neighborhood refused to do so at their home "because of who we are."
She said the mailman who comes to their office also now is assigned to deliver mail to their home and is paid time and a half to do so. Postal Service officials could not be reached for comment Wednesday.
Vollmer said the city typically sends out water and refuse charges on a single bill four times a year. McCloskey said she only recalls seeing a reference to water service on the recent bill she received.
The pair emerged from their home and held guns as a crowd of protesters passed on their way to then-Mayor Lyda Krewson's house. The couple said the protesters were trespassing on their private street.