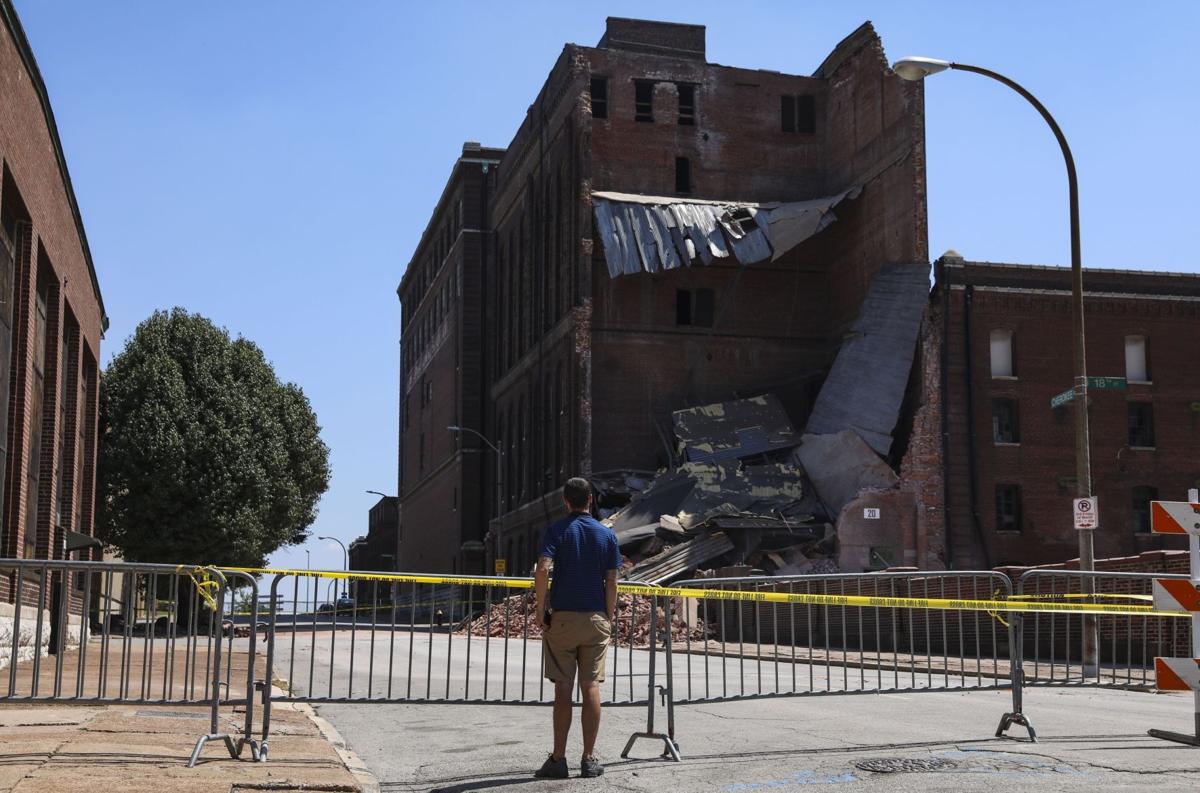 ST. LOUIS — The building that partially collapsed Sunday in the old Lemp Brewery complex was condemned in 2013 and shouldn't have been used to store bicycles, a top city official said Monday.
"They had no occupancy permit," said Building Commissioner Frank Oswald. "You can't use the building because it's unsafe."
A representative of the ownership group, Historic Lemp Brewery LLC, could not be reached for comment Monday.
Meanwhile, Patrick Van Der Tuin, executive director of St. Louis BWorks, a nonprofit organization which has rented the building since 2017, said he was surprised to hear from a reporter about the condemnation.
"It's news to me" and "alarming," he said.
He also said an official with the building's owner had told the nonprofit that an occupancy permit wasn't required for storage tenants.
No one was injured in the collapse of the six-story brick building at 18th and Cherokee streets about 9 a.m. Sunday.
St. Louis BWorks used the building to store more than 700 bicycles for its education and earn-a-bike program for children. Many were under the rubble. On Monday, Van Der Tuin said the group still didn't know how many bicycles were destroyed.
"We are still waiting on them to secure the building," he said.
Oswald said city inspectors plan to check the other 28 buildings in the old Lemp Brewery complex for any property maintenance problems.
Oswald's office has been working with Alderman Dan Guenther, whose 9th Ward includes the facilities, on what will happen next.
"There are so many large buildings on that property it deserves a fine-comb brush," Guenther said. He said the inspection would include the use of a recently acquired drone to make aerial inspections of roofing structures and parapets.
Jacob Long, a spokesman for the city, said in an email that a licensed demolition contractor was on the scene Monday "making what remains of the building safe."
"They will be required to get a demolition permit as soon as possible," Long said.
Guenther said the complex, situated between Cherokee Street, South Broadway and Lemp Avenue, is used for a variety of purposes, including warehouses, vehicle storage, a band rehearsal space and architects' and engineers' offices.
At one time, the complex housed the William J. Lemp Brewing Co., which sold its products nationally and rivaled nearby Anheuser-Busch at the turn of the 20th century.
Prohibition decimated Lemp's business, the brewery was closed in 1919, and the Lemp brewery buildings were sold in 1922. The International Shoe Co. used the complex until 1992, according to the group that now owns it.