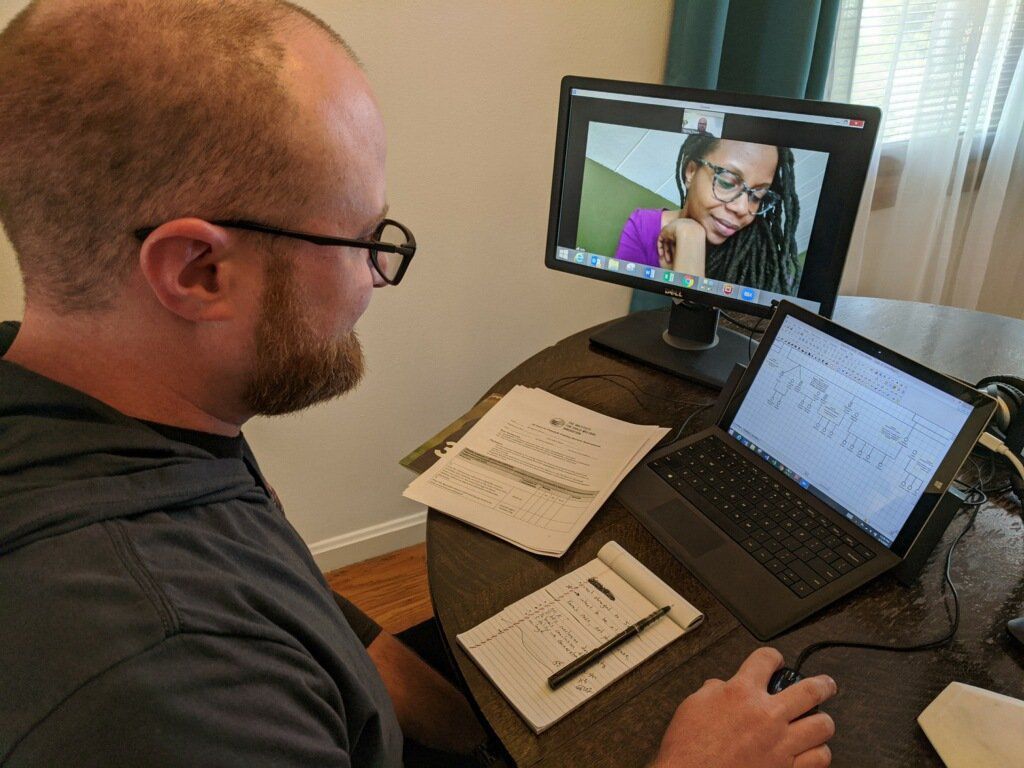 Lauren Watkins didn't know her sister was pregnant, let alone had given birth, when she got a call from a social worker telling her she had a nephew who was in foster care.
Watkins was 27, single and working three jobs. She had just adopted a puppy. Five days earlier, she'd exchanged phone numbers with a guy she'd met at a concert. Motherhood was not on her mind, let alone figuring out how to navigate the complex foster-care system. Then the social worker, from a local program called 30 Days to Family, told Watkins the baby was with a good family and that she was working on finding clothes for him.
"I think it was when she said that — that I have a nephew and he has no clothes and he just went home with some random people — that's when everything turned around for me," said Watkins.
30 Days to Family aims to place kids in crisis with relatives instead of in foster care. And it is on the verge of spreading across the country, championed by a new St. Louis nonprofit, the Institute for Child Welfare Innovation. The effort is aided in part by a federal push to shake up the foster-care system and place kids with extended family, instead of strangers.
"We have a tangible, practical solution for children, incubated in St. Louis for eight years that has the potential to go national," said Ian Forber-Pratt, executive director of the institute.
Two years ago, the federal Family First Prevention Services Act put a new focus on keeping kids with their families. But making the shift to pay for new programs, rather than just putting money toward kids already in foster care, has come slowly.
In order to receive federal funding, the agencies must prove success. Such results often are difficult to show on paper — just nine organizations have been vetted as "well-supported" by a national clearinghouse within the U.S. Department of Health and Human Services.
But Forber-Pratt, plus a handful of other agencies, say they have proved 30 Days to Family is successful, both in keeping children with family members and saving taxpayer dollars. His institute is awaiting the results of an application it submitted to the clearinghouse for vetting a few months ago — a favorable rating would give it a boost to spread to other states.
The institute, which is being funded by a $1.4 million grant from an anonymous donor, launched in December. It is a spinoff of the Foster & Adoptive Care Coalition, which started 30 Days to Family in 2011 and works to place children with relatives within a month of entering foster care.
Forber-Pratt is a graduate of Principia College, earned his master's degree in social work from Washington University, worked for the Foster & Adoptive Care Coalition, and then left for India, where he was born before being adopted himself. He moved back to St. Louis in 2018. The coalition tapped him then to help other agencies carry out the 30 Days to Family program, under which social workers find family members and map out a plan to keep the child out of foster care.
That often means being creative.
For instance, Forber-Pratt said that if a woman wants to take custody of her grandchild, but thinks she can't because she works nights, a social worker would search for another relative who could provide overnight care.
The social workers assigned to the program have just two cases at a time.
A 2017 study commissioned to analyze 30 Days to Family found that children in the program were in foster care about 91 fewer days than those in the sample, and 257 fewer days for kids with disabilities, according to the institute.
Moreover, 125 days after entering foster care, 65% of children served had been placed with a relative, compared with 44% of those not served.
The study also found 30 Days to Family saved more than $10,000 per child, and nearly $29,000 for children with disabilities.
"It's this interesting balance of infusing humanity and heart and healing into the work, but doing it in a shrewd business sense," Forber-Pratt said.
Forber-Pratt now hopes to spread the program almost like a franchise. The institute already has hosted social workers for training from several states, including New York, Virginia and Rhode Island, and is in talks with private and government organizations from others, including Maine, Michigan, Oklahoma, Arkansas and Kansas, as well as from within Missouri.
But states have been slow to shift from systems that fund foster care to programs that keep kids out of the system, said Hope Cooper, founding partner of the Washington-based social services consultancy True North Group. That's partly because so few such programs have been evaluated by the national clearinghouse.
In December, Congress authorized a one-time payment to states, expected to arrive in spring or early summer, to help meet the goals of the Family First Prevention Services Act, Cooper said.
"We've known for so long that if we can help families earlier, it helps keep kids out of foster care," Cooper said. "And now finally there's a construct for federal financing."
Missouri is set to get about $9.8 million; Illinois should receive more than $17.8 million.
As for Watkins, she's going through the process to adopt her nephew, who turns 2 next month. "He is the closest blood relative I have," said Watkins, whose parents died when she was in college.
And that guy she met at the concert? On their first date, over tacos and margaritas, she told him about the nephew she hadn't known existed.
He got licensed with her to be a foster parent. They're still together.
"Every state really needs a program similar to this," said Watkins. "The more hands on deck and people in positions to oversee these cases, the better."