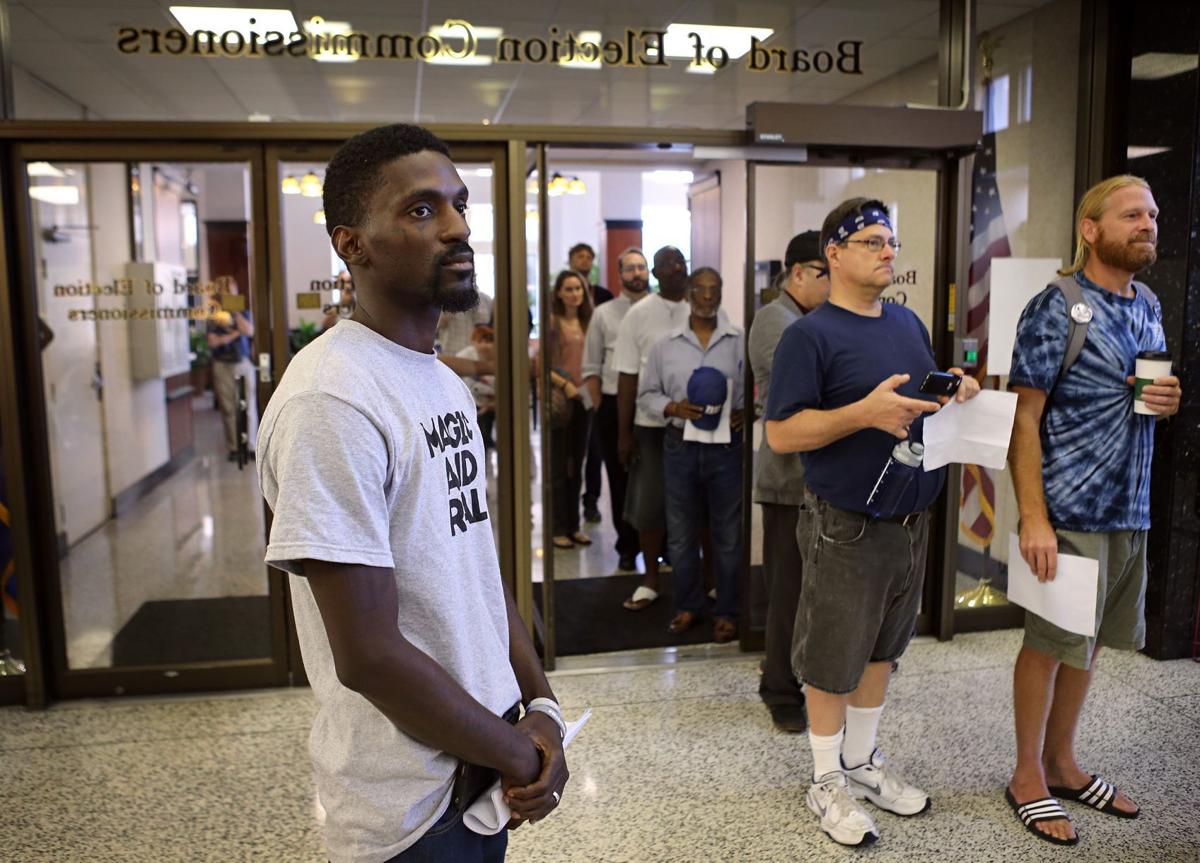 ST. LOUIS • A judge will wait to rule on a vote fraud case involving absentee ballots for the state representative race in the 78th District until results are officially certified from the Secretary of State's office.
Circuit Judge Julian L. Bush on Monday could have dismissed the case filed by Bruce Franks, who lost in the Aug. 2 Democratic primary to incumbent Penny Hubbard. Instead, Bush issued a stay, keeping the case alive.
It's basically a procedural move preventing Dave Roland, the attorney for Franks, from having to refile his official challenge to the election results. He is claiming that a high number of improper absentee ballots tilted the election in Hubbard's favor.
Attorneys for Hubbard argued for an outright dismissal, telling Bush that Roland filed the challenge too soon, doing so after the results were certified by the city Election Board, but not by the secretary of state's office, which must do so by Aug. 30.
"There have to be election results before they can be contested," argued Hubbard attorney Jane Dueker.
Bush also heard arguments on a suit filed by Roland to have the St. Louis Board of Election Commissioners make public the absentee ballot applications and the envelopes in which the ballots were submitted.
Election board attorneys argue that the applications and envelopes are exempt from the Sunshine Law request, and should be held in the same regard as actual ballots. Both the applications and the envelopes are to state the reason the voters cast an absentee ballot.
Bush listened to arguments on Monday, saying he could make a ruling as early as the end of day Tuesday.
Franks got 51 percent of the votes cast on Election Day, but when the absentee ballots were added to the total — 78.5 percent of them for Hubbard — the incumbent won by 90 votes.
"Upon information and belief, no fewer than 280 of the 940 voters of the district who applied for absentee ballots did not meet any of the statutory requirements to be eligible to cast an absentee ballot," Roland argued in the challenge.
The 78th District cuts a large swath through the city, including Carr Square and Old North St. Louis, much of downtown and neighborhoods to the south, including Gravois Park and Benton Park. State statute allows for a challenge like the one made by Franks, but the conditions for setting a new election are not precise.
On Wednesday, more than 30 Franks supporters delivered form letters to the Election Board alleging illegal use of absentee ballots in the Aug. 2 primary. As a result, the Election Board sent the complaints to the circuit attorney and U.S. attorney for review. In addition, Secretary of State Jason Kander's office is reviewing two formal complaints made regarding the outcome of the Franks and Hubbard race.