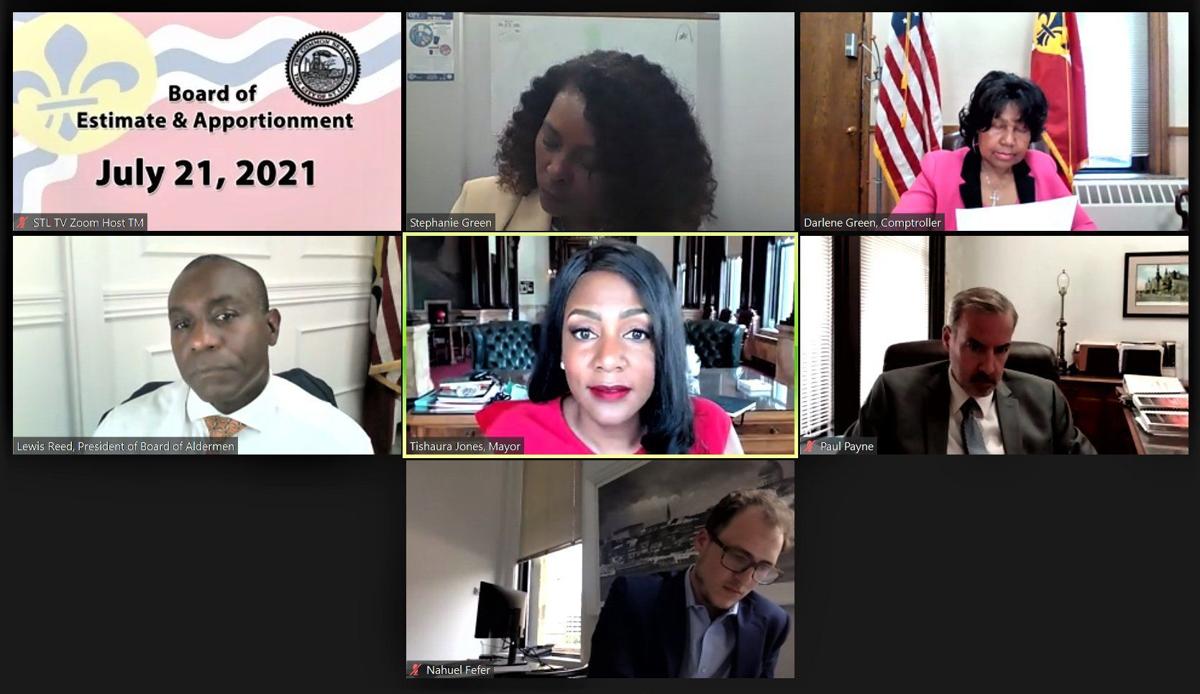 ST. LOUIS — City leaders continue to clash over how to proceed with spending an unprecedented haul of federal pandemic aid dollars.
Ahead of a scheduled meeting Wednesday of the city's top fiscal body, Aldermanic President Lewis Reed, in a news release, again called on Mayor Tishaura O. Jones and Comptroller Darlene Green to approve a $168 million spending plan passed by the Board of Aldermen last week.
But the Board of Estimate and Apportionment — made up of Jones, Reed and Green — didn't take up the matter and quickly adjourned after disposing of several routine items without debate.
A spokesman for Jones later reiterated the mayor's position that the Board of Aldermen needed to first fix the spending bill, by changing language on a proposed northside redevelopment effort, before the estimate board would consider the matter. Jones, citing a legal opinion by the interim city counselor, has said that section of the bill, which was added by Reed, runs afoul of U.S. Treasury guidelines. Reed says it doesn't.
It was only the latest back-and-forth over how best to spend a massive infusion of federal money into the city. Reed and Jones have spent much of the past few weeks arguing over what the money should go toward. And even after aldermen agreed to add a number of the mayor's priorities to the bill they passed, including $500 direct payments to low-income residents, Reed and Jones remain deadlocked over the northside redevelopment provision.
In a letter addressed to Jones after the estimate board meeting, Reed again tried to convince the mayor that concerns about his plan to spend $33 million on economic development in four commercial strips in north St. Louis are baseless. Jones has said that federal rules don't allow the money to be used on general economic development and that the bill should be reworded to explicitly tie it to problems resulting from the pandemic. Reed claimed her own advisers have said otherwise.
He also pointed out the Board of Aldermen approved the $168 million plan by a vote of 27-1 on July 13 and suggested Jones gave the historically Black and underserved north half of the city short shrift when she was preparing her own spending plan.
"Let's make a decision today that will improve North St. Louis," he wrote in the letter. "All the citizens of this City need is your favorable vote on Board Bill 2."
Nick Desideri, a spokesman for the the mayor, said Reed is the one keeping the city from helping residents by refusing to edit his bill.
"Despite repeated attempts to address concerns about the bill and bring it into compliance with federal regulations, President Reed has stalled and rebuffed us and is keeping aid and $500 direct relief payments from St. Louis families," Desideri said.
Nevertheless, Reed said he would be asking Jones and Green to hold a special meeting of the estimate board in order to vote on the plan early next week.
Desideri said the mayor would happily oblige once the bill passes legal muster.
Green took a similar position.
"We have to get this right, and as the city's chief fiscal officer it is important that the bill to appropriate (pandemic aid) funds meet federal regulations," she said in a statement.