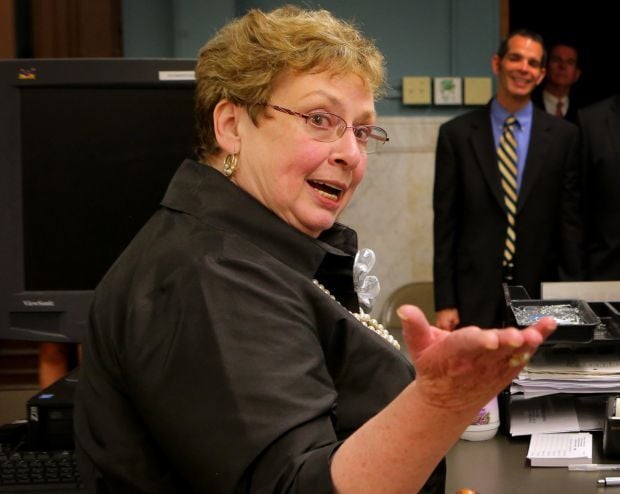 ST. LOUIS • A state audit released on Tuesday delivered a stinging rebuke of Sharon Carpenter and her "irresponsible handling" of the city's Recorder of Deeds office.
Missouri Auditor Nicole Galloway confirmed previous media reports that Carpenter's office used improper bidding practices and inappropriately used public money, including spending $2,378 on rugs for her private office. The audit found Carpenter misspent at least $10,000, failed to maintain a usage log for a city-assigned, take-home vehicle, drove the car 10,000 miles less than she reported, failed to track employee vacation time, and keeps an unaccounted and unexplained $38,000 in an escrow account.
The audit says Carpenter, a fixture in city politics, has ignored pleas for change over several audits dating to 1987. Because of that, Galloway said that her office will perform another audit this year.
"I'm frustrated Recorder Carpenter continues to defend past actions, despite repeated findings of mismanagement," Galloway said Tuesday. "It's a disservice to the citizens of St. Louis when these opportunities for necessary change are dismissed."
The audit rated the overall performance of the recorder's office as "poor," the lowest possible rating.
In a statement on Tuesday, Carpenter said the audit was the most negative she has seen in 35 years, and said it "appears that the findings were developed to meet preconceived determinations."
"The one thing to conclude from this audit is that all public funds are accounted for — no funds found missing," Carpenter said.
Carpenter, a Democrat, was first elected recorder in 1980. She remained in office until 2014, when she resigned over violating the state's nepotism law for paying her great-nephew $12,255 for contract work. Still, Carpenter sought re-election and was returned to office a few months later by city voters. Upon her return, a benefits loophole allowed Carpenter to collect her full salary while also receiving pension benefits from the same office.
Missouri Gov. Jay Nixon requested the audit after it was revealed that Carpenter's chief deputy was involved in bidding that gave companies linked to James Treis, the deputy's son, contracts for $100,000 in office renovation work.
Peggy Treis Meeker, the chief deputy, was fired during Carpenter's brief hiatus from office.
Meeker was involved in the 2013 bidding process that netted Superior Building Group, where James Treis is listed as president, more than $100,000 in work. A 2009 renovation paid more than $200,000 to another company where Treis worked as a "senior project manager."
Carpenter noted to the auditor's office that she isn't related to Treis.
"The recorder knows the previous chief deputy's son, but has had rare contact with him," the recorder's office said in the audit. "The recorder had an excellent working relationship with the former chief deputy professionally but that was the extent."
A 2014 city counselor review noted: "Meeker stated that Carpenter told her to 'get Jimmy to put in a bid' and that Meeker then told Treis what kind of renovations they wanted completed. Meeker stated that the work was not advertised for bidding, that she did not inform anyone else about the project, and that she did not solicit bids from anyone."
The state audit found that the deputy recorder had a conflict, along with a level of responsibility for the project, and didn't act in accord with good management practices.
It also found that escrow accounts managed by the recorder's office are not balanced against the city's records. "This allows errors to go undetected, and has led to $38,000 identified with no record of where these funds belong, or who they belong to," the audit found.
And then there is the car. The Post-Dispatch reported last year that Carpenter asked the city for a $700 monthly vehicle allowance. She later rescinded the request after reports surfaced that her husband had two accidents while driving her previous city vehicle without Carpenter in the car.
The audit found that Carpenter didn't keep a detailed vehicle usage log on that car — even though a previous state audit recommended she do so.
Fueling documents showed that the vehicle was driven 5,460 miles during an 18-month period, although Carpenter reported usage of 10,000 miles beyond that.