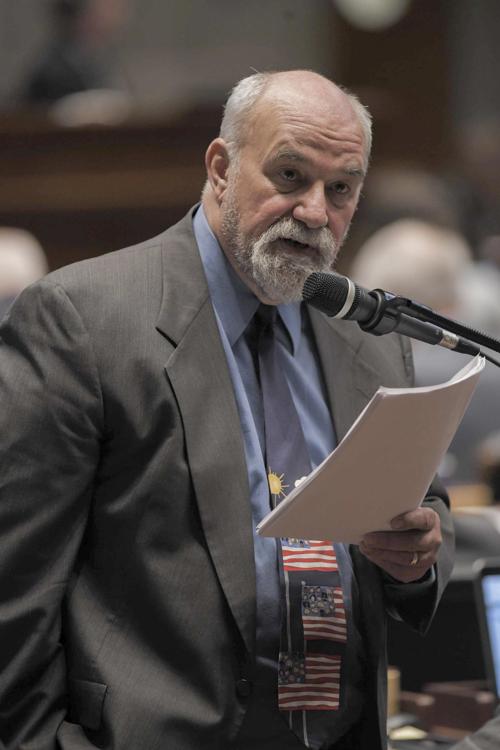 JEFFERSON CITY — A state lawmaker from northwest Missouri announced Wednesday that he will challenge Gov. Mike Parson for the Republican nomination for governor in 2020.
Rep. Jim Neely, a physician from Cameron, said his upstart candidacy was not aimed at anything Parson has done since taking over as the state's chief executive in June 2018.
"I still have some energy," said Neely, 68.
Neely is the second gubernatorial candidate to formally announce his plans.
Auditor Nicole Galloway, a Democrat, earlier announced her bid for the top office. Parson is scheduled to make his announcement Sept. 8 at an event in his hometown of Bolivar.
While Galloway and Parson have been amassing money for their campaigns, Neely showed no fundraising activity in the three months ending July 1. He has $18,912 in his account, compared to over $3 million spread across two accounts for Parson.
"My approach is going to be more about the people and not the suits and the money," Neely said.
He said he was not approached by anyone to run for the post.
"I stepped up on my own," Neely said. "I don't have an ax to grind with anybody. I don't know Mike Parson. Why not throw my name out there and see where it goes?"
As a member of the House representing parts of Clay and Ray counties and all of Caldwell and Clinton counties, Neely has focused on issues including health care, education, mental health and criminal justice . His initial run for election in 2012 was motivated by his desire to aid in the protection of children, he said.
"We spend a lot of money on health care. Are we spending it wisely?" he said.
In 2015, Neely was among 20 Republicans who voted against an anti-union right to work law that was vetoed by then-Gov. Jay Nixon. Neely then switched his vote on an attempted override of the veto.
He also sponsored numerous bills that would have legalized medical marijuana.
"I think people are upset with government," Neely said. "Everything has become antagonistic. I think we need a better approach. As a physician, you try to solve problems. I don't think we're doing that."
Neely graduated from the University of Missouri in Columbia and the Kansas City University of Medicine and Biosciences. As a physician, he works with geriatric patients at Cameron Regional Medical Center.
He is a veteran of the United States Army. He and his wife, Sandra, raised four children. They have seven grandchildren.