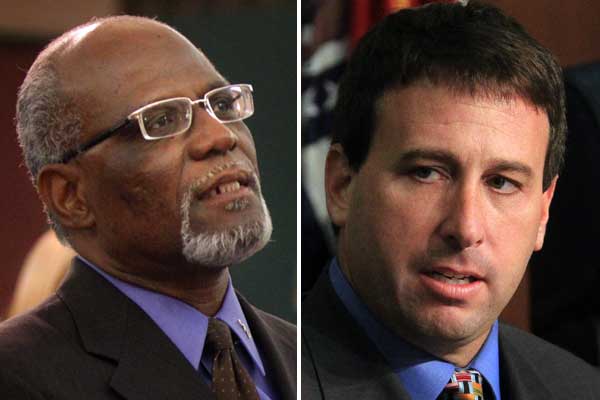 CLAYTON • In what has become the pre-election standard for St. Louis County governance, a County Council policy discussion Tuesday again devolved into bitter and often highly personal invective.
The issue this week was the council's refusal to give preliminary approval to County Executive Charlie Dooley's bid to establish a county Office of Diversity Programs to promote minority hiring on major construction projects
"Are you telling me this council voted against a diversity manager for St. Louis County?" an incredulous Dooley asked, sparking 20 solid minutes of charges, countercharges and individual attacks.
Stenger is seeking to unseat Dooley in the Aug. 5 Democratic primary; Erby is the lone member of council supporting the county executive's re-election.
Again Tuesday night Erby found herself immersed in a verbal fracas, this time with Mike O'Mara over the 4th District councilman's sponsorship of legislation that changed the language of the diversity bill.
O'Mara said he additionally believed the Dooley legislation duplicated the language in a minority inclusion ordinance adopted by the council in 2007.
Erby, however, cut O'Mara's argument short.
"You are restricting the very people you represent," the chairwoman shot at O'Mara. "Tell it to someone who believes you, Mike."
Only Erby and Stenger supported the original Dooley bill.
"Steve, at what point did you take so much interest in the NAACP?" Erby asked.
Dooley also took a swipe at his primary opponent after Stenger apologized for disagreeing with the county executive's position on the diversity legislation.
"You are sorry, I agree with you," Dooley quipped.
In a bid to bring the squabbling to an end, Erby made a motion that the council revisit the issue again next week.
The motion died for lack of a second.
Dooley, in a later conversation with reporters, dismissed the ongoing tension on the council dais.
The county executive last week exchanged harsh words with Stenger over Dooley's request to hire an outside auditor to review policies that enabled a health department official to bill the agency for $3.7 million in computer equipment.
"All of this (is about) Aug. 5th," Dooley said. "Everybody is trying to position themselves." Asked if he included himself in that observation, the county executive responded, "I'm already positioned. I've been positioned for 10 years. Everybody knows Charlie Dooley."
Breaking from tradition, the two adversaries in the August primary did not go their separate ways following the regular Tuesday council meeting.