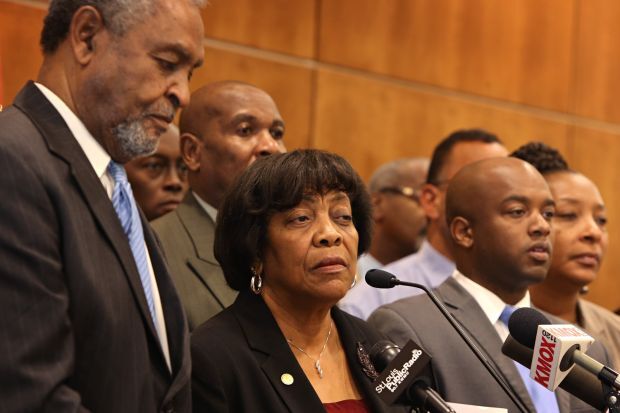 CLAYTON • "Extremely disappointed" by the rejection of her proposal to raise the minimum wage in unincorporated St. Louis County, 1st District County Councilwoman Hazel Erby did not rule out on Tuesday night the idea of reintroducing the measure in the near future.
"I'm not going to give up, we can't give up," Erby, a Democrat from north St. Louis County, told reporters moments after fellow council members refused to second a motion on a bill meant to nearly double the minimum wage for hourly workers.
"There are too many people out there earning only $7.65 an hour. They are forced to work two jobs (while) they leave their children home alone."
Erby was seeking approval to impose a $10 hourly wage in 2016 with incremental increases to raise the minimum wage to $15 by 2020.
A bill to raise the minimum wage in St. Louis has similarly stalled.
Two other county Democrats, Council Chair Pat Dolan and Councilman Mike O'Mara, attempted to soften their rejection of the bill by publicly supporting a boost in the minimum wage.
Dolan said, however, that it was an issue best addressed at the state level; O'Mara called for a study to gauge the impact of legislation that would obligate enterprises in unincorporated areas to pay higher salaries than businesses in the 91 county municipalities.
County Counselor Peter Krane supported the contention that Erby's proposal could leave the county vulnerable to potential legal consequences.
Krane said the imposition of a minimum wage on certain parts of the county to the exclusion of others invited "litigation."
Erby disclosed that she had shared details of the minimum wage proposal with officials representing a handful of municipalities. The officials, the councilwoman said, were amenable to the plan. She declined to identify the municipalities.
The councilwoman suggested re-introduction of the measure may include O'Mara's proposal for an impact study.
But she expressed little confidence that Missouri legislators will act to raise the minimum wage.
"We've seen how things work at the state level," she said.
Erby said she was bewildered that a County Council dominated by Democrats refused to second her measure — a parliamentary move that traditionally opens a dialogue on proposed legislation.
The councilwoman labeled the unwillingness to discuss the bill "appalling" and "an insult to working families."