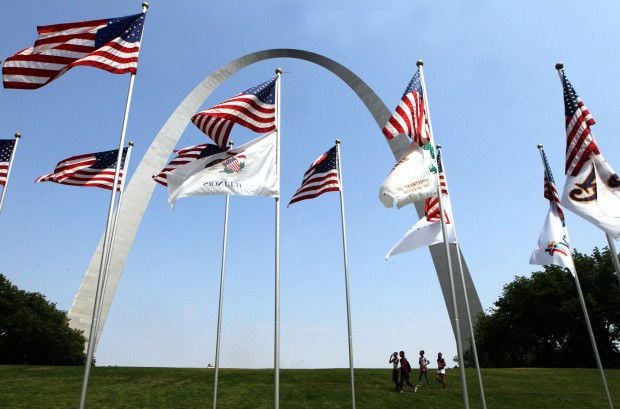 JEFFERSON CITY • Betsy Ross may have crafted the first American flag to celebrate the country's newfound freedom, but her modern-day equivalent is housed in a prison in mid-Missouri.
That's right: Old Glory, a symbol of the land of the free and the home of the brave, is being produced by someone behind bars for breaking the law.
As part of a wide-ranging program that teaches convicted criminals various trades, the Tipton Correctional Center has for the past decade been home to the Missouri Vocational Enterprises flag production program.
The workers have sewn up more than $102,804 in sales this year, Missouri Department of Corrections spokesman David Owen said. The money generated by selling the inmate-made flags goes back into the vocational program to help fund the prison work program.
"The main focus of (the program) is to train incarcerated offenders in the skills related to the products and services they provide while working their job, as well as teaching them about work ethic and taking pride in the products or services that they provide," Owen said.
The Tipton Correctional Center, situated about 40 miles west of Jefferson City, is a minimum security facility that has the capacity to house 1,222 male offenders.
The prisoners don't assemble the flags from the ground up. Rather, they add decorative edging and other features to flag material that is purchased by the state.
In all, six prisoners work in the Tipton flag program. This year, 2,035 flags of all kinds were sold. The most popular flag was the American flag, with 713 sold to date, Owen said. Other flags produced at the prison include Missouri flags, POW/MIA flags and University of Missouri flags.
And, yes, they also manufacture license plates. All told, the program has 25 different industries and services in 14 prisons.
Owen said the jobs offered to inmates were highly sought after because of the experience and training the inmates receive.
Missouri isn't alone in having prisoners produce flags. Other states with similar programs include Massachusetts, Ohio, Colorado and Texas.
Prison-made flags haven't come without controversy.
In 2004, the Flag Manufacturers Association of America called on the New Jersey Department of Corrections to cease making flags.
"After a meeting in March of 2004, where both sides could present their position, the FMAA stepped back and chose to fully support prison rehabilitation. The prison industry continues to manufacture US flags today to mark the graves of fallen veterans," association spokeswoman Hope Silverman said.
The products made in Missouri prisons aren't sold to private individuals or businesses. Rather, they are marketed to other state agencies, local governments and not-for-profit organizations.