ST. LOUIS • Starting Monday, St. Louisans will see trash trucks arriving earlier or later in the day than usual as part of a push by city officials to improve trash pickup.
A move toward more dependable trash service is part of a new "Clean Up St. Louis" campaign from Mayor Lyda Krewson's administration, which will include the deployment of 100 new surveillance cameras throughout the city to catch illegal dumping in lots and alleys.
"The city is not as clean as it could be. It's not as clean as we want it to be," Krewson told the Post-Dispatch.
St. Louis' biggest hindrance to timely trash collection has been a lack of operable trucks. The city's Refuse Division is temporarily expanding its trash pickup hours in an effort to use fewer trucks in the declining fleet at a given time.
The new system is expected to be in place through mid-July, and refuse employees will work in two shifts: one from 4 a.m. to noon, and another from noon to 8 p.m., according to a memo sent to St. Louis aldermen.
The hope is for the new 16-hour workday to split the demand for the more run-down trucks as the city works to replace them, keeping trash collection from spilling into the weekend and ensuring garbage is picked up on schedule.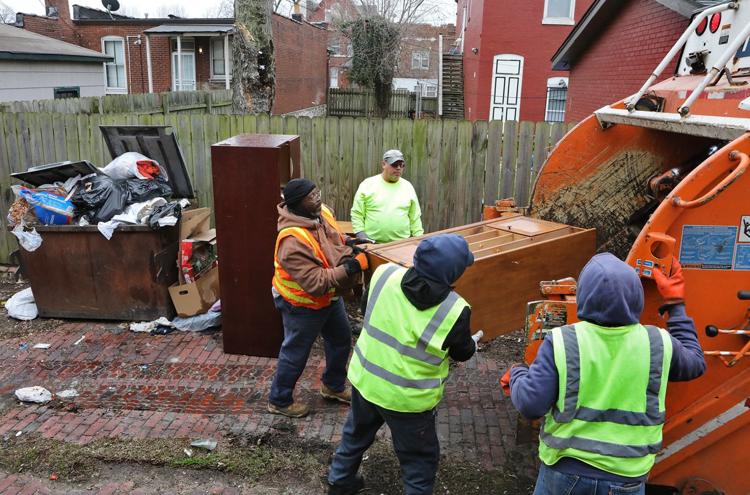 Illegal dumping has also been an acute problem throughout St. Louis for years, with residents continually reporting overflowing dumpsters and a mix of food waste, yard waste, discarded clothing and furniture left to rot and attract vermin behind abandoned homes or in alleys.
St. Louis police are now offering rewards of up to $100 to residents who contact the Citizen Service Bureau (314-622-4800) with a tip that ultimately leads to the arrest of anyone illegally dumping trash, an offense punishable by a maximum $500 fine.
There are currently enough funds to issue rewards to 100 people, said St. Louis Police Department spokesman Schron Jackson. Fines for convictions go back into the account for more rewards, so the initiative is ongoing, she said.
Additionally, Krewson said city departments are planning a "block blitz" in the spring to clean out the trash from some of the alleys in the city that draw frequent calls for service.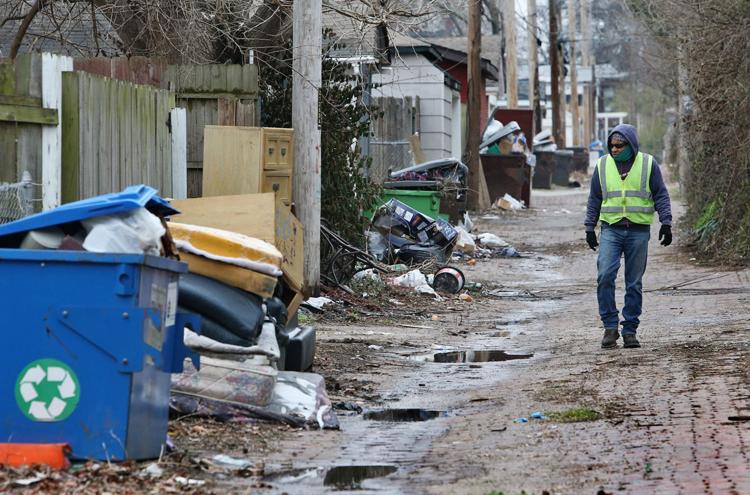 Refuse officials say they've seen an uptick in complaints from residents, who lament that garbage service isn't improving despite increases in the fees they pay for it.
Sgt. Joseph Calabro, who oversees 10 officers in the "Trash Task Force" — a unit in the police department created in 2010 to respond to dumping complaints — said that the city once had roughly 150 surveillance cameras to monitor illegal dumping, but most are now outdated or broken.
Money brought in from the increase will primarily be spent on replenishing the city's aging fleet of trash trucks, which cost $250,000 each. At one point, roughly half of the trucks were malfunctioning or inoperable, forcing refuse personnel to fall behind schedule, work weekends and rack up overtime depending on when trucks were available.
Nine new trucks have been purchased; nine more are being built for delivery in the coming months. The city has a 10-year plan to try to bring down the average age of the fleet and replace trucks over time, said Paul Payne, the city's budget director.
"It puts us on a schedule, with a dedicated source of funds, which will be in the budget each year, for replacing the vehicles. It does take a little bit of time," Payne said. "I think this schedule actually gets us to a point to where we want to be. It's just going to take a couple of years to get there."
But Nick Yung, who oversees the city's refuse division, says that's not the only problem affecting trash pickup. He cited cuts of 17 positions in the department over 10 years — roughly 10 percent of the workforce — and a struggle to pay trash truck drivers enough to retain them long-term as the city grapples with budget shortfalls.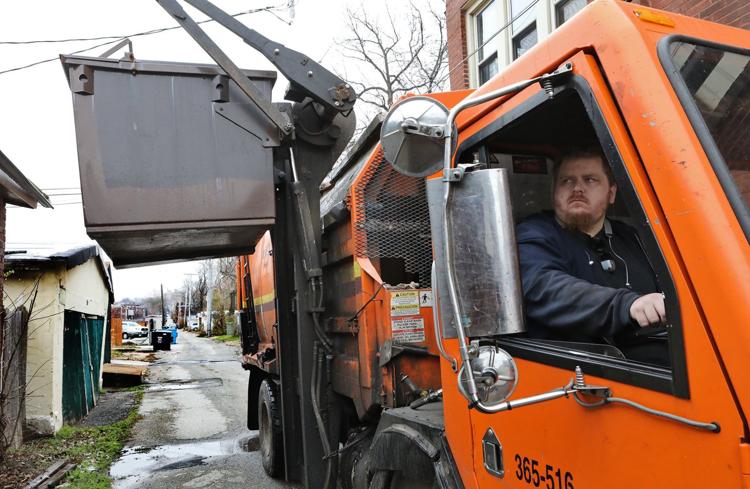 "We hired 80 drivers, and 50 left over the last five years," he said.
The best thing residents can do, Calabro says, is to continue reporting issues regularly. The department's trash task force is working to respond more quickly to complaints, he said.
"At the end of the day, we want people to know out there, those violators, that the city of St. Louis is not a dumping ground for trash and debris," he said. "It's imperative the citizens contact the Citizens Service Bureau and get those service requests in. Even if they've called in the past, maybe it didn't work out so well. They need to do it again."
Krewson also hopes residents will feel empowered to simply take a trash bag or a glove with them when they go out for a walk, and pick up some litter here and there. Every little bit helps, she said.
"The city is in a position to do better. And we're hoping our residents will help us," she said. "It's just a matter of taking pride in our city and what it looks like."