CLAYTON — From the moment the St. Louis County Council selected Sam Page as county executive on the day of Steve Stenger's resignation in April 2019, the county government has operated in a way it had not for several years: without gridlock.
An alliance between Page and four fellow Democrats on the seven-member council — and sometimes Ernie Trakas, R-6th District — set the past year in county government apart from any other in recent memory. While Page had led a bipartisan coalition on the council that battled Stenger, constantly overriding vetoes, he's had no such opposition as county executive.
That's not to say it has always been smooth sailing. The dynamic also has resulted in some criticism that Page and the council majority are too cozy, particularly after the council's decision to give Page unilateral control of spending $173.5 million in federal coronavirus relief dollars earlier this year, a measure bitterly fought by the Republicans.
While Page tries to survive the challenge to his own effort to retain his seat, his dynamic with the council also is set for a big test in the primary election on Tuesday.
Two key Page allies, Rochelle Walton Gray, D-4th District, and Kelli Dunaway, D-2nd District, face opponents who likely would be more independent of the Page administration. And in the 6th District, three Democrats are squaring off to get on the ballot in November to face Trakas, a longtime Page ally who has, at times, battled the council Democrats but recently has moved back closer to Page.
4th District
The 4th District race has heated up in recent days. Walton Gray, one of two Black council members, faces a challenge from Shalonda Webb, 44, a software manager for Boeing from north St. Louis County who is Black, and Mark Behlmann, 62, of Florissant, owner of a construction and consulting business, who is white.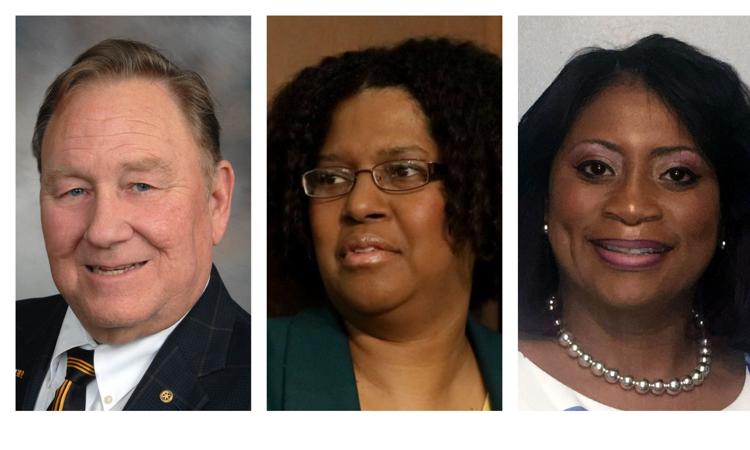 Walton Gray, 55, of Black Jack, served in the Missouri House of Representatives from 2009 to 2016. She beat 16-year incumbent Mike O'Mara in the 2016 Democratic primary, with 61% of the vote, on her way to an easy general election victory.
In social media posts, Walton Gray's father, Elbert Walton, a former state representative and longtime political powerbroker in north St. Louis County, alleged that Webb is a stalking horse attempting to split the Black vote to unseat Walton Gray and hand the election to Behlmann, a 21-year member of the Hazelwood school board. Walton posted the final tally from his daughter's victory over O'Mara and noted that, this time, a white candidate who got 39% against two Black candidates could win.
In brief interviews, Webb and Behlmann denied any suggestion they were in collusion or campaigning unfairly. Walton Gray said she didn't have any comment about her father's post.
In an online candidate forum last week facilitated by the League of Women Voters and sponsored by several north St. Louis County groups, Walton Gray said she was the only candidate with legislative experience who understood the procedures of making policies and laws. She has a long list of endorsements, including Council Chairwoman Lisa Clancy, Prosecuting Attorney Wesley Bell, several unions, the Sierra Club, the abortion-rights group NARAL and the St. Louis American newspaper.
Among her accomplishments on the council, she said, was supporting a bill requiring minority participation on county contracts and bringing more resources to an area of the county that has lagged in economic development. For example, she said, she supported legislation that would dedicate some of the county's hotel-motel tax to develop a recreation complex for north St. Louis County.
Webb said in the forum that she has a strong professional skill set from her 22 years at Boeing and said she entered the race because she is "a concerned member of this community" that has seen the district decline. She said that while Walton Gray has strong connections in Spanish Lake, there are other areas of the district that didn't have as much representation on the council and she wanted to ensure "there isn't just one community that benefits more than the others." She has received endorsements from U.S. Rep. William Lacy Clay, state Sen. Gina Walsh, Ferguson Mayor Ella Jones and other politicians.
Behlmann, a widower with a daughter and two granddaughters, is a lifelong north St. Louis County resident who has said he felt Walton Gray has not provided enough leadership. He pointed to his long record of community involvement and volunteerism and said he was "tired of the mismanagement and uncooperative mannerism currently displayed on the County Council" and said he would work closely with the county police department to make sure the North County Precinct has enough resources to fight crime.
In an interview, he described himself as an anti-abortion, conservative Democrat. He said he didn't know who he would support for president, saying that Joe Biden was not conservative enough for him and he didn't think the Democrats would put him on the ballot because he is too old.
"I don't particularly care for Trump," Behlmann said, "but he has done some good for the country as far as reducing African American unemployment rates just before the current virus hit us."
In November, the Democratic winner will face Republican Curtis Faulkner of north St. Louis County and Libertarian Eric S. Harris of Florissant, both running unopposed. Walton Gray beat Faulkner by 52 percentage points in November 2016.
2nd District
For Dunaway, 45, it's the second election in two years. She won a special election last year to fill Page's council seat after the council selected him to serve as county executive. Glantz, 60, an architect, tried to run last year as an independent but failed to get enough signatures to get on the ballot.
As the Post-Dispatch previously reported, environmental groups and the home building industry have lined up behind different candidates to determine the balance of power in St. Louis County.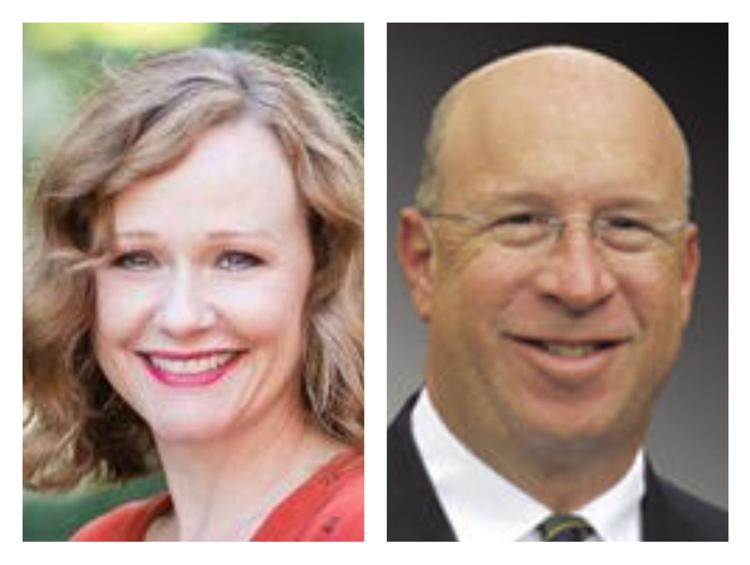 On the other side, the Missouri chapter of the Sierra Club has endorsed Page and Dunaway, in part for their support of updated energy efficiency requirements in the new building codes that took effect recently.
6th District
Venki Palamand, 53, of the Oakville area, is an engineer who owns a machinery company, Martak Machine, and served on the Mehlville school board for nine years, three as president. In an interview in March, Palamand said he was running because he was concerned about the county's future and that his background as a business owner and experience with a $100 million school budget were important assets.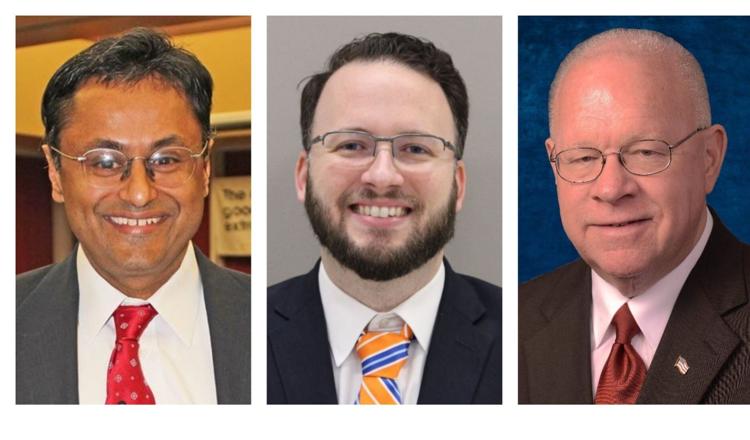 Bob Burns, 72, of Affton, is a state representative facing a term limit in his fourth term representing the 93rd District. He said he was running because "I love Affton and south St. Louis County with all my heart and soul." He has been married for 53 years and has two adult sons. Burns said he wanted to make sure money from the Proposition P public safety tax was being spent on protecting police officers.
In 2018, Burns was at the center of controversy for calling in several times to a St. Louis-area radio show whose host was known for using racial slurs. Democratic leaders in the Missouri House asked him to resign. He refused, but the Democrats ousted him from their caucus. He said the tapes had been edited to be misleading and that he had only called in to voice support for veterans and other noncontroversial issues. He ran unopposed for re-election to his final term.
Alex Lange, 33, is a union representative for Local 655 of the United Food and Commercial Workers union who is backed by labor unions. The married father of two young children said he was running to "bring a new voice to the St. Louis County Council." He said in response to a questionnaire that his priorities include funding public education, improving infrastructure, supporting public safety and protecting seniors.
Get Election 2020 & Politics updates in your inbox!
Keep up on the latest in national and local politics as Election 2020 comes into focus.