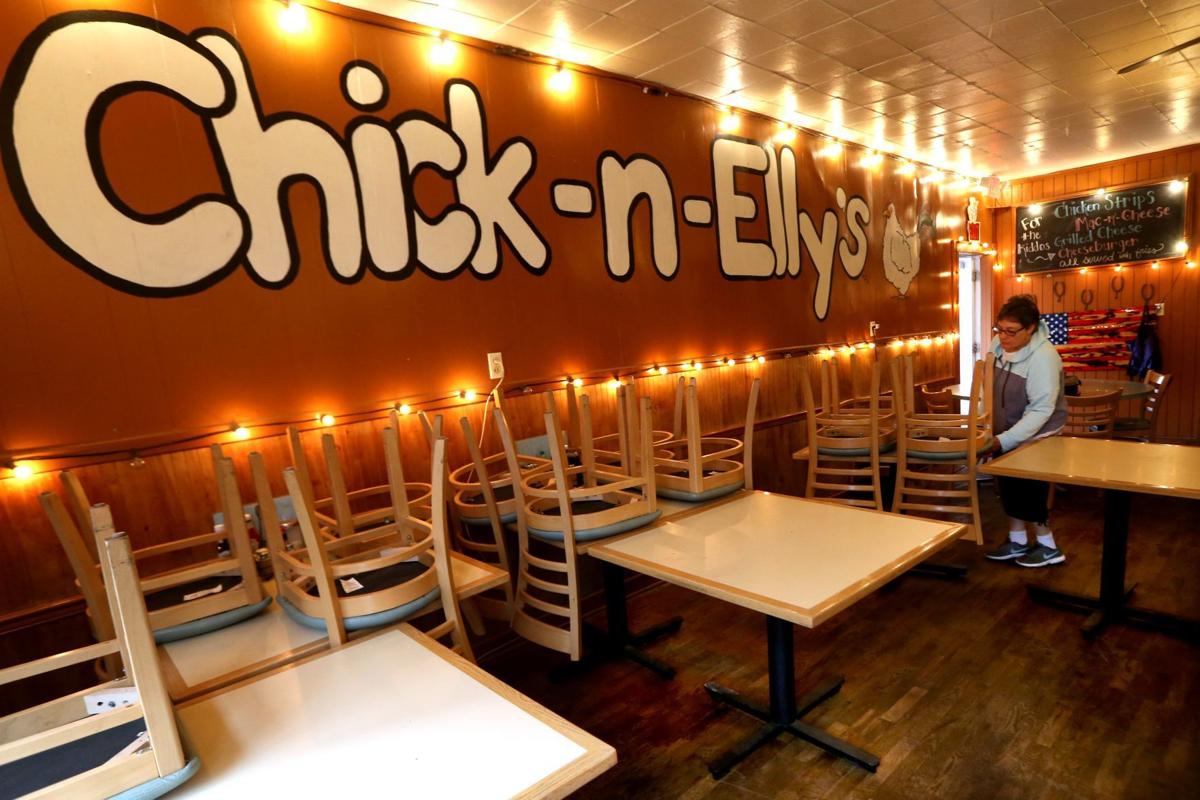 EUREKA — Missouri Gov. Mike Parson's stay-at-home order expires on Monday. And the owners of Chick-n-Elly's, a down-home cafe promising "more cluck for your buck" on the main strip of this city's Old Town, say they will welcome customers inside the first chance they get.
That would be in defiance of an order by St. Louis County Executive Sam Page for people to stay home and for many businesses to suspend operations. Restaurants can remain open but with delivery or curbside service, no in-person dining.
The tiny eatery is taking its cue from Sean Flower, the mayor of this city of 10,000 people by the Meramec River, who told city residents and businesses in a letter on Tuesday that the city could "no longer follow the rules we are under without economic ruin."
"Farmers hang out here, construction workers, they all want to get back to this," owner Sue Leiber said on Wednesday. She said her business is normally closed Monday and Tuesday, but would open Wednesday. "People want to come in and get breakfast before they go to work. We're in a hard situation because we're a family business and we need to make the decision either to give it a go or give it up."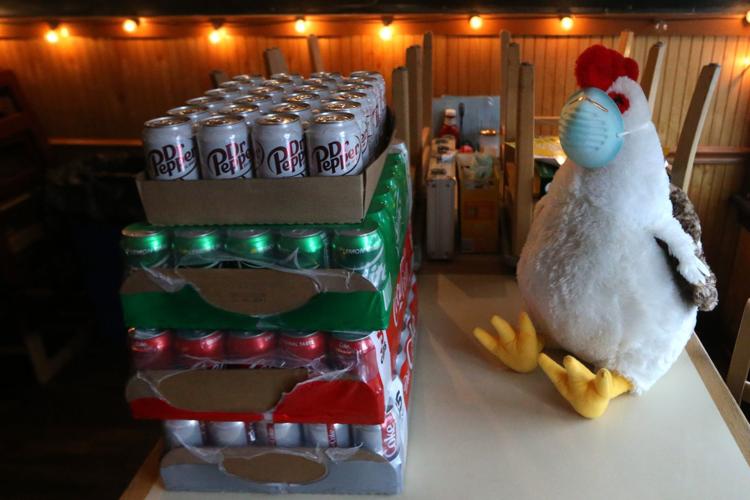 It may be among the first businesses to test St. Louis County's willingness to enforce its health order, violation of which is a misdemeanor. So far, the county's legal staff sent letters to businesses it found to be violating. But emergency management reports obtained by the Post-Dispatch say officers are working on enforcement of the stay-at-home order.
Leiber said she might combine tables and remove some chairs from the dining area to give customers more space to distance themselves, and would likely stay well under its occupancy limit of 31.
She said there was a family of five who had recovered from COVID-19 that would be able to sit at a large table in the corner. She said there was no reason for them not to eat inside. "I think people just need to use common sense. We're all social distancing."
Nearby, the co-owner of Sarah's on Central, said he would make a "game time decision" on whether to open his bakery on Monday.
"My initial reaction is I support Mayor Flower," said Tim Umbarger. "I think the exposure here is quite different than it is in north St. Louis or New York City. You can't bundle everyone's economic engine in the same thought process."
Asked on Wednesday about the prospects of businesses defying the county's order, Page did not threaten criminal charges, but said businesses should "get good legal advice" before doing so.
"In the past when businesses were in violation of our order and we sent them a letter and notified them of that they all complied very quickly," Page said. "And there's a reason for that: I'm sure they got legal advice." Page warned that business could be in for a "complicated relationship with their insurance carriers" if employees or customers were exposed to COVID-19 while violating a county health order.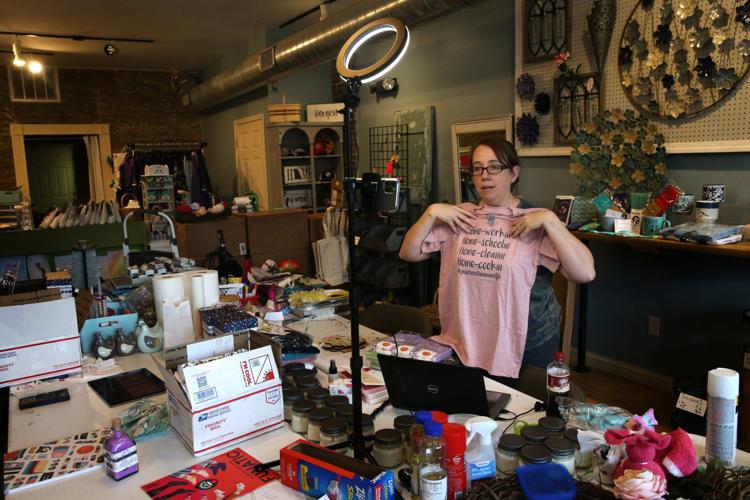 Parson last week said he would allow businesses to open this coming Monday, with some restrictions remaining in place. But Page announced he was extending the countywide stay-at-home order indefinitely. St. Louis Mayor Lyda Krewson said the same. Page said he would revisit the order in mid-May.
Page said Wednesday that St. Louis County was different than the rest of the state. It's denser and the virus had spread to many more people.
St. Louis County on Wednesday reported 159 deaths connected to the pandemic. Cases have been most concentrated in north St. Louis County and the area surrounding Eureka. Eureka's numbers, however, are affected by an outbreak of at least 29 cases at the Marymount Manor nursing home, Flower said.
Page said, "I understand the frustration of all of our municipal leaders. I've been talking to them and I'm working with them and I want to get our economy and our remaining businesses open as soon as possible. We have to recognize that St. Louis County is much different than the rest of the state."
Mayor's authority limited
Does a mayor have the authority to void a St. Louis County health order? Two veteran attorneys who represent municipalities said — emphatically — no.
Page's order is in effect countywide and derives its authority from both the county charter and state law. Parson himself has noted that county or local government could pass more restrictive laws or rules.
But they cannot pass a less restrictive ones, said Chris Graville, the city attorney for Chesterfield, Des Peres and Riverview. "It's an open-and-shut case," he said. "Ninety-nine percent of all city attorneys know that and recognize it. You can't do it."
For example, he noted, a municipality can't legalize recreational marijuana use, which is illegal in Missouri.
Graville said he was disappointed that Page "wasn't more forceful in his statement this morning, about businesses that violate because I believe they have a responsibility to enforce the countywide order" and shut down violators.
Nathan Nickolaus, an attorney with Lauber Municipal Law in Lee's Summit, who has worked as a municipal lawyer in the St. Louis and Jefferson City areas, said the county had the authority to send officers to Eureka, "and the Eureka officers would have to stand aside, because they would have nothing to enforce."
Flower did not reply to texts and calls from a reporter on Wednesday, and Eureka city attorney Katherine Butler could not be reached for comment.
Not the only one
Flower's letter is the latest instance of people pushing back against restrictions on movement and commerce. A group of Christians in St. Louis County filed a federal lawsuit against Page and Dr. Emily Doucette, director of the county Department of Public Health, claiming the stay-at-home order infringed on their liberty. County Councilman Ernie Trakas has asked the county counselor's office for a ruling on whether Page's order violates the First Amendment by restricting the freedom to gather for worship. And a southern Illinois state lawmaker filed a federal lawsuit last week against Gov. J.B. Pritzker for extending the state's stay-at-home order in an effort to stem the spread of the coronavirus.
Chesterfield Mayor Bob Nation acknowledged he did not have the authority to try to supersede Page's order, but said he and other mayors may test it and see what happens.
"There's the term 'civil disobedience,'" he said. He noted it would probably be up to municipal police officers to enforce Page's order, "and if we have businesses that were to open, I doubt the county is going to send out county police officers to enforce" the stay-at-home order.
Page said on Wednesday that he was trying to make sure that once his order was lifted, it was lifted for good. And he said there would be more information coming in the next several days about what a gradual reopening of the county could look like.
"We only have one chance to get this right and by extending our own stay-at-home orders here for a few extra weeks, recognizing that St. Louis County is much different than the rest of the state. By doing that, then we dramatically lower the risk of having to do this again."
Concerned about COVID-19?
Sign up now to get the most recent coronavirus headlines and other important local and national news sent to your email inbox daily.