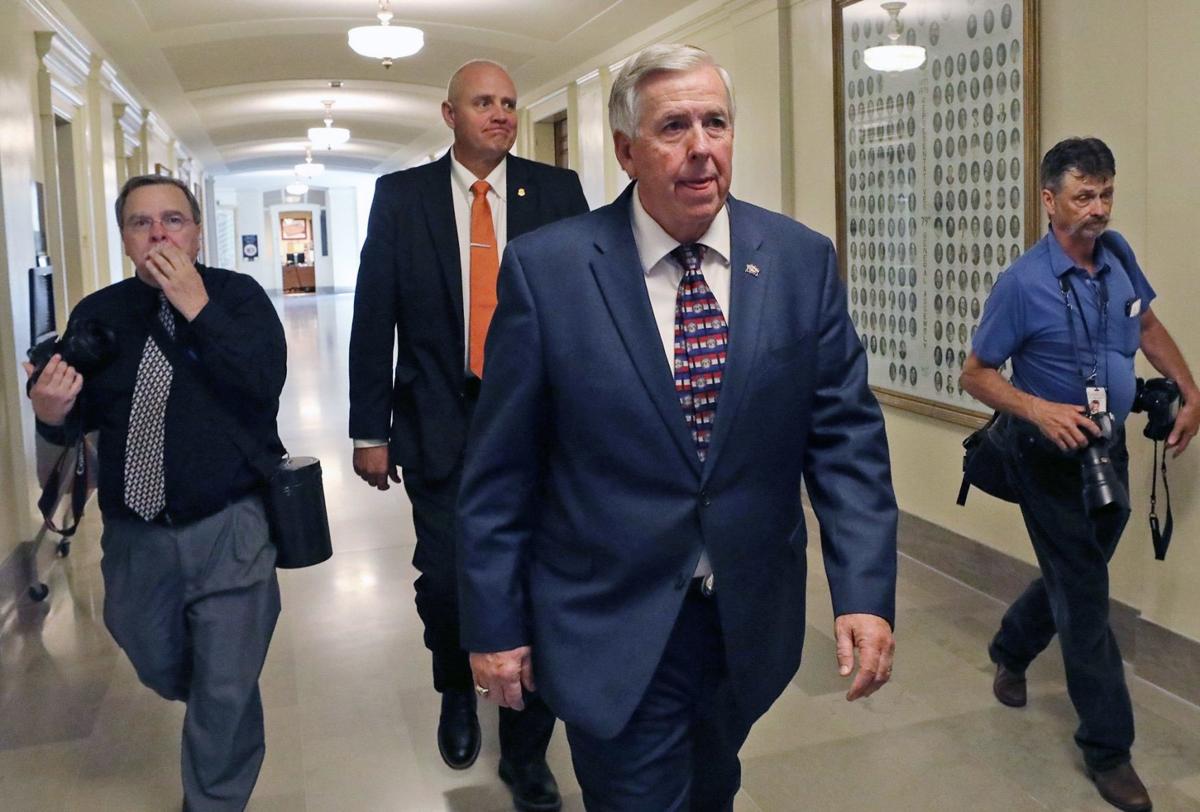 JEFFERSON CITY — Missouri Gov. Mike Parson won't be on the ballot for any elective office after his term ends in 2024, but that doesn't mean one of his campaign committees is closing up shop.
In a quarterly fundraising report filed with the Missouri Ethics Commission, the Uniting Missouri political action committee said it raised $263,550 in the three-month period ending Sept. 30.
The committee, which was formed to help Parson win a full, four-year term to the state's highest office in 2020, also spent $92,400 during the period, leaving the PAC with $175,500 on hand.
John Hancock, a spokesman for the PAC, said fundraising continues for the organization in order to give Parson a voice beyond that of his official role as Missouri's chief executive.
"We're supporting the governor's agenda. We're communicating with voters in support of his agenda," said Hancock, who co-hosts the weekly "Hancock and Kelley" television program on KTVI (Channel 2), the St. Louis Fox affiliate, with Democrat Michael Kelley. The duo also are frequent radio hosts on KMOX (1120 AM) in St. Louis.
The account can also pay for political trips, such as the $2,190 bill that was paid for a visit to Big Cedar Lodge near Branson and $234 in meals in Aspen, Colorado, in July.
The records show the PAC also spent more than $24,000 on digital media for online videos comparing Parson's response to the COVID-19 pandemic to former New York Gov. Andrew Cuomo's.
Prior to the 2020 election, Parson, 66, told reporters that he would not run again for any office after having served as a county sheriff, a member of the Missouri House, a state senator, lieutenant governor and, currently, governor.
"Yeah. I don't see that in my future," Parson said at the time. "I've been around long enough to say, 'Never say never.' But I'd say the first lady might say never."
Along with the Uniting Missouri account, Parson also has his individual campaign committee, known as Parson for Missouri.
That account has $179,000, but the governor does not appear to be raising any money for it. At one point, the committee raised more than $6 million.
His personal account also isn't being tapped for any large expenses. Among the few made during the third quarter was a $200 bill for McDonald's in Kansas City.
Hancock said there are no plans to use any of the money in the Uniting Missouri account that's been raised to support a different candidate in future elections.
"We don't exist any longer to support any particular candidate," Hancock said.
It is not uncommon for politicians who no longer hold office to continue to raise money for political action committees.
Former House Speaker Tim Jones controls the Leadership for America PAC, which has $530,000 as of Sept. 30. Former Speaker Steve Tilley is connected to a number of PACs that regularly funnel money to candidates.
Among those contributing to Uniting Missouri during the most recent reporting period was Midwest Cement Co. of Jefferson City, which wrote a $25,000 check.
Springfield, Missouri-based Phoenix Home Care gave the PAC $20,000. The Missouri Realtors contributed $10,000.
Other expenditures include $28,000 to Shannon Tidwell, who is listed as a campaign worker, and $11,276 to Hancock's political consulting firm.