ST. LOUIS — It seemed like a great deal: A new building in Old North St. Louis with new painting equipment to house the family business Rick Pierce and his wife, Cheryl, had inherited from her father.  
All they had to do was trade the building they owned on North 15th Street to Paul McKee's NorthSide Regeneration.
Pierce spent months in 2012 going over plans. McKee's people drew up real estate documents.
But after the Pierces deeded the property to NorthSide, it became apparent the developer wasn't doing anything to fix up the building it had promised them.
He knew McKee was going to seek Missouri tax credits on the building, but he didn't think the developer had gotten them yet "because they actually didn't do anything to the properties," Rick Pierce said recently. "We weren't aware they actually got the tax credits until last year when the FBI showed up at our door."
NorthSide told the state it bought the North 15th Street building from the Pierces for nearly $5 million. In turn, it received about $2.5 million in tax credits from the state under a program to reimburse land costs. The Pierces, however, were never paid anything for the property, and NorthSide would soon return the building to them. It didn't return the state tax credits, which reduce revenue for programs like education and health care.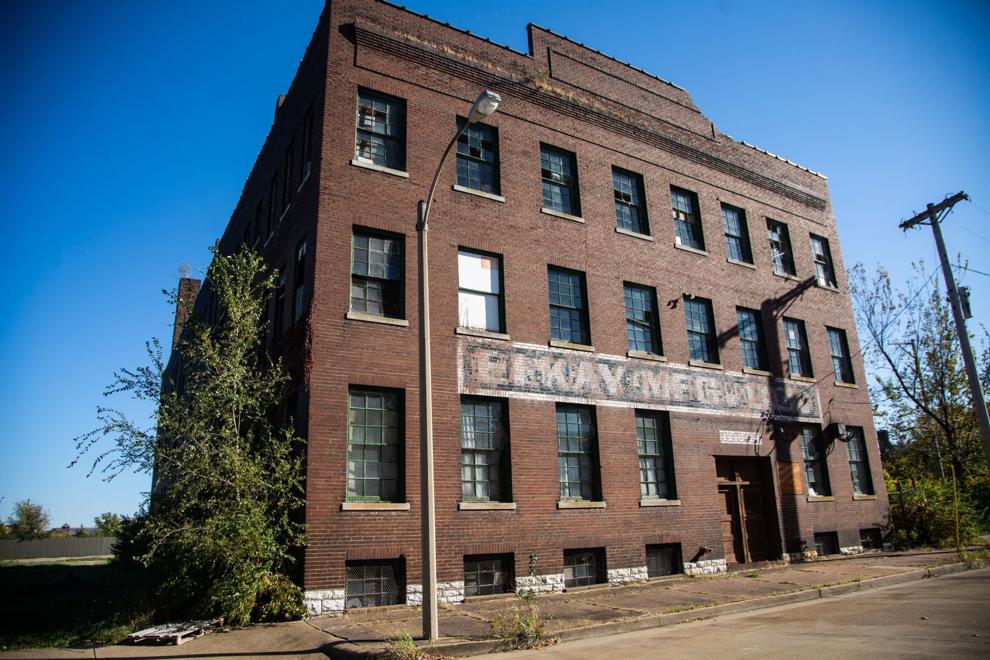 The Pierces finally sold the building last year. For $225,000. And not to NorthSide.
That tax credit transaction and others like it became public during a civil trial in St. Louis last year, spurring interest from federal investigators and others.
In November 2018, Hawley was elected to the U.S. Senate. Gov. Mike Parson announced the appointment of state Treasurer Eric Schmitt as attorney general.
Not only did the state accept a fraction of the amount Hawley had sought, it also waived all future claims against NorthSide for its use of the controversial Distressed Area Land Assemblage (DALA) tax credit. That represented a potentially big concession to the developer: NorthSide received $43 million of $47 million in tax credits issued from 2009 through the 2013 expiration of the program, which was designed largely to subsidize McKee's efforts in north St. Louis. His longtime lawyer Steve Stone, with the firm of Stone, Leyton & Gershman, helped write the legislation that created DALA in 2007. 
Pierce said the settlement was a mistake.  
"I'm not happy with it," he said. "The state should have gotten all their money back."
That's why, he said, he and his wife cooperated with the FBI, providing what documentation they had and sharing their experience with NorthSide and the people associated with it. He cooperated with the Missouri attorney general's office, too, though they seemed less interested.
"They called us," Pierce said, estimating it was around the end of last year or the beginning of this year. "They talked to me on the phone for about 10 minutes and that was the last we heard from them."
The state's settlement with McKee appears to have closed the door to recovering other monies. In August 2018, the Post-Dispatch documented other real-estate transactions in which NorthSide put no money down and wrote IOUs for the full value of property owned by well-connected business associates, obtaining title and triggering the issuance of more than $9 million in tax credits. 
The decision to settle the fraud lawsuit on terms favorable to NorthSide wasn't the first time Schmitt's office was closely involved in matters important to the developer, its major creditor and the lawyers that represent both entities.
'I'd remember'

In 2011, McKee and Stone were driving forces behind a massive, $480 million state tax credit plan to turn St. Louis Lambert International Airport into a hub for Chinese freight. The sponsor of the unsuccessful Missouri Senate bill that sought to turn on the new tax credit spigot? Then-Sen. Eric Schmitt, a Glendale Republican in his first term.
A Post-Dispatch review of state campaign finance records shows that over the course of his 11-year political career, Schmitt has received at least $150,000 in campaign donations from McKee family members and their companies; Stone and firms tied to him; and companies and people affiliated with the Bank of Washington — one of NorthSide's largest creditors and, as such, a major player in the developer's dealings with St. Louis City Hall.
Stone, Leyton & Gershman represents both Bank of Washington and NorthSide. Most of the donations came from Stone and companies tied to him — at least $88,000 over the years. People and companies tied to the bank gave at least $52,000. 
To be sure, Schmitt has been a prolific political fundraiser, raising around $7 million over his career.
"The question I think is whether the public can feel confident that the attorney general was pursuing the public interest or whether the attorney general was acting out of gratitude for his own political interest," said Kathleen Clark, a professor of legal ethics at Washington University. "One-hundred-fifty thousand — I don't know about you, but I'd remember."
In a statement, Schmitt spokesman Chris Nuelle said the June 2018 lawsuit was handled "at a staff level" in the attorney general's office. When Schmitt was appointed, it "continued to be handled at a staff level." The settlement was the best attorneys thought the state could do, he added.
"To suggest that receiving a donation of support at any time, over a decade of service, in any way influences his execution of duties as attorney general is completely unfounded," Nuelle wrote.
When asked whether he recused himself, Schmitt didn't answer directly.
"I was not directly involved in that case whatsoever at any time," he said in a brief interview last month. "In fact, the staff attorney that was assigned to handle that case under the Hawley administration is the same staff attorney that handled the case when we came into office. There was no change and I had no involvement in that case at all."
Nuelle later said in an email "there was no written recusal, nor was one necessary." Nuelle would not say whether Schmitt approved the settlement.
Clark, the ethics professor, questioned whether it was plausible that Schmitt didn't give the final OK.
"Certainly there can be decisions made by the state attorney general's office that arguably never get up to the level of the attorney general," she said. "But is this the sort of case that wouldn't make it up the hierarchy? Was this not a matter of significance to the office? That seems puzzling."
Schmitt said in the interview last month that his office handles thousands of matters at any given time.
The Department of Economic Development, which oversees the issuance of tax credits, signed off on the settlement. It had said last year it was "very concerned" as evidence about NorthSide's use of the program came out.
"In light of our counsel's assessment of the strengths and weaknesses of the respective positions in the case, monetary and other costs of litigation, and the fact that the amount was paid in full at the time of settlement, yes, the department believes the agreement it entered was prudent and best served the taxpayers," a spokeswoman said in a statement.
In response to questions sent to Steve Stone, Joseph Dulle, who is also an attorney with Stone, Leyton & Gershman, said settlement discussions over the suit began when Hawley was still in office.
"Mr. Schmitt is an honorable man, which is why we supported him in the first place, and the questions being raised or asked about whether he honored his oath of office are insulting to him, to all who know him, and to all the lawyers who litigated the case on behalf of the state," Dulle wrote.
No 'bogeyman' 
Schmitt's office has said it has a "strong conflict of interest policy." But nearly all of the donations from Stone's companies and others identified by the newspaper came before he was the state's attorney general.
James Layton, who worked 22 years in the attorney general's office under Democrats, said that, in general, such political donations shouldn't matter.
"The fact that a public official at some point earlier in their career received a contribution from someone — that should not preclude them from taking enforcement action or litigation, or resolving litigation, with that person," he said.
In 2007, during Schmitt's first run for state Senate, companies tied to Paul McKee wrote four separate $650 checks on the same day in December, for a total of $2,600. In September 2008, Stone, Leyton & Gershman gave $2,000 to the soon-to-be-state-senator, who practiced as a real estate lawyer.
The checks got bigger after Schmitt carried legislation on the 2011 Lambert China hub effort and reauthorizing the DALA credit.
Critics of the 2011 Aerotropolis bill contended it would be another major benefit for McKee, who was a co-developer of NorthPark near the airport. It would have provided about $420 million in tax credits to subsidize warehouse and factory construction there and a few other sites, including one McKee owned at the time in Hazelwood. Stone helped write the bill and was paid by the city of St. Louis to lobby for it.
"There really is not a bogeyman here," Schmitt told the newspaper in 2011. "This is about growing the region and attracting facilities and operations and jobs."
Schmitt chaired the Missouri Senate's economic development committee that year, where the bill sailed through 9-0 before being held up on the floor.
Lawmakers planned to make it part of a larger tax credit package in special session. That package also had a provision on DALA: reducing the annual cap on the distressed area credits to $15 million yet allowing the program to reimburse interest costs for longer.
NorthSide was, and still is, in debt to the Bank of Washington for millions of dollars.
But then-Gov. Jay Nixon ultimately stripped out the DALA provision from special session topics.
At the time, Schmitt told the Post-Dispatch he was trying to find savings. But NorthSide never received more than $15 million per year in the tax credits. 
"If I'm reading the governor's letter correctly, I guess he wants the authorization amount to be more per year," Schmitt said then. "I don't care. If we want to keep it out (of the special session), it doesn't bother me."
Despite the bill's failure, Stone, Leyton & Gershman and Bank of Washington would each write a $5,000 check to Schmitt on Nov. 12, 2011. The next month, the law firm gave another $15,000 to Schmitt's campaign.
In 2013, the year the DALA program was set to expire, Schmitt carried a tax credit bill in the Senate that sought to reauthorize it. It failed, but firms tied to Stone wrote $10,000 in checks after the session. Bank of Washington CEO L.B. Eckelkamp Jr. gave $5,000.
In 2014, Schmitt again handled a Missouri House bill that sought to reauthorize those distressed area credits. Again, the bill faltered. But Bank of Washington, Eckelkamp, companies tied to its leaders and its chief financial officer Robert Tobben made six donations to Schmitt totaling $25,000 — on the same day in 2014. Stone and his companies gave $20,000 that year.
Eckelkamp, who did not return a call left with his assistant and gave $2,600 to Schmitt even this year while the lawsuit was ongoing, holds sway in GOP circles. In May, the bank elected Susan Eckelkamp to its board of directors. She is the national committeewoman for Missouri serving on the Republican National Committee and was recently appointed to the Committee for Arrangements for the 2020 Republican Convention, according to a bank news release.
In 2016, Stone and his companies backed Schmitt over Democrat Judy Baker in the race for Missouri Treasurer, writing checks worth $25,000 in 2016 and $10,000 in 2015.
Though Stone and his companies donate to candidates of both parties, he has tended to lean toward Democrats. U.S. Rep. William Lacy Clay, D-University City, has his leadership PAC based out of Stone's law office, and the congressman's former chief of staff works for the firm. In 2016, Stone gave heavily to former Attorney General Chris Koster in his run for governor, as well as donating to former U.S. Rep. Russ Carnahan in his run for lieutenant governor and Teresa Hensley in her run for attorney general — all Democrats.
Dulle, the Stone, Leyton & Gershman attorney, said the firm is not beholden to any political party and supports candidates based on merit.
While the state's settlement signals it is moving on from the DALA episode, NorthSide's name showed up in another federal investigation this year.
The assistant U.S. attorney who handled the prosecution of former St. Louis County Executive Steve Stenger included in his subpoena for records from the county all contracts involving NorthSide Regeneration. It's not clear whether the company ever had any dealings with the county, though Stone was a major donor to Stenger.
Although NorthSide had been sued for state tax credit fraud and the city had moved to rescind its development rights, the St. Louis Board of Aldermen last month signed off on providing up to $8 million in incentives for a health care complex the developer has been pitching for five years. At least four Stone, Leyton & Gershman attorneys sat in the committee hearing when it was debated.
Thanks to the Missouri attorney general's office, they, the developer and its bank no longer had state tax credit fraud litigation to worry about.
---
CONTRIBUTIONS FROM COMPANIES CONNECTED TO ATTORNEY STEVE STONE
| CONTRIBUTOR | DATE | AMOUNT |
| --- | --- | --- |
| Stone, Leyton & Gershman | September 22, 2008 | $2,000.00 |
| Stone, Leyton & Gershman | December 22, 2009 | $1,000.00 |
| Stone, Leyton & Gershman | November 12, 2011 | $5,000.00 |
| Stone, Leyton & Gershman | December 1, 2011 | $5,000.00 |
| Stone, Leyton & Gershman | December 21, 2011 | $5,000.00 |
| Stone, Leyton & Gershman | December 31, 2011 | $5,000.00 |
| Stone, Leyton & Gershman | December 16, 2013 | $5,000.00 |
| Stone & Alter Real Estate | September 30, 2013 | $2,000.00 |
| University Square Company | September 30, 2013 | $2,000.00 |
| Stone, Leyton & Gershman | September 30, 2013 | $1,000.00 |
| University Square Company | September 29, 2014 | $2,500.00 |
| Stone, Leyton & Gershman | September 29, 2014 | $5,000.00 |
| Stone & Alter Real Estate | September 29, 2014 | $2,500.00 |
| Stone & Alter Real Estate | July 7, 2014 | $3,333.00 |
| Stone, Leyton & Gershman | July 7, 2014 | $3,334.00 |
| University Square Company | July 7, 2014 | $3,333.00 |
| Stone, Leyton & Gershman | December 16, 2015 | $1,667.00 |
| Stone & Alter Real Estate | December 16, 2015 | $1,666.50 |
| University Square Company | December 16, 2015 | $1,666.50 |
| Stone & Alter Real Estate | September 30, 2015 | $1,666.50 |
| University Square Company | September 30, 2015 | $1,666.50 |
| Stone, Leyton & Gershman | September 30, 2015 | $1,667.00 |
| University Square Company | August 25, 2016 | $1,500.00 |
| Stone, Leyton & Gershman | August 25, 2016 | $2,000.00 |
| Stone & Alter Real Estate | August 25, 2016 | $1,500.00 |
| Stone & Alter Real Estate | October 14, 2016 | $2,500.00 |
| University Square Company | October 14, 2016 | $2,500.00 |
| Stone & Alter Real Estate | October 28, 2016 | $1,667.00 |
| Stone, Leyton & Gershman | October 28, 2016 | $1,666.00 |
| University Square Company | October 28, 2016 | $1,667.00 |
| University Square Company | June 22, 2016 | $1,500.00 |
| Stone & Alter Real Estate | June 22, 2016 | $1,500.00 |
| Stone, Leyton & Gershman | June 22, 2016 | $2,000.00 |
| Stone & Alter Real Estate | September 2, 2016 | $2,500.00 |
| University Square Company | September 2, 2016 | $2,500.00 |
CONTRIBUTIONS FROM COMPANIES AND PEOPLE CONNECTED TO BANK OF WASHINGTON
| CONTRIBUTOR | DATE | AMOUNT |
| --- | --- | --- |
| L.B. Eckelkamp | January 23, 2008 | $650.00 |
| L.B. Eckelkamp | June 30, 2009 | $1,000.00 |
| L.B. Eckelkamp | July 22, 2010 | $1,000.00 |
| L.B. Eckelkamp | November 12, 2011 | $5,000.00 |
| L.B. Eckelkamp | September 28, 2012 | $5,000.00 |
| L.B. Eckelkamp | August 20, 2013 | $5,000.00 |
| L.B. Eckelkamp | September 30, 2014 | $5,000.00 |
| Bank of Washington | September 30, 2014 | $4,000.00 |
| Cardinal Bancorp II Inc. | September 30, 2014 | $4,000.00 |
| Diamond Bancorp Inc. | September 30, 2014 | $4,000.00 |
| Cardinal Bancorp Inc. | September 30, 2014 | $4,000.00 |
| Robert Tobben | September 30, 2014 | $4,000.00 |
| L.B. Eckelkamp | September 15, 2015 | $2,500.00 |
| L.B. Eckelkamp | October 5, 2016 | $2,500.00 |
| Susan E Eckelkamp | October 5, 2016 | $2,500.00 |
| L.B. Eckelkamp | March 13, 2019 | $2,600.00 |
CONTRIBUTIONS FROM COMPANIES AND PEOPLE CONNECTED TO PAUL MCKEE
| CONTRIBUTOR | DATE | AMOUNT |
| --- | --- | --- |
| Lincoln Asset Allocation LLC | December 13, 2007 | $650.00 |
| McEagle Properties LLC | December 13, 2007 | $650.00 |
| MLK3000 LLC | December 13, 2007 | $650.00 |
| Parkburg Fund Limited Company | December 13, 2007 | $650.00 |
| Paric Corp. | December 3, 2009 | $500.00 |
| Optimus LLC | September 28, 2012 | $500.00 |
| Paul McKee | October 19, 2012 | $300.00 |
| Cooperative Building Solutions | October 19, 2012 | $350.00 |
| Paric Corp | October 19, 2012 | $350.00 |
| McEagle Pool Account | September 26, 2013 | $1,000.00 |
| Northside Regeneration LLC | July 14, 2014 | $1,000.00 |
| ENHANCING COMMUNITY PAC | October 22, 2014 | $2,500.00 |
| Christopher P. McKee | April 9, 2015 | $1,000.00 |
| ENHANCING COMMUNITY PAC | September 2, 2015 | $2,500.00 |
| Christopher P. McKee | October 6, 2016 | $500.00 |
| Enhancing Community PAC | December 3, 2016 | $1,000.00 |
| Carolyn McKee | November 1, 2018 | $1,000.00 |
| Chris McKee | November 1, 2018 | $1,000.00 |
| Paul Joseph McKee III | November 1, 2018 | $500.00 |